You are here via yuyu. To give you the first month for free and give yuyu their reward, we ask you to place a cookie for 30 days.
Accept affiliate deal
The

privacy-first


Google Analytics alternative.
EU-based & hosted. No cookies and a direct yes from your legal team.
Add website

Import GA data

See stats instantly
Why Simple Analytics is the
best Google Analytics

alternative?
Here are 6
+1

simple reasons that sum it up.
1. Privacy protection is our business model. We comply by design with all privacy policies. Including: GDPR, PECR, CCPA and more.

2. Simple UI. We give you the insights you need in an easy-to-use dashboard.

3. Chat with AI and your analytics instead of digging through reports.

4. We never, ever, ever store any personal data about your visitors. No cookie banners.

5. Our Goals-tracker and Events Explorer lets you keep track of your most important events and conversion funnels.

6. Our lightweight script increases your website speed.
Read detailed reasons
"Switching to Simple Analytics will still give you visibility into how visitors are using your website, but you'll also be respecting their right to privacy."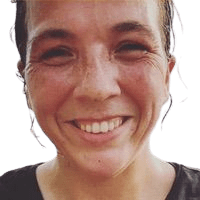 "My focus has been on using ethical tools. I said bye to Google Analytics and hello to Simple Analytics. In 1-2 clicks I can get all the information I need."
Simple.
Simple Analytics is a simple Google Analytics alternative. One dashboard to instantly see how many visitors are coming to your website, where they come from and what they do once they're there. Without cookies. Without stalking. Still lightweight.
Simple Analytics presents
Free 14-day trial No credit card required Cancel anytime
"It's time to ditch Google Analytics."
Connect
your data

with your unique workflow.
Use Google Tag Manager, WordPress,
or our many frontendframework plugins

Export to your systems, Power BI,
Google Looker Studio, or data lakes

Export as raw data or aggregated
Why you should switch from Google Analytics
Google is one of the world's largest data devouring machines, selling your website visitors' data for profit. From an ethical standpoint, organizations should aim to protect the privacy of their website visitors. Still, 85% of the websites are using Google Analytics, but this is about to change for the better. The call for a Google Analytics alternative.
Privacy laws like the GDPR are put in place to preserve the privacy of internet users. Data protection agencies are cracking down on privacy-invasive services like Google Analytics. France (CNIL) & Austria (DSB) already stated that the use of Google Analytics violates GDPR law in their countries. More EU countries are expected to follow this example.
Google Analytics is a complex web analytics tool that has been the default analytics tool, but this is changing, and Google also recognizes this. That's why they are about to change to a new version calledGA4 that aims to be privacy-friendly but is not
In addition, web browsers are limiting tracking mechanisms, and ad blockers are used to block Google Analytics, which makes their data less and less accurate.
The global business environment is changing towards privacy, and so should you!
Here is why Simple Analytics is the number one privacy-friendlyGoogle Analytics alternativeWe are trusted by 600+ paying customers to provide the insights they need while protecting the privacy of their website visitors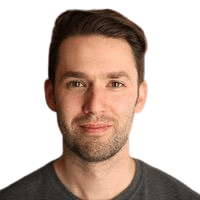 "We traded a 'free', privacy-less, and complex analytic dashboard for a paid, privacy-first & simple one. We couldn't be happier. The best privacy-focused analytics suite that I've found. We're proud to be able to tell our customers that we don't track them at all."
Event tracking without tracing individuals.
Auto-collect events like downloads, outbound links, and email clicks. Check the performance of every button, click, and page visit you want.
Automate reports.
Save time while keeping others in the loop of your results. Schedule your reports to be shared automatically at any time you want.
Email reports
Send yourself and others an email report of simpleanalytics.com. You can add as many email addresses as you like. See an example of an email report in our documentation.
Recipient
Period
adriaanvanrossum@simpleanalytics.com
week
a day ago

Remove

ironbrands@simpleanalytics.com
month
6 days ago

Remove
Free 14-day trial No credit card required Cancel anytime
Dark mode.
For those who keep working coding at night.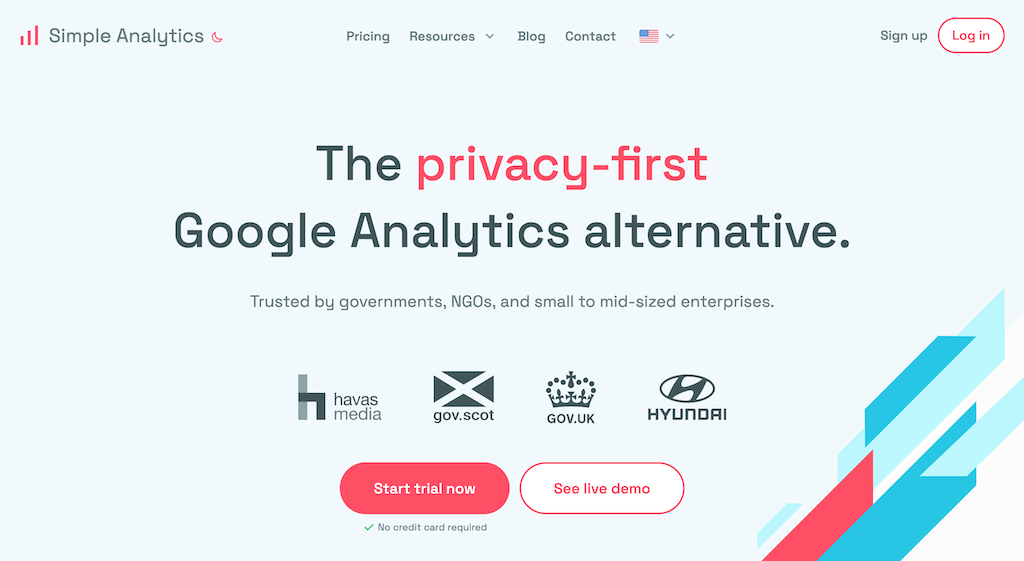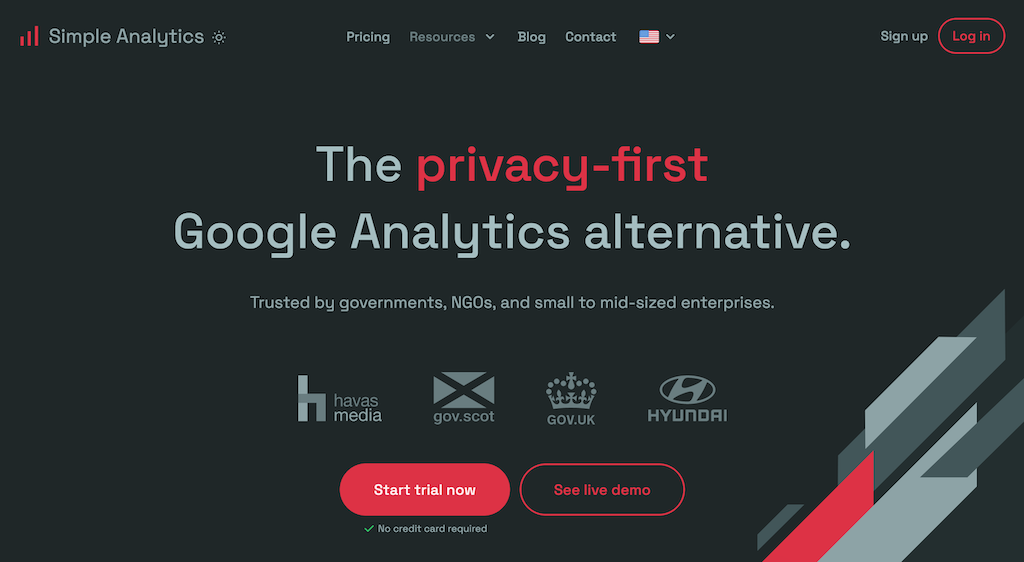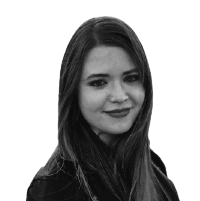 "After switching from GA, I tried out another privacy-focused analytics solution but it turned out it was too minimal and didn't give me what I needed. I make decisions based on data. Luckily, Simple Analytics shows the exact metrics I need to know about in order to grow my business, while also being respectful of the privacy of my visitors. AND it loads extremely quickly, making it SEO-friendly"
Take it mobile.
Keep an eye on your dashboard
via your iPhone

Add widgets to your home screen

Block visits from yourself

See spikes as they happen
When you ask videographers to create something fun.
Why our founder is getting crazy on his tropical island.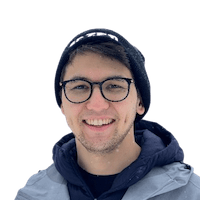 "This is great to keep track of all the products that I launch. I also use the API to send myself a bot message each morning with rolling week stats and daily stats from the previous day"
Simple pricing.
Starter.
Everything you need to get you started
 $9 /month$108 yearly
Buy Starter
What's included
100,000 datapoints per month
1 users
10 websites

events

AI for 1 month

aggregated export
Business.
Work together on growing your business
 $49 /month$588 yearly
Buy Business
What's included
Everything from the Starter plan, plus:
1,000,000 datapoints per month
10 users
100 websites
AI unlimited
raw level export
Enterprise.
Get everything needed to grow your business
Contact
Contact us
What's included
Everything from the Business plan, plus:
1,000,000+ datapoints per month
10+ users
100+ websites
prio email support
Frequently Asked Questions.
What are datapoints?
You can collect two types of data with Simple Analytics: page views and events. The combined term for both is datapoint. If you don't use events, the datapoints will only be page views. If you do use events, the datapoints will also be events.
Will I be charged when my trial expires?
No. After your trial expires, your plan downgrades automatically to the basic free version. Upgrade whenever you want to the plan that fits your needs.
What payment methods do you accept?
We accept Credit Card, Debit Card, Bitcoin +10% & yearly, Apple Pay, and Google Pay as payment methods for all our paid plans. You can pay in Euros, US Dollars or British Pounds. Bills from $500 can be paid via bank transfers and cost an additional 10% in banking and service fees.
What will happen to my charges when my traffic grows / declines?
You only pay for what you actually need. This means that if your plan's page view limit is exceeded, you will be charged for overages. Simple Analytics automatically calculates your price based on your average amount of page views (first looking back one month, then the average of the previous three months).
So, if you had an increase in traffic during the past three months, you pay only a little more next month. Likewise, you automatically pay a little less when your average amount of page views decreased during the last months.
Can I cancel anytime?
Yes. You can cancel your subscription at any moment. You will still have access to your account and data until the end of the period you paid for.
Need more help? Please send us your question(s) via our support page.
Free 14-day trial No credit card required Cancel anytime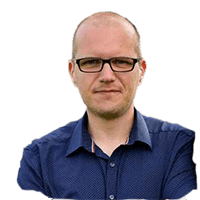 "Excellent alternative for Google Analytics. Yes, you pay a small subscription, but you get a lot in return: GDPR-proof and cookieless analytics, accurate tracking and clear visuals."
Trusted by more than 600
governments

,

NGOs

, and small to mid-sized

enterprises

.
Why Simple Analytics is the
best Google Analytics

alternative?
Here are 5 simple reasons that sum it up.
1. Privacy protection is our business model.
Big tech companies have been collecting personal data for years to make a profit. Users get a "free" product, and big tech companies get paid by advertisers that want to buy your attention.
While you use the "free" product, the tech companies gather creepily huge amounts of data to create a specific profile of your demographics, ethnicity, political preferences, interests, desires, likes, and dislikes.
Big tech companies will sell that to the highest bidders as their business model. Without openly telling you.
We despise such practices. Because Simple Analytics is a paid service, we are independent and have no bias or conflict of interest. No second agendas here.
Our mission is simple:
We give you the fastest, easiest, and most ethical insights about your website performance while upholding the highest privacy standards.
To achieve this, Simple Analytics has an open roadmap for you to see the next steps or request features. Furthermore, we operate fully transparently by sharing our metrics (including revenue, costs, number of customers, and traffic).
2. Get insights with our AI without clicking through reports.
Dive into your website analytics effortlessly with our AI-driven technology. Say goodbye to the tedious task of navigating through multiple reports and charts. Our intuitive AI system simplifies your data analysis, offering you insightful, easy-to-understand reports with just a few clicks – or even none at all.
Imagine having a conversation with your analytics. Ask a question, and our AI responds with precise, tailored insights. Need a quick update on your latest traffic trends or a comparison of this week's user engagement with the last? Just ask.
3. Your data is encrypted.
We don't store any personal information and collect minimal amounts of data to protect your visitor's privacy, but that does not make your analytics data less important. That's why your data is always encrypted on our servers. Encrypted in transit and encrypted at rest.
The drives storing your data contain nothing but encrypted lines of code. If anybody did manage to steal those drives, they'd be useless. The encryption key is stored outside the servers in a virtual vault that is protected by two-factor authentication.
4. We never, ever, ever store any personal data about your visitors.
Some privacy-focused analytics tools use personally identifiable data and delete it after a day.
For example:
They collect a visitor's IP address, add a date, and turn it into a hash every time you have a page visit.
These hashes connect page views together. Although this is definitely better than big tech trying to collect as much personal data as they can to sell to advertisers, it is not 100% waterproof and is a gray area.
The hashes expire only once per day, so for less than 24 hours, there is still personally identifiable information stored about your visitors. Privacy policies like the GDPR explain you must have visitors consent to store personally identifiable information (PII).
Simple Analytics never compromises privacy. That's why we only use unique visitors without tracking IP addresses. We do this based on the browser's referrer, so no PII is stored. When you use Simple Analytics, it is therefore 100% guaranteed no personally identifiable information of your visitors is stored. Because of this, zero consent is needed. Adiós annoying banners!
Tip: some clients like to replace their cookie banners with "we're proud to protect your privacy" banners to gain a competitive advantage.
5. We are an EU-based company with EU-based servers.
We do everything in our power to keep your data safe. We collect the bare minimum amount of data required to give you a full picture of your website's visitors, and besides the three points listed above, we even go a few steps further.
Compared to other continents, the EU has been concerned with its citizens' privacy for a long time and provides diligent privacy regulations.
Our servers are located in the Netherlands and our hosting provider is Dutch because this provides a secure physical location, great global network connectivity, and high legal standards for data processing (no cloud provider that needs to report to a foreign government).
We choose to locate our business in the Netherlands because a privacy-conscious environment helps us uphold our high standards for ethics and privacy.
6. You own your data.
We care about your data. We care for your data. Yet, you own your data. We will never sell it. You are in control of your data, and you can download or delete it at any time.
Free 14-day trial No credit card required Cancel anytime