Tailscan is a browser extension designed for developers that offers a visually interactive experience with Tailwind CSS right in your browser.
Its run by Erwin, a solopreneur and well-known figure in the "Indie Hacker" community. He also shares his metrics in the open for everyone to see. It's quite fascinating to see its growth within merely one year.
We caught up with Erwin to discuss how he uses Simple Analytics for Tailscan.
Let's dive in to get his take!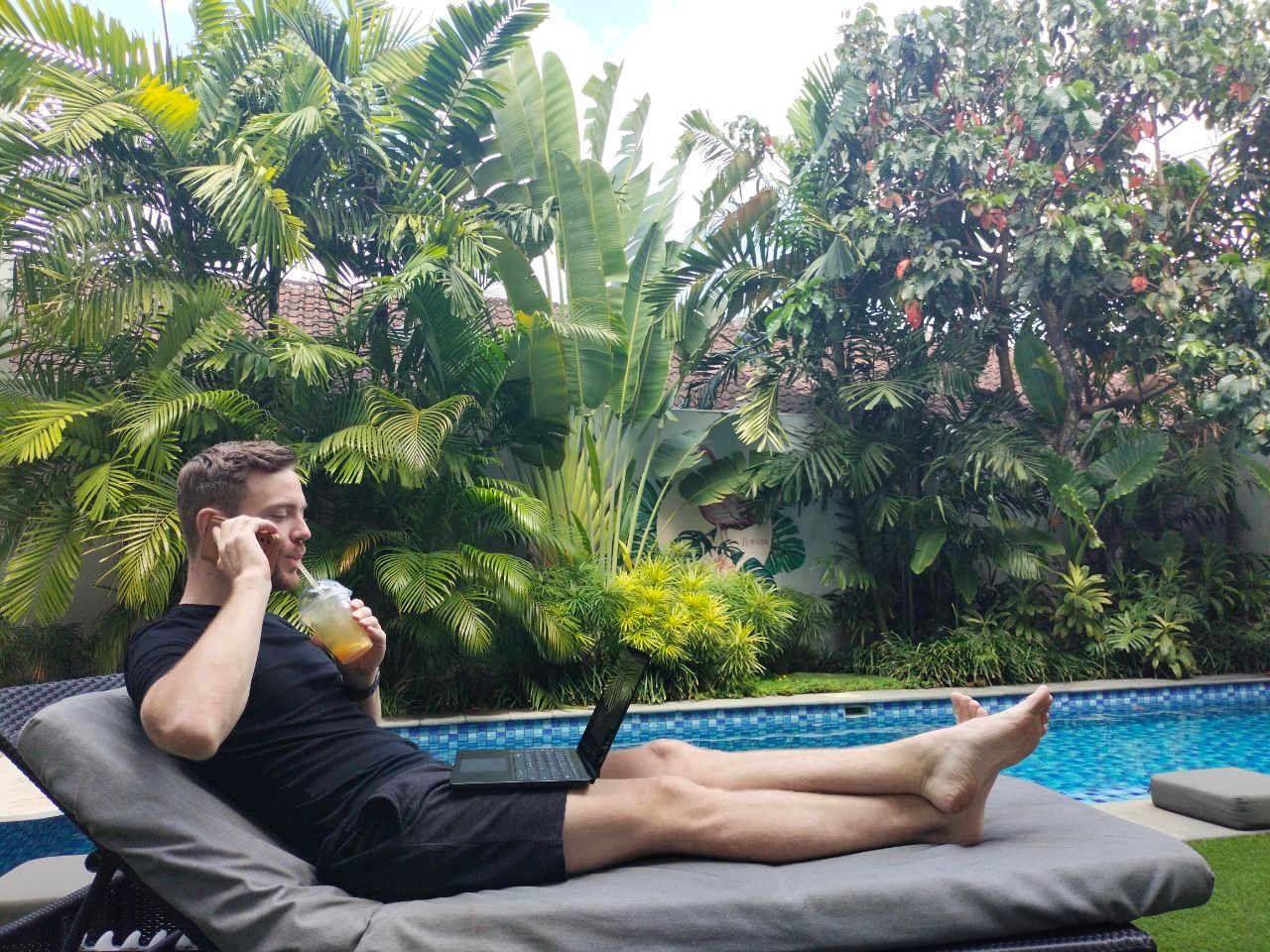 This is Erwin. He likes to work from the pool. Erwin is living the life.
The Integration of Simple Analytics
The UK Government chose Simple Analytics
Join them
Google Analytics is unnecessarily complex.
Erwin's path to discovering Simple Analytics did not initiate with Tailscan. His journey began much earlier, though the need was not immediately apparent.
His previous ventures and customer demands (when he was still freelancing) had him wrestling with Google Analytics all the time. However, he found the process far from seamless due to its tangled implementation and complexity.
Basic metrics such as visitor analysis and traffic source monitoring were sufficient for most projects he managed.
However, guiding clients through Google Analytics often turned out to be a time-consuming and annoying task. He found himself frequently creating videos to make sure his customers understood it. This was time that could have been more productively spent on actual work.
These experiences led him to realize that Google Analytics, despite being the default analytics tool, was unnecessarily complicated and not always the best choice.
It was at this point that Erwin decided to transition to Simple Analytics.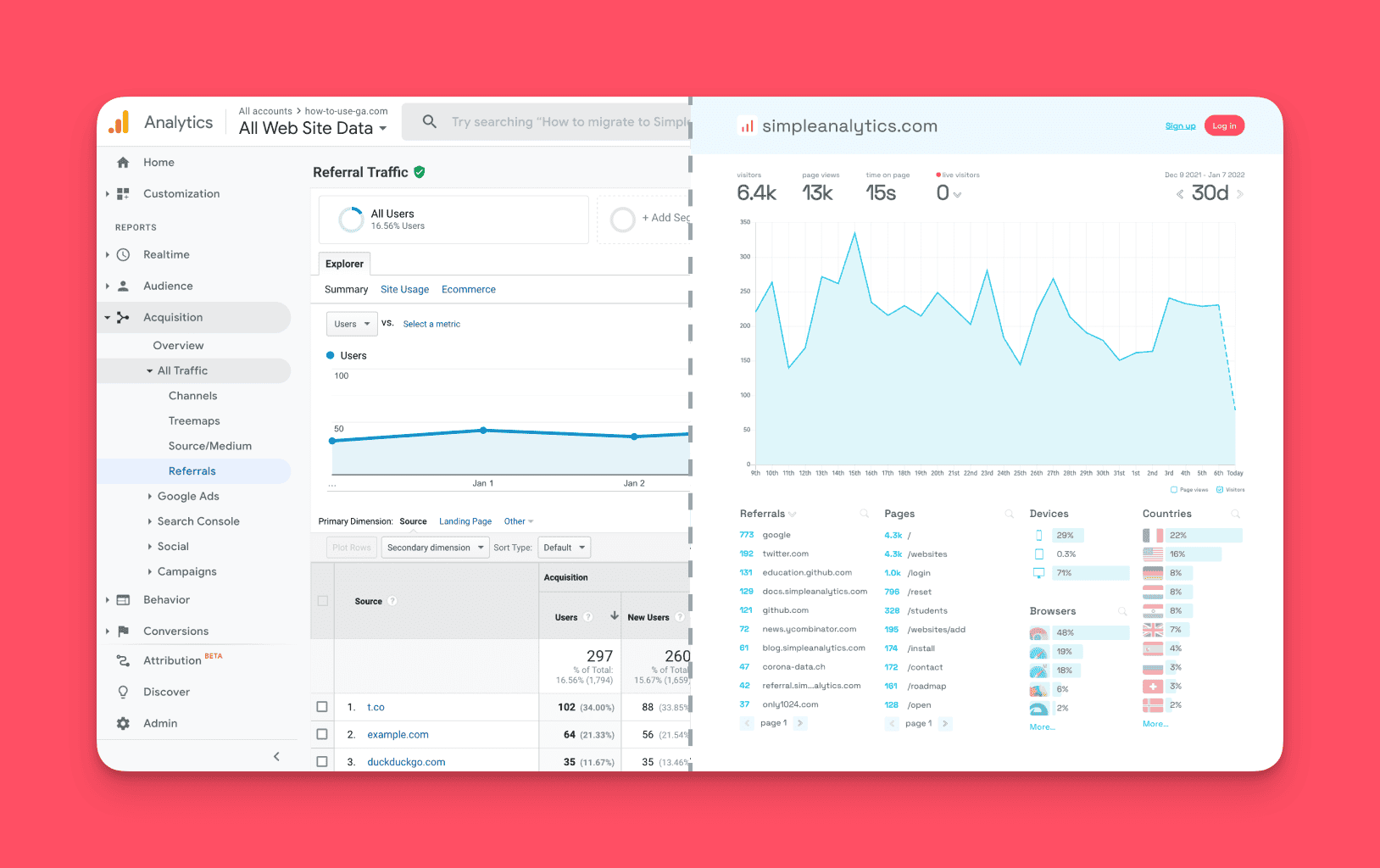 The Integration of Simple Analytics
According to Erwin, there are three main benefits to Simple Analytics:
Uncomplicated Website Analytics
Erwin uses Simple Analytics to keep a close eye on Tailscan's metrics. The user-friendly dashboard enables him to effectively track the impact of a specific tweet or measure the traffic generated from an article mentioned. Additionally, any unfamiliar source linking to Tailscan can be easily identified through Simple Analytics.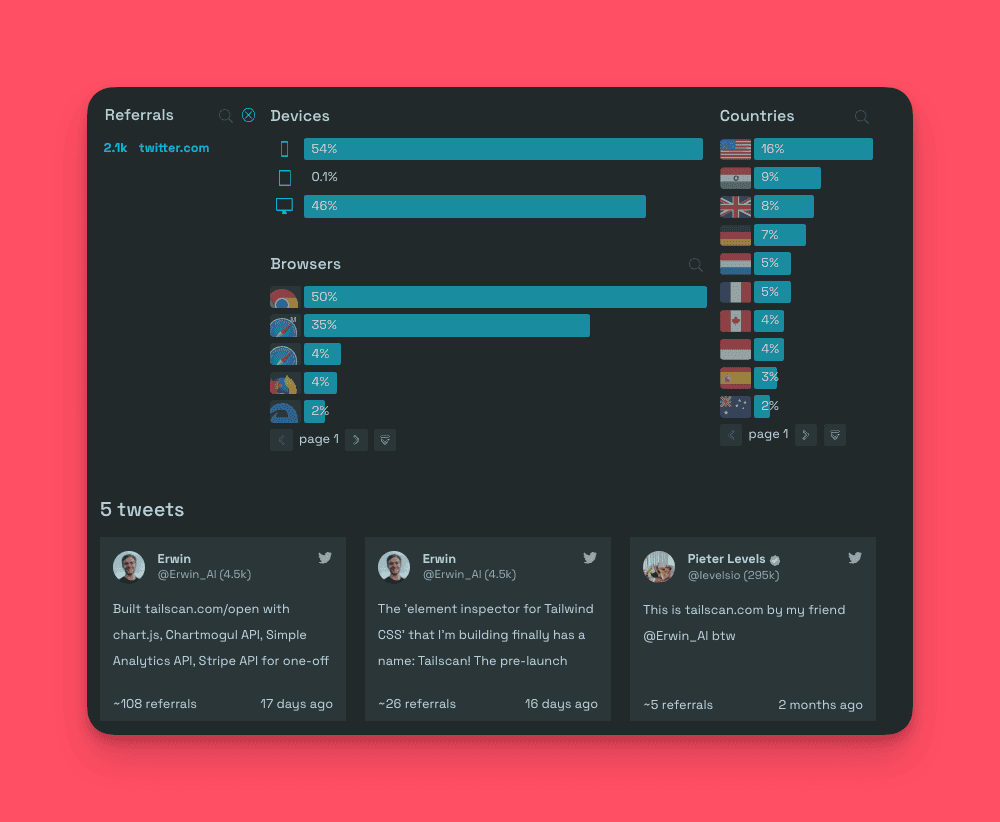 Analytics Sharing
Simple Analytics assists Erwin in sharing Tailscan's data with other founders in the build-in-public community.
The website analytics can be shared effortlessly using a public link to Erwin's Simple Analytics' public dashboard, providing a peek into Tailscan's performance metrics. If you visit this link, you can check on their website analytics. This makes it easy to share with other founders or on social media.  It's worth noting that, by default, Simple Analytics is private.
Transparency with Open Startup
Tailscan identifies itself as an Open Startup, meaning anyone visiting https://www.tailscan.com/open can access all the metrics, ranging from traffic to revenue.
In this regard, the Simple Analytics API has proven to be a super valuable resource in retrieving and displaying this data on Tailscan's open page.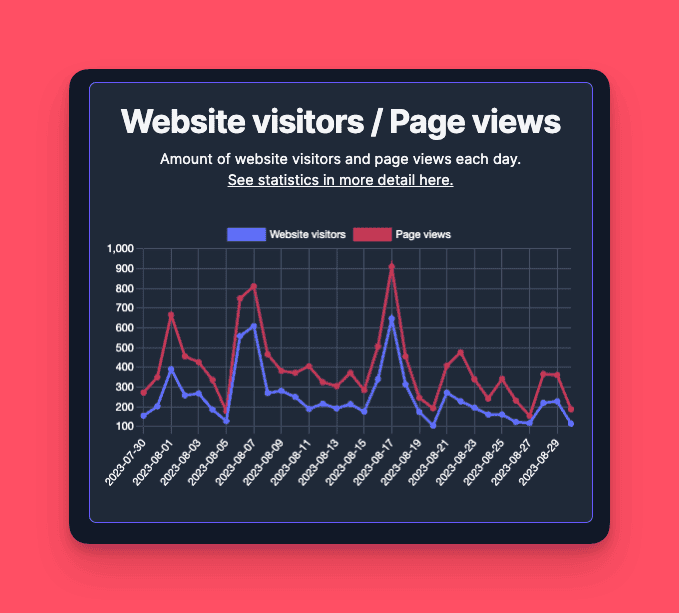 The Result
The decision to make Tailscan's behind-the-scenes data publicly available has had a positive domino effect. The open page metrics have not only been good for growing a following for Tailscan but also ignited inspiration in others to launch their own companies/projects with similar transparency.
Consequently, it resulted in more buzz around Tailscan and its journey, leading to a surge of interest in the tool.
In this journey, Simple Analytics continues to play a big role by providing uncomplicated website analytics that can be easily shared.
Feel free to give a spin and see for yourself!