Hey there! Hope you are having a great day!
This is the first "monthly update" on growing Simple Analytics to 1M ARR. Hope you like it!
Here it is for April. Lots happened last month, but I'll keep it short. I promise.
Last month was pretty unusual, with Adriaan heading off on a month-long vacation to Indonesia with his brother and dad. I was a bit nervous about running the Simple Analytics show by myself since I'm not as technical as Adriaan (or not technical at all). But with Carlo's help, we managed to keep things running smoothly.
New office
First, we got the lease for our Amsterdam office. With the previous tenant gone, we gathered a bunch of people to share the space. Most of them are also building cool stuff, so it's starting to be a nice place. The place still needs some upgrading, but overall we're super happy with it.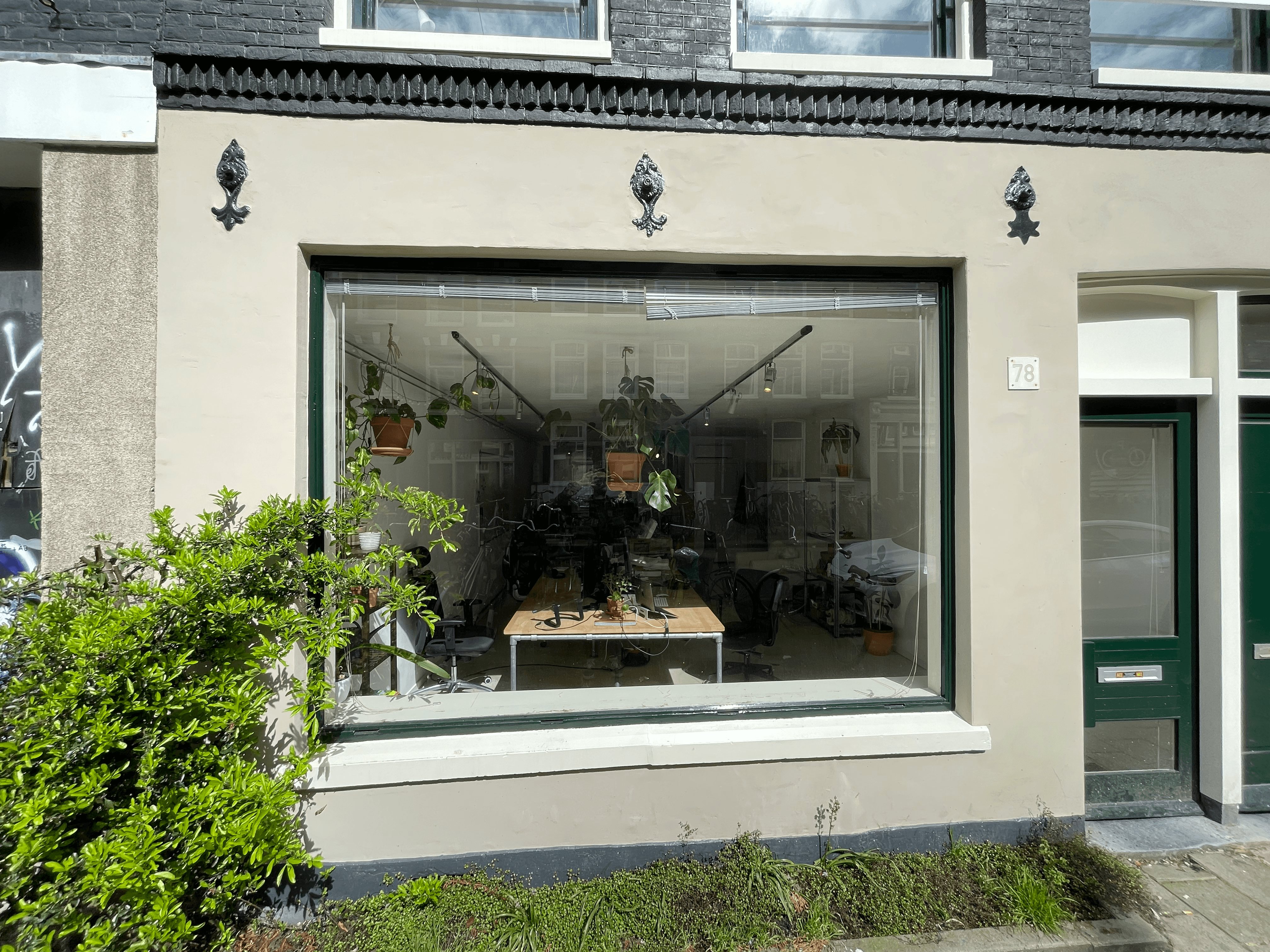 Btw there are still two spots left. Send me a dm if interested, and if you are in Amsterdam, feel free to pop in for a coffee (or beer)!
Ankit joins
We also welcomed Ankit to the team to support me with growth. Ankit is a long-time customer of Simple Analytics who occasionally dropped interesting ideas and product improvements in our support chat. When I discovered he was also a freelance marketeer, I checked out his work and asked him if he was open to working together.
Ankit being a longtime Simple Analytics user in combination with his experience, makes him an awesome addition to the team. You can expect to see some killer articles from him.
Law of diminishing returns
However, with Ankit on board and money being tight (bootstrappers will be bootstrappers), we decided to part ways with ODIV, our SEO consultancy. They did a solid job getting us from 0 to 1in the SEO game, but to get from 1 to 10, we needed something else to move the needle.
ODIV helped us with setting up SEO and had a big impact in getting that initial spark. However, we started noticing that the benefits we gained from working together weren't as significant as they were in the beginning.
This does not mean that we get diminishing returns from SEO. On the contrary, traffic from Google is our most important acquisition channel and growing fast. SEO is 100% our main focus. However, the return on our investment in our collaboration with Odiv started to decrease. Our pages are optimized, our content backlog is full, our technical SEO indicators are green, and the content machine is running smoothly. Time to pull some other levers.
Projects
While Adriaan was away, I put my energy into improving our documentation. Right now, our guides are mainly aimed at developers, but we want to make them more accessible for marketing folks as well.
We created a workflow that lets us create help articles super fast. This is how we set it up:
Create a "raw" video showing "how to do X with Simple Analytics"
Transcribe the video using AssemblyAI
Copy/paste the transcript and ask chatGPT to rewrite it "our style"
Get screenshots from the video
Edit the text from chatGPT and add the screenshots
Publish the article and add the video
With this flow, I created at least three documentation guides per day (without the video. Adriaan created those before his vacation).
Another cool project we're working on is translating our blog posts into different languages. We're using Strapi as a CMS, and integrated Deepl. The auto-translations in French, Italian, and other languages are not perfect, but let's see if some get traffic. If they start to rank, we'll look into better translations to rank even higher in search results.
We also put out five new blog posts. Carlo wrote most of them. His article "Does Google sell your data" got the Hacker News crowd's attention, driving a bunch of traffic to our site. Always nice to be featured on HN front page.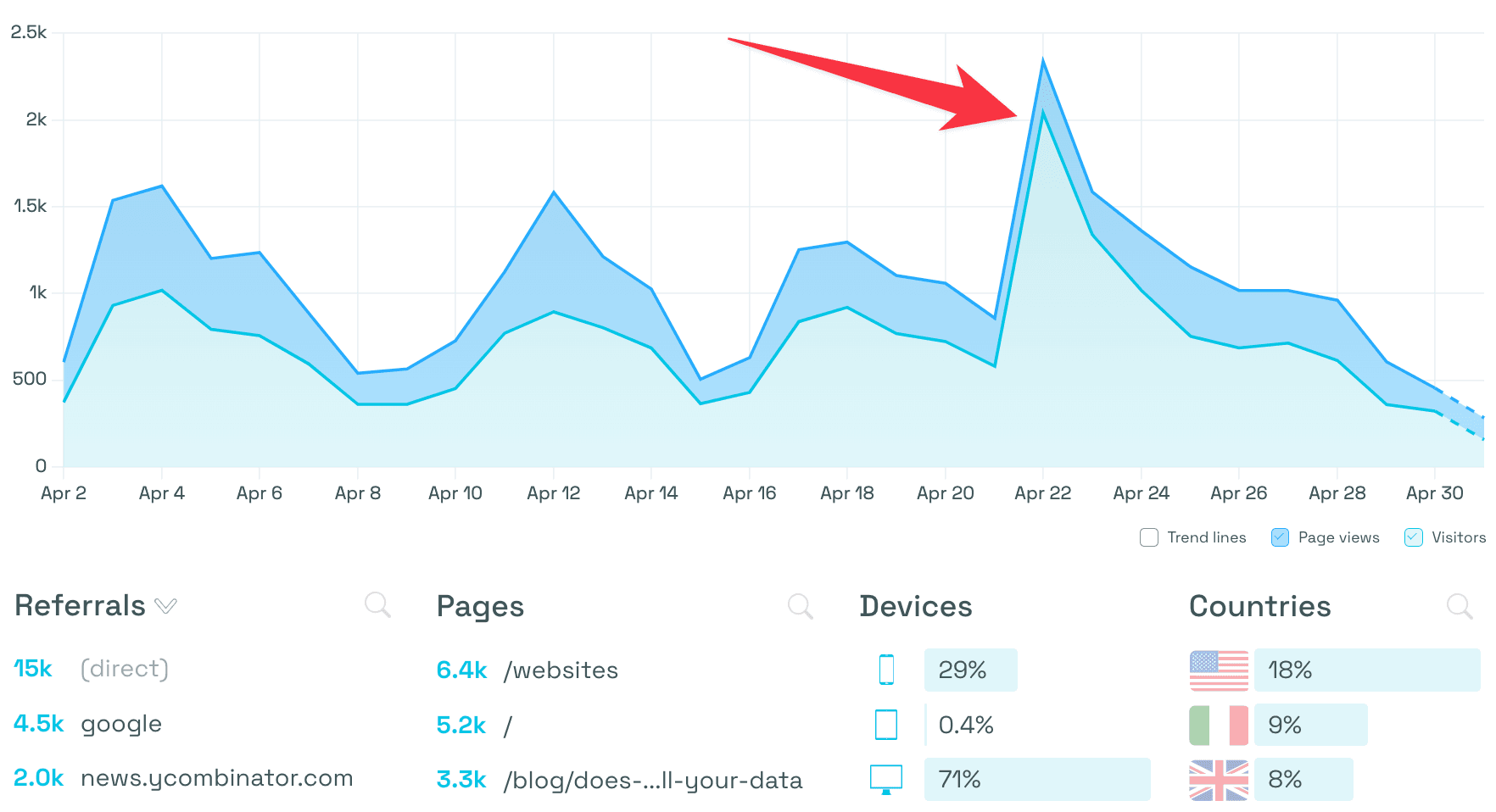 Numbers
In March, we had the highest churn ever recorded ($908 MRR). This is three times as much as any other normal month. We still managed to end March positively (+$111 MRR), but I was fearful for April.
Luckily, April turned out to be a whole lot better:
💰 $18280 MRR
📈 +$798 MRR (+4,5%)
📊 33K Visits (-8%)
😍 48 New customers (0%)
💔 24 Churned
Check out our open page for all our statistics, including costs, revenue, NPS, etc.
Final Thoughts
April turned out better than expected. Together with Carlo, I protected the fort while Adriaan was on holiday. Churn improved drastically, and we managed to get quite some shit done.
I'm really looking forward to next month. We got Adriaan back in the house. Also, Ankit and I are working on a programmatic SEO idea that I'm excited about.
Adriaan will focus on getting our "agency plan" feature live and our new pricing.
Finally, the Google Analytics 4 migration is around the corner. From the 1st of July, you can use the current version of Google Analytics anymore. This is the perfect moment for GA users to look for an alternative. And we want to be just there before them when they start looking. I'll be going hard on this one!