Website analytics are key. It gives you insights into the performance of your website and provides you with the necessary information to improve.
Google Analytics dominates the market for website analytics. At least 85% of websites that use analytics have installed Google Analytics. Simple Analytics is a new-kid-on-the-block founded to challenge Google Analytics on privacy and simplicity.
There is no such thing as "the best analytics tool." There are so many use cases, and no tool fits them all. Still, 85% of the websites choose Google Analytics. This article will discuss the key differences and make the case that Simple Analytics is the better option for certain use cases.
Let's dive in!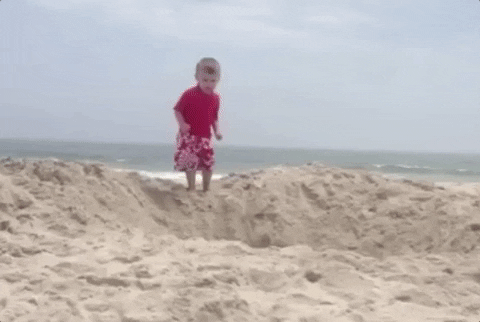 Differences in core values: Privacy-first vs. Profit-first
The UK Government chose Simple Analytics
Join them
Differences in core values: Privacy-first vs. Profit-first
The privacy of your website visitors
Google is the biggest ad-tech company in the world. It's a monstrous machine devouring your data for profit. We've written about how this works here. The fact that Google generates revenue from your website visitors inspired us to build a privacy-friendly alternative.
At Simple Analytics, your visitor data is stored securely and never sold to third parties. Also, we don't use cookies and never collect personal data. If you use Google Analytics, you are giving them access to your visitor's personal data.
Compliance with GDPR
We are not the only ones recognizing the need for data privacy. Institutions have created laws such as the GDPR, CCPA & PECR to protect consumers. This resulted in an ongoing shift towards more data privacy. Website owners using tools like Google Analytics must take additional measures, such as displaying a cookie banner, to ensure they comply.
You should own your data
When Google Analytics collects your visitor data, they own it and generate revenue from it. At Simple Analytics, we don't own your data; you do. Keeping your data safe is our main priority. We're an EU-based company that stores your data securely and fully encrypted.
In addition:
You are in control, and you can download or delete your data anytime.
We don't sell your data to third parties.
Simple Analytics does not monetize your data. Because, once again, it's yours!
Check our promises here.
Differences on a feature level
| | Google Analytics | Simple Analytics |
| --- | --- | --- |
| Do you want to avoid a cookie banner? | | |
| Do you want be GDPR compliant out of the box? | | |
| Do you want to own your data yourself? | | |
| Are you okay to miss ~27% of your visitors due to ad-blockers? | | |
| Are you okay if your analytics are shared with other products? | | |
| Do you want to have your data within in the EU? | | |
| Do you want analytics to be free? | | |
Simple one-page dashboard vs. complex dashboard
Simple Analytics provides the insights you need in a simple dashboard (what's in the name).
Google Analytics is a complex analytics tool. It presents 75+ custom dashboards and feels like an airplane cockpit.
In most cases, there is no need for multiple layers of menus. It is an overly complex tool designed for power users with years of experience.
If you are not a power user (trained in Google Analytics) like us and need something that is intuitive, Simple Analytics is up your alley. See for yourself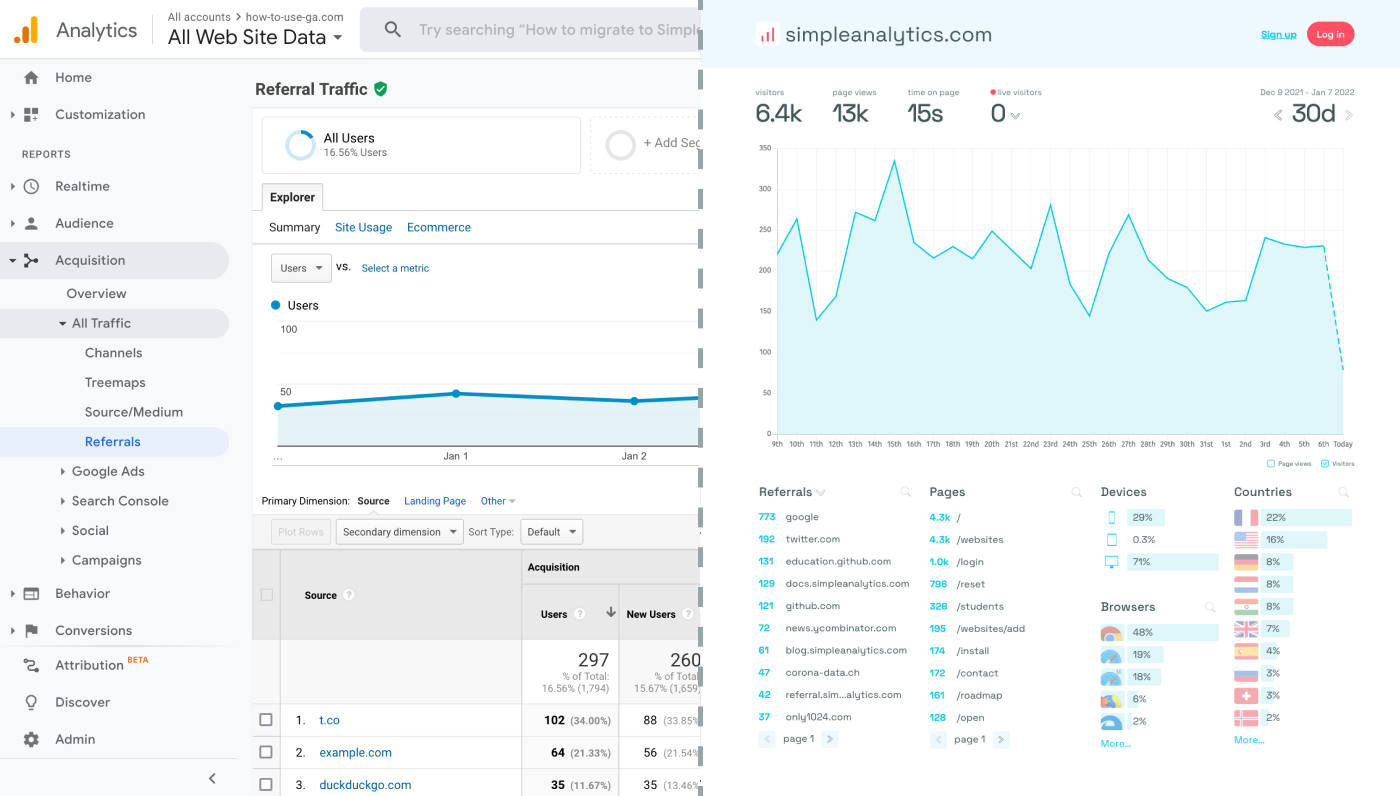 Website loading time: Lightweight vs. Heavyweight
You need to install a script on your website to use any analytics tool. However, those scripts come in different sizes and have an impact on the performance of your website. The heavier the script, the longer the loading time of your website, and the shittier your user experience.
Our analytics script on your website is 15 times smaller than the Google Analytics script (3kb vs. 45kb).
This also impacts your SEO score. Core Web Vitals is an important ranking factor. A heavy script has more impact on your Core Web Vitals, impacting your SEO score.
tropical-analytics.mp4Our founder using Google Analytics.
We ran a performance test comparing the impact of both scripts on website performance. The outcome showed a difference of 10 basis points in favor of Simple Analytics. Check our blog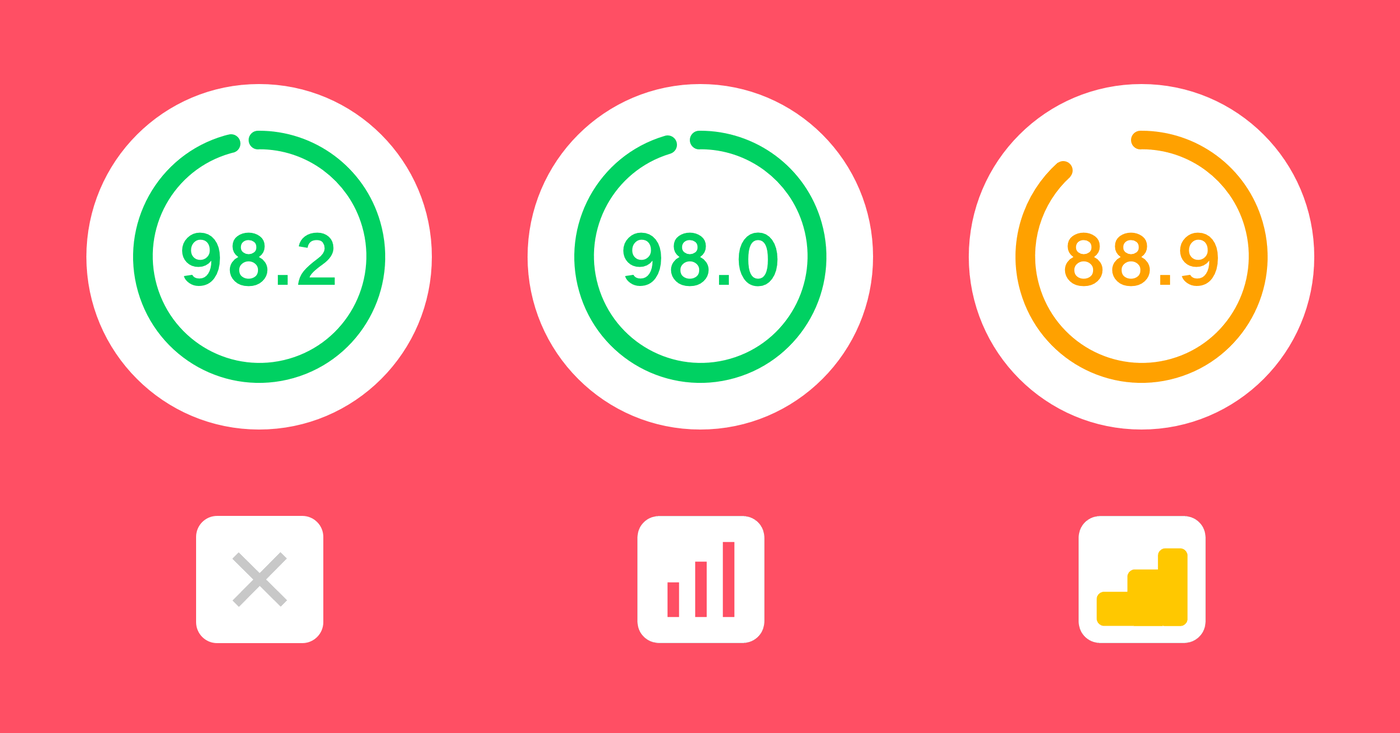 Page views: Bypass ad-blockers for more accurate views
A "Page View" means the same in Simple Analytics as in Google Analytics. However, you may see different numbers if you compare them. The main driver of these differences is robot detection and adblocker software. We've dedicated a full article on this here, but let's keep it short and sweet.
Estimates are that around 25% of internet users have adblocker software installed. Not only do they block advertisements, but they block scripts like Google Analytics as well.
Google Analytics is blocked by almost every adblocker software, whereas Simple Analytics is not. This has a significant impact on your website analytics. Sometimes our script is blocked as well. Setting up our adblocker bypass ensures all your page views are counted.
We go to great lengths to ensure we have the best robot detection features. We've recently updated our bot detection methods with the latest technology. It's a cat-and-mouse game that we aim to tackle headfirst. You can hide referral spam with a button click if you still get referral spam in your dashboard.
Unique visitors
Recording pageviews without invading visitor privacy is easy, but recording unique visitors is not. Being privacy-first means that we have to do things differently. Google Analytics uses cookies to track unique visitors. Other privacy-friendly tools use hashed IP addresses (a better method but not fully GDPR compliant). We figured out a privacy-first way to do this.
At Simple Analytics, we don't want to use any tracking methods at all. That's why we came up with a unique way of tracking unique visitors. When a visitor lands on your website, the browser sends a referrer origin along. Based on this referrer, we can identify whether the visitor is unique or not. See our page on unique visits explained.
Admittedly, tracking sessions is more difficult for us. Google Analytics provides more accurate data regarding sessions. The trade-off is that they need to install cookies in your visitors' website browsers to do this.
Time-on-page
There are a few key differences between Google Analytics and Simple Analytics when tracking the time on page. Google uses timestamp hits to indicate the time on page. The drawbacks of this method are that Google fails to track the actual time on page accurately. In our analysis, we've come to the following conclusions:
Google Analytics does not record the time on page if a visitor only visits one page
Google Analytics does not record the time on page of the last page visited
Google Analytics does record time on page if a visitor leaves your tab open but is 'spending time' in a different tab.
The time on page metric used by Google Analytics is flawed, to say the least.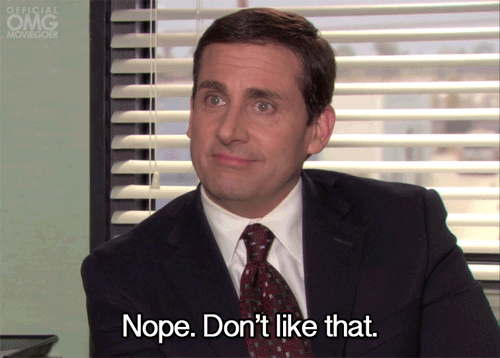 At Simple Analytics, we detect when visitors navigate to a different website. Compared to Google Analytics, we record the time on page for a bounced visitor and the time on page for the last visited page.
In addition, to filter out outliers, we use the median instead of the mean to get to the most accurate number. As a result, the average time on page metric is lower than in Google Analytics.
Event Tracking
Tracking events is an important metric. It provides insights into visitor activity while on your website. It tracks whether someone downloaded a PDF or someone filled in a form. We have set up an automated events script that needs to be installed just like our regular script to collect the most important events. It collects events for outbound links, downloads, and clicks on email links. In addition, you can also get your hands dirty and add your custom events and add Metadata to your events, which is especially handy for e-commerce tracking.
Creating events for Google Analytics can be a hassle. Luckily there is something called Google Tag Manager to make your life easier. We understood the importance of GTM for installing your custom events, so we also created an integration with GTM. If you have always used GTM for your events, you can still use it to install Simple Analytics events.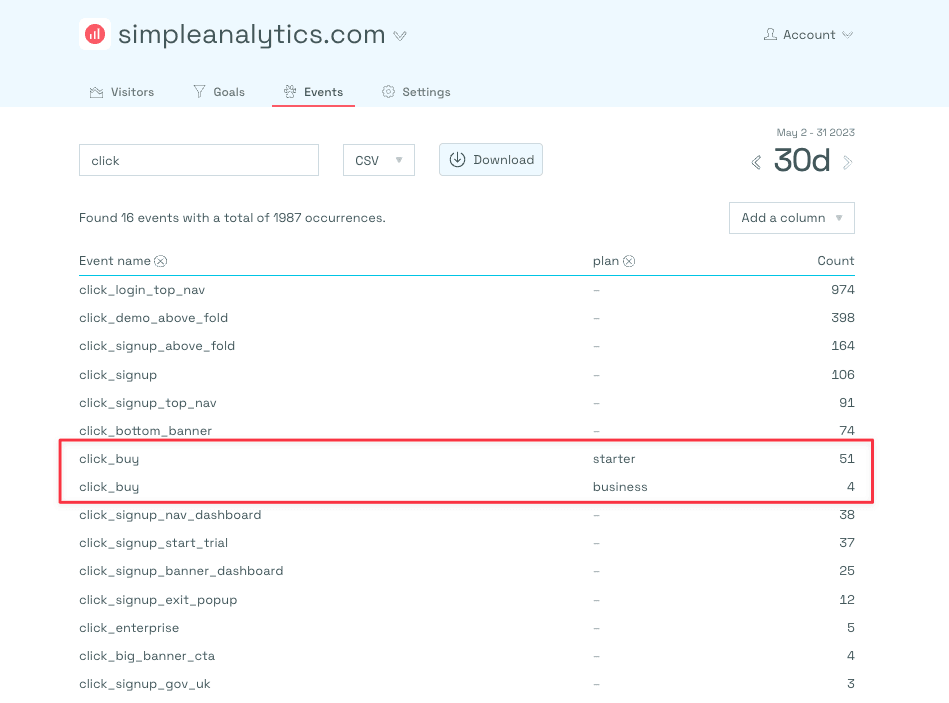 Goals
As an extension of our Events, we created our 'Goals' dashboard. It allows you to create funnels between events (or pageviews).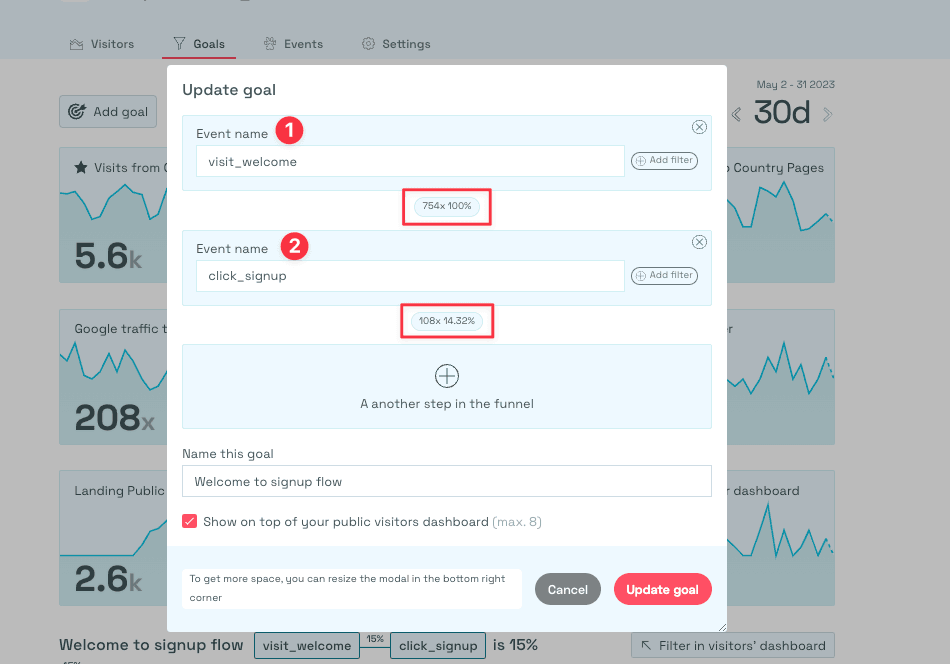 You can add multiple steps in the funnel and filter for specific characteristics such as "referrer" "path" and much more. Adding your most important KPIs to your visitor dashboard as a mini-dashboard is also possible. By clicking the mini-dashboard like in the image below, you can immediately see how the KPI performs over time and see metrics like "time on page," "browser type," "country," and whether users prefer mobile or desktop.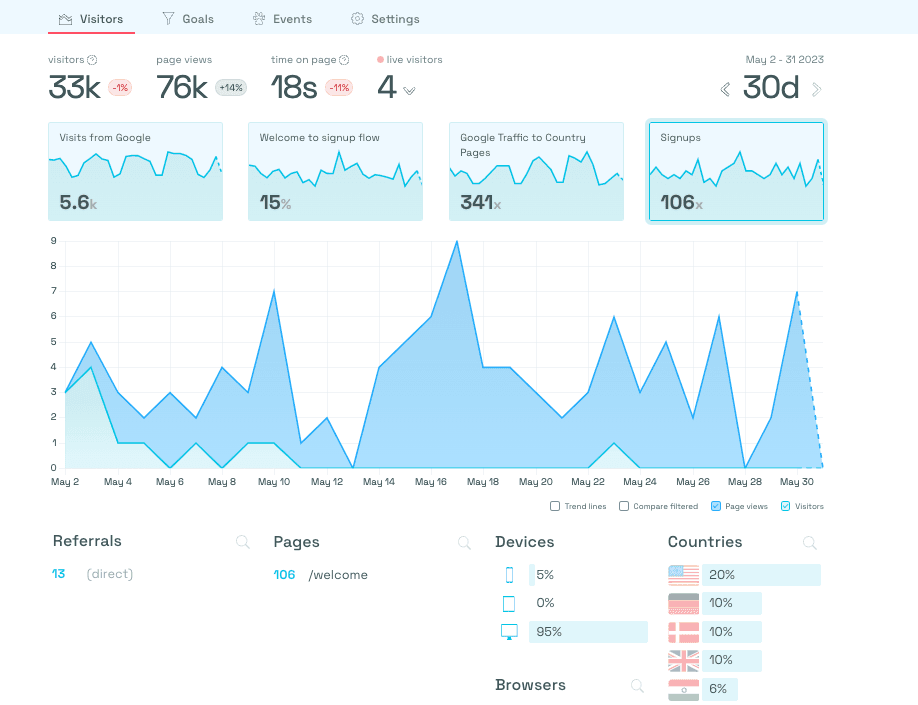 Export your data
Simple Analytics provides the possibility to extract raw data to use for your internal dashboards and tooling. Remember, it's your data, so you should be in total control. It's possible to use our API (for aggregated data) or use our user interface to export the raw data in many different formats.
Import Google Analytics data
It would be a shame when switching to another analytics tool meant that you lost your historical data. At Simple Analytics, we've built a Google Analytics importer to ensure your historical data is visible in our tool. The importer works for Universal Analytics as well as GA4. Especially since Google decided to shut down Universal Analytics, it might be worthwhile to consider using our importer. Google announced that your historical data will be removed after six months from July 1st, 2023.
Mini websites as referral links
We are privacy-first but simple-second. We built a straightforward dashboard that shows you the most important insights in a one-page overview. Simple and clean. In that respect, we also visualized your referral links. Instead of showing you links to specific referral pages, we created mini-websites. They are screenshots of your referral link pages. Instead of showing you a referral link, we show a visualization of the referral page.
4. Why do we care
We started Simple Analytics because we believe that you can get the insights you need in a privacy-friendly way. Data privacy will become more pressing in the coming years, so we aim to create a future-proof solution. We are 100% GDPR compliant and don't use any trackers or cookies (so there is no need for an annoying cookie banner).
We believe the internet should be an independent place that is friendly to website visitors. By opting for Simple Analytics, you'll be supporting us in our mission and protecting the privacy of your website visitors. If this resonates with you, feel free to give us a try.