In June, we saw the highest sign-ups ever. With everything else being equal, we knew we could expect a large number of new paying customers in July. This proved to be true. July was our best month to date!
Short recap as to why:
👉 Google switched to a new version of Google Analytics; not everyone was a big fan. More people tried Simple Analytics, and some of them stuck around.
A lot more happend last month. Let's dive in!
Churn
It was not all Kumbaya. Churn was higher than expected. We usually are around 2,5% churn. Last month it was over 3%. You can see what that means in terms of our bottom line in this image.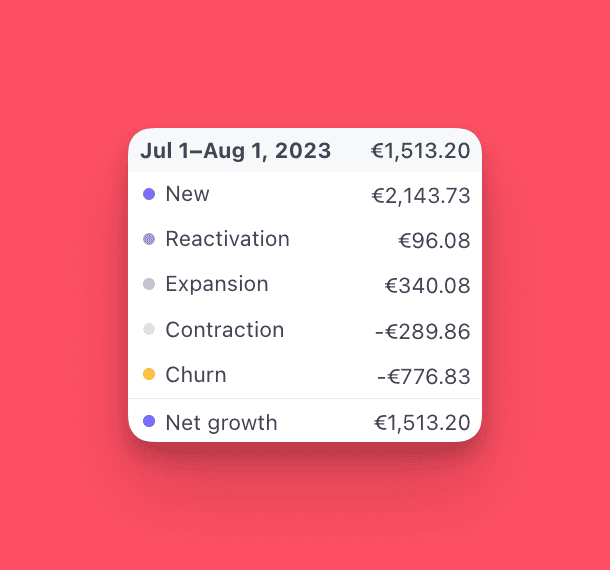 (Not all our revenue is from Stripe)
It's not alarmingly high, but we might want to look into it a little more. We have been focused on getting more new customers for quite some time, but we might want to look at retention more closely as well.
We now sent an email after someone cancels their subscription to learn a bit more about why, but I think we should do more here.
SaaS Friends
When we reached 20K MRR (and I tweeted about it), I got a Twitter DM from Davis Baer asking if we wanted to join his private community of founders that are over 20K MRR.
It was also even for free, so why not hé 🤷‍♂️ -- (This sentence was written in English with a Maastricht accent. Try to imagine)
I created a post in this group, asking if there were people from Amsterdam that wanted to chill/co-work at our office. Surprisingly I got eight replies instantly.
There are more people in Amsterdam building cool stuff than you think (and want to get out of their basement and see some daylight).
Two of them are Ruud & Jeroen, who stopped by last week.
It's super interesting to meet new people that are kind of on the same boat but with very different stories.
Jeroen (left): Founded Ratecard.io with his dad and brother. Now runs the show by himself after buying his dad and brother out and is doing waaaay more MRR than we are.

Ruud (right): Worked in Silicon Valley for six years. Three years at Instagram and grew a side-project to 25K MRR. He moved back to The Netherlands and is now building Lasso, a content moderation platform.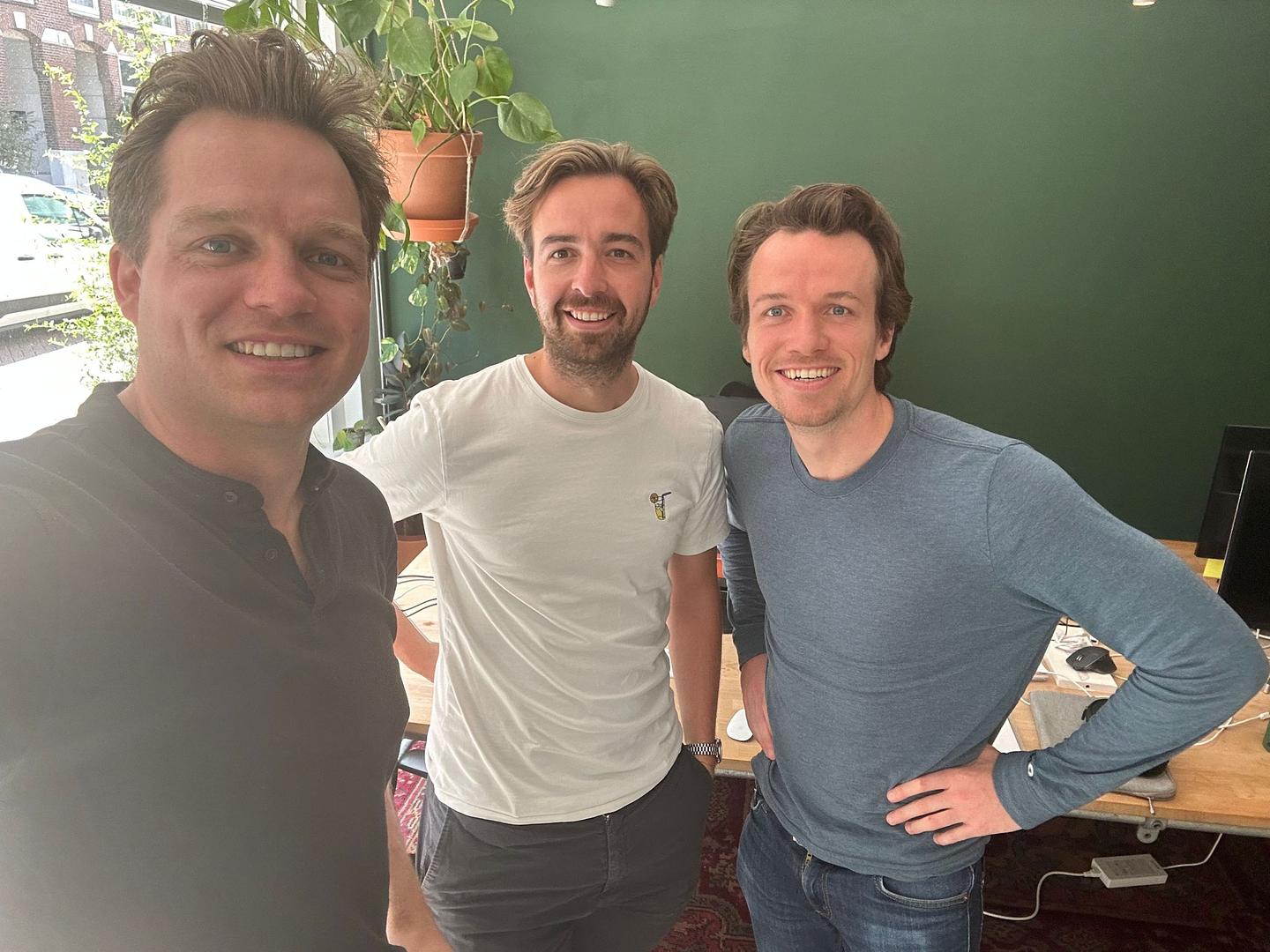 The week before, Pieter, Jochem & Joe from MightyScout joined the office for a day. Next week the boys from Webtastic and Jeroen from Stekkies will tag along.
Super cool to meet all of them! And if you are reading this (and building cool stuff or would like to), you are 100% welcome to join for a day of co-working. Just let me know beforehand.
Customer Stories
Next to chilling with other builders, I also did some work. I wanted more customer stories on our website.
We do have quite some social proof on the homepage, but we don't have case studies of our customers showing how they use Simple Analytics and why they switched from Google Analytics.
Normally, you'd need to interview customers and ask them questions to get their perspective. From this, you can start drafting a case study, adding visuals, etc, but since I am "the marketing department" at Simple Analytics, I need to be a little more scrappy:
Asked users if they wanted to help me. In return offered two months for free.
If they replied, I sent a list with detailed questions + asked for pictures.
Collect answers and ask ChatGPT to format them into a "case study."
Yes, the marketing department then proof-reads it.
Worked out pretty well. Got around 20 case studies lined up, and it only cost me a couple of days of work.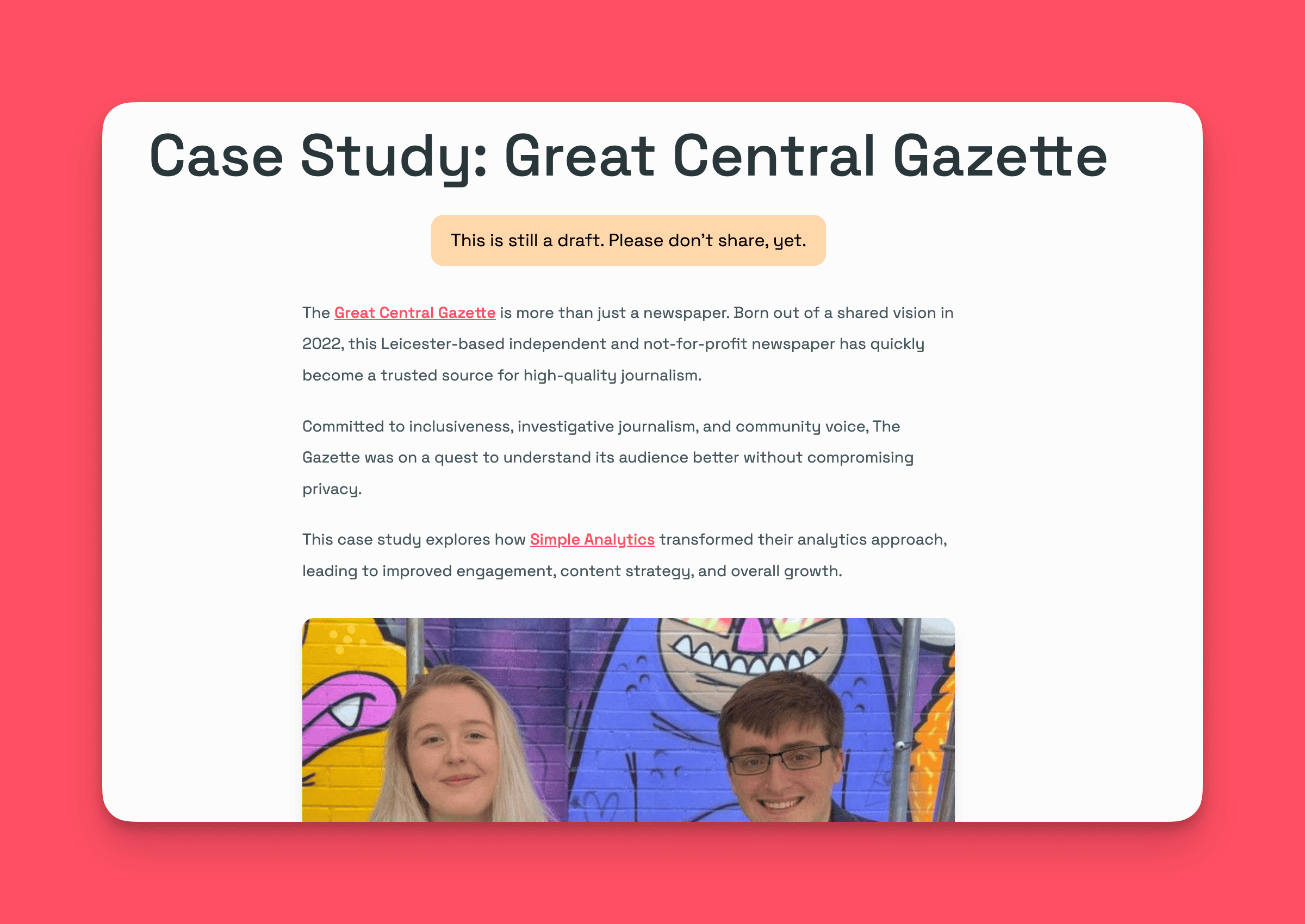 Work in progress
We're going full force at the moment. Everyone is deep in the trenches working in on something in their domain.
Adriaan is nearly finished (don't jinx it) with the team feature. This is one of the biggest features to date since it touches literally everything in the product. Once this is finished, you can assign different roles and create different website views.
Especially marketing agencies that want to onboard multiple clients to Simple Analytics will benefit from this feature a lot. They can monitor all their clients in one account and provide limited access to specific websites for their clients.
The rest of the gang:
Ankit: Working out different use cases for Simple Analytics (we got 70+ lined up here).
Atiksh: Designing new UI components for our blog page.
Carlo: Cracking out privacy-related articles.
Iron: Also working hard.
Sweden banned GA
On one of the first days of July, Sweden declared the use of Google Analytics in violation of GDPR. Stuff like this is amazing news for Simple Analytics. We (or Adriaan to be honest) have built a bot that filters this kind of news and alerts us immediately.
Once we saw the news alert, Carlo started drafting a blog post that we published the same day. We were the first to report on the news, which got us a lot of Reddit traffic and made us appear in Google in the top spot.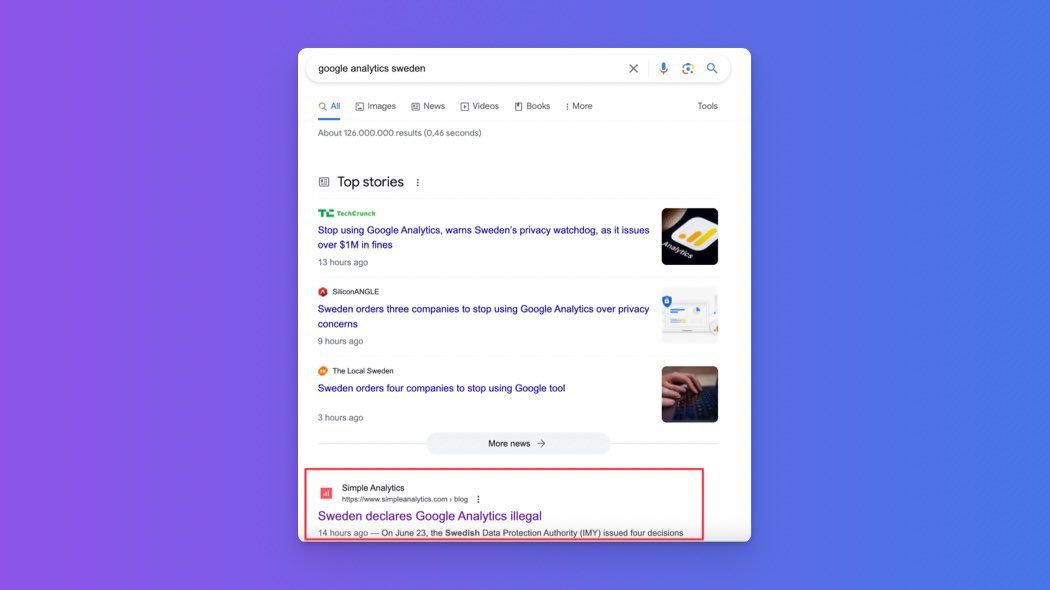 I got 99 problems, but SEO ain't one 😎
We use this strategy a lot, and it never disappoints. I wrote a blog called on applying this strategy: How to hack Hackernews (this article itself went viral on Hackernews, and now I'm blocked. But hey, that's not the point).
Numbers
Last but not least, our numbers. Our best numbers to date. I posted these last week already, but here we go:
💰 $22,117 MRR
📈 +$2,158 MRR (+11%) 🤯🤯
📊 33K Visits (-8%)
👋 237 Signups
😍 108 New customers (+111%)
💔 34 Churn
Final Thoughts
We had our best month to date. However, some factors played in our favor, like Google switching to a different version. We should not get used to this type of growth. On average, the summer months are slower than the others, so I would expect August to be a bit more quiet.
Then again, we are on the right track here. Adriaan is almost finished with a massive feature, and together with Atiksh, Ankit and Carlo, I'm creating tons of pages to get more traffic to our website.
Peace out.
✌️✌️