We knew June would be a big month since Google Analytics would shut down its current version, Universal Analytics, in favor of GA4. This meant that everyone needed to migrate to a new tool, and not everyone was too happy about that. Good news for us!
We had a insane traffic spike coming from one Tweet, got our office renovated and appeared on the biggest tech podcast in The Netherlands.
Quite eventful, so let's dive in!
GA4 Migration
The great migration to GA4 was in full force in June. Universal Analytics was shut down on the first of July, making it unusable for collecting analytics. Getting your data out is still possible for at least six months, but you need to migrate to GA4 or find another analytics tool. In addition, many Google Analytics users also didn't like the new version.
Insert Simple Analytics. We've benefited quite a lot from this. In the last week before the migration, we've seen two times as many signups as usual.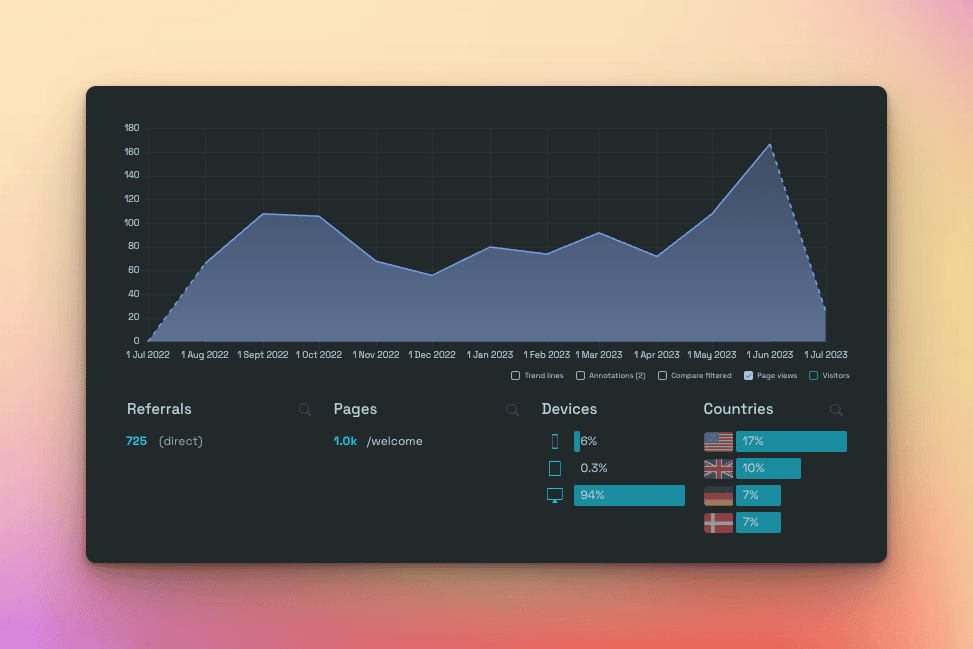 Hope we can keep up this momentum since many people might want to give GA4 a try but come to the conclusion that they don't like it and want something else.
Pieter Levels Tweet
For those who don't know, Pieter Levels is an "indie hacker legend." He has built many businesses by himself, of which now four of them do at least 50K MRR, earning him at least 3 million a year. Yes, a fucking legend.
He has a huge following on Twitter and also happens to be a fan of Simple Analytics, so he tweeted about us: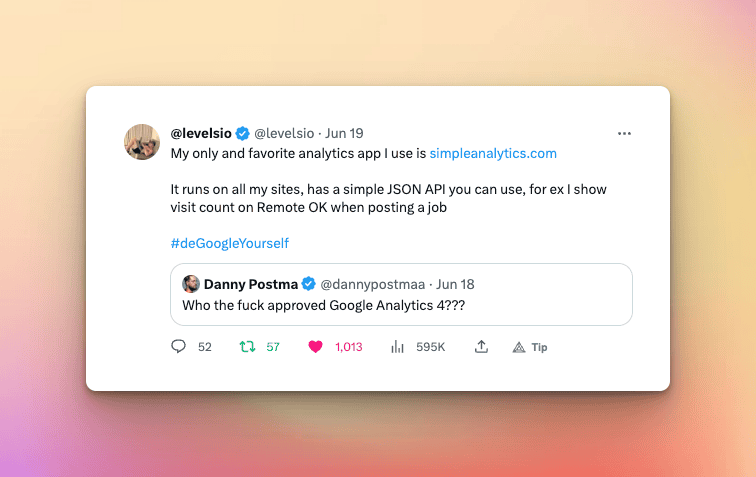 Read the tweet
It got 1000+ likes, half a million views, and a lot of replies and retweets, leading to 8K traffic to our website and many signups.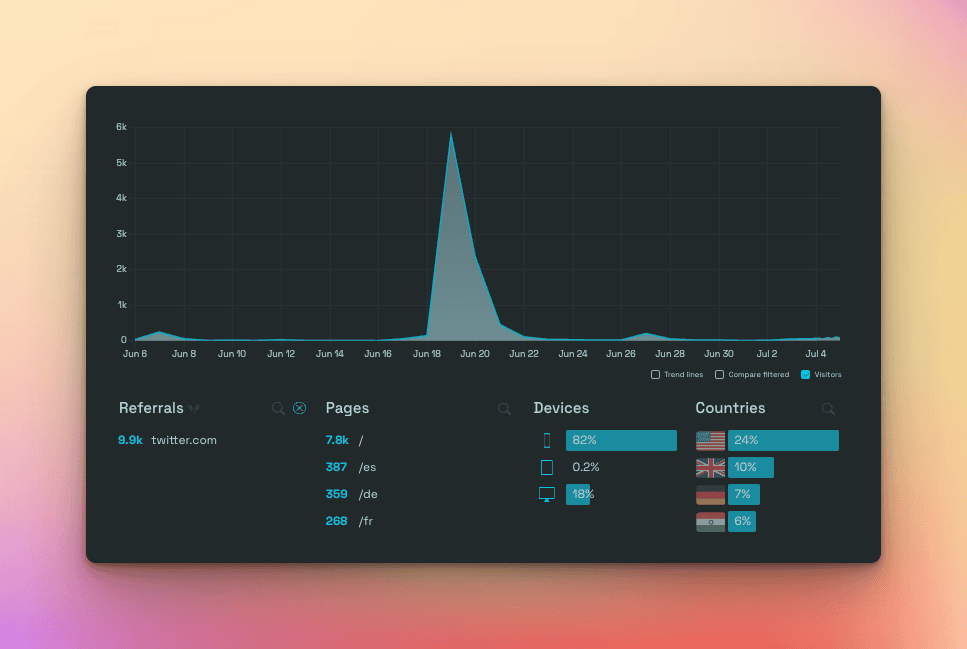 We even estimated how much his tweet was worth regarding how much money he made for Simple Analytics.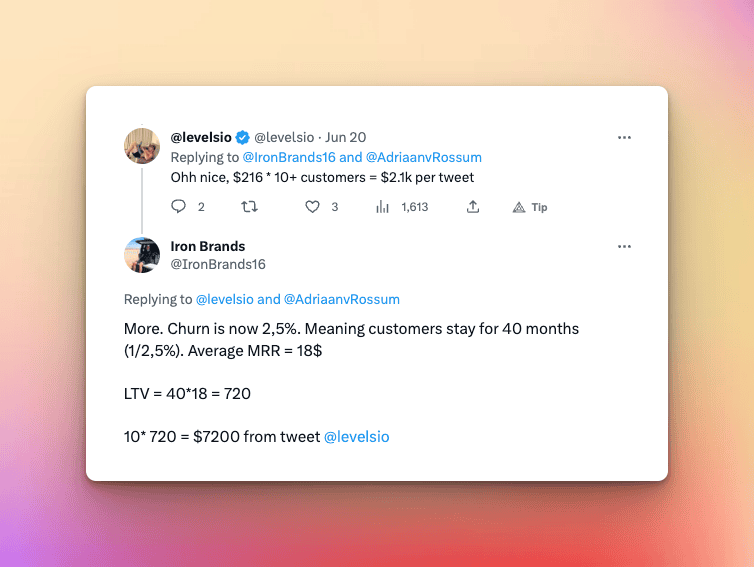 Read the tweet
The calculation was a bit flawed, but luckily some data rangers jumped in and estimated that the single tweet by Pieter Levels turned into $3500. Pretty sick for just a tweet.
Adriaan on holiday
And all of the above happened while Adriaan was enjoying a 3-week holiday in Sweden. When Adriaan is not around, the pressure to not fuck up is always so much bigger because there is no one to fix it.
Adriaan also took precautions by buying an indestructible Nokia phone and installing extra alerts for when something went down. He would be notified by SMS and move to the nearest point for an internet connection to fix it. (To be fair we have someone working on infrastructure, so we would be alright anyways, but thanks Adriaan 😆)
Luckily, nothing happened. The man is back in town now and 100% revitalized, fully charged, and ready to crank out new features.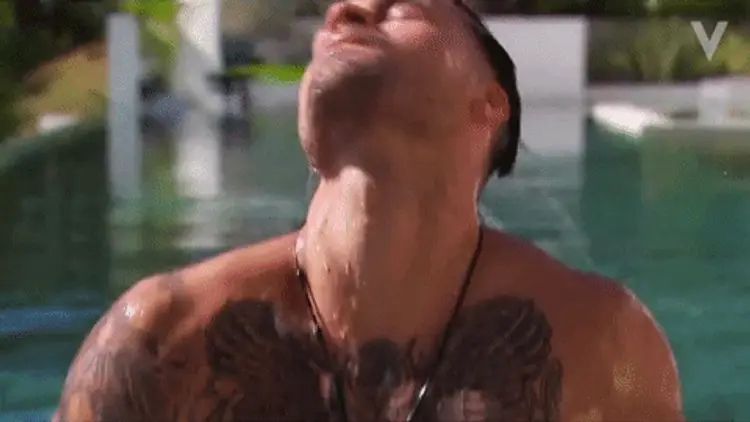 Office Renovation
Adriaan was also right back in time for our office renovation. Since August last year, Adriaan and I joined a shared office called: Lennepy on the Jacob van Lennepstraat. Since January this year, we have taken over the lease and planned to make the office really nice.
We are currently with eight people and decided on renovating the place altogether. We planned an office meeting to discuss the renovation and created a three-step plan:
Get new desks and repaint the office
Get nice new stuff in the office, like rugs and a couch and a chill room
Fix the garden
Phase 1 done ✅
Feel free to come and chill/work at our new place!
BNR
The icing on the cake came at the end of the month with Adriaan being invited to the live show of BNR to talk about Simple Analytics. This is the biggest tech-radio show/podcast in The Netherlands.
Check out the video of Adriaan's chat in the studio
We expected a spike of dutch visitors afterwards, but this did not happen. You can see a little blip, but not super spectacular. Anyway, this was a great experience and great for our branding and getting our name out.
Numbers
Last but not least, our numbers. I'll keep this short and sweet but June has been a great month with almost +$1000 in MRR. We've also broken through the barrier of 1000 paying customers 🎉🎉
💰 $19,959 MRR
📈 +$932 MRR (+4%)
📊 105K Visits (+3%)
😍 51 New customers
💔 22 Churned
If you want to learn more about our numbers, check out our open page.
Final Thoughts
We've had a really good month with adding almost + 1K MRR, while Adriaan was on holiday for three weeks. Getting the chance to join the BNR live radio show and having people like Pieter Levels tweet about your business are big energy boosts!
July always seems to be a quiet month with everyone going on holiday, lets see if we can keep the momentum going in our new office. I mentioned above that you are invited to come and chill/work. I mean that. If you are building cool stuff and want to shoot the shit with 8 other "indie builders" and talk about new projects, you are more than welcome to drop by!
✌️✌️