Earlier this year, Google announced that it would shut down Universal Analytics in favor of GA4 Analytics on July 1st, 2023—a huge blow for marketers that have relied on the current version for a long time.
Following the announcement, many began experimenting with GA4, which unfortunately resulted in a less-than-ideal experience (to say the least).
To sum it up in one picture, this is GA4: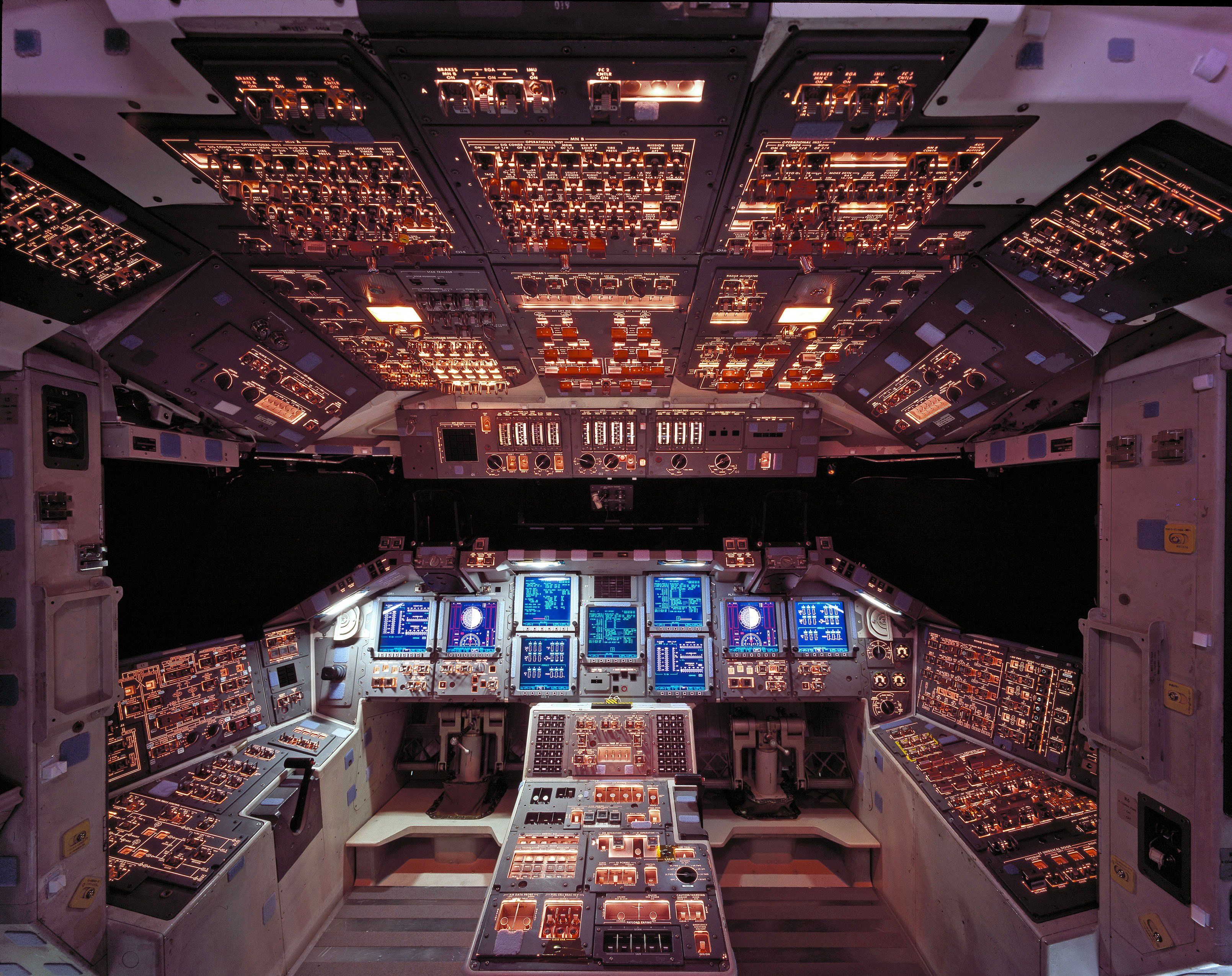 Let's dive in!
GA4 Alternatives
The less-than-ideal experience with GA4 has led to a surge in interest in GA4 alternatives on Google (how ironic) and Twitter. If you've ever considered exploring alternatives to Google Analytics, this is the perfect opportunity to look at other options.
In this article, we evaluate the ten most promising Google Analytics alternatives to make your choice easier.
Simple Analytics
Simple Analytics is a straightforward analytics tool that gives you the insights you need while being 100% GDPR-compliant. It's affordable tool that doubles as a web -and product analytics tool.
PS: Also see the in-depth comparison with Google Analytics
Pros of using Simple Analytics
Simplified UI - Using tools that are easy to navigate around is always preferred over complex ones. Simple Analytics offers a straightforward user interface that makes analysis easier. Working with it is, therefore, a smooth activity.
Affordable Pricing- Simple Analytics is exceptionally cost-effective. They offer both product and web analytics tools at a reasonable price. They have plans starting at $9/month. It packs the tools and features from the most expensive tools for a friendly price.
Automated Event Collection- Another feature that makes Simple Analytics stand out in its product category is automated event collection. While you must manually set additional tags for other tools, Simple Analytics does the job for you. Once you link it to your website, it lets you track the metrics of all action buttons just by hovering over them.
Mini Websites- As a business with an online presence, you often get featured in the conversation of your users. You might get a mention on Twitter or a feature on a website. While most tools let you know where you got a mention, they don't deliver the specifics. Simple Analytics stands out here. It gives you the specifics of your feature and helps you track it through a mini website.
Cons of using Simple Analytics
The user interface of Simple Analytics is made to look simple and easy to understand so everyone, be it the founder or marketing teams, can use it easily. A Product Manager may need a few more screens, but that is something that can be quickly built with goals.
Pricing of Simple Analytics
Simple Analytics is one of the most cost-efficient tools available in its segment. The product is perfect for businesses. It caters to companies and has plans for individuals and students. Therefore it ensures that the best features are available at a very reasonable price.
The pricing of Simple Analytics starts at a low $9/month, making it a pocket-friendly tool for all businesses.
Fathom Analytics
Fathom Analytics was launched just after the implementation of GDPR in 2018 to provide privacy-friendly analytics compliant with the new European privacy laws. Simple Analytics and Plausible launched at the same time. In a sense, these tools are very comparable, but everyone did have a different approach to data collection.
Fathom Analytics is an easy-to-use web analytics tool, much like Simple Analytics, and it also comes with essential features such as event tracking. However, it's a bit limited, though.
The primary issue with Fathom Analytics is that it's not 100% privacy-friendly, primarily because of how they collect and store user data. If you want to read more about this privacy issue on Fathom and other popular analytics tools, here's the report.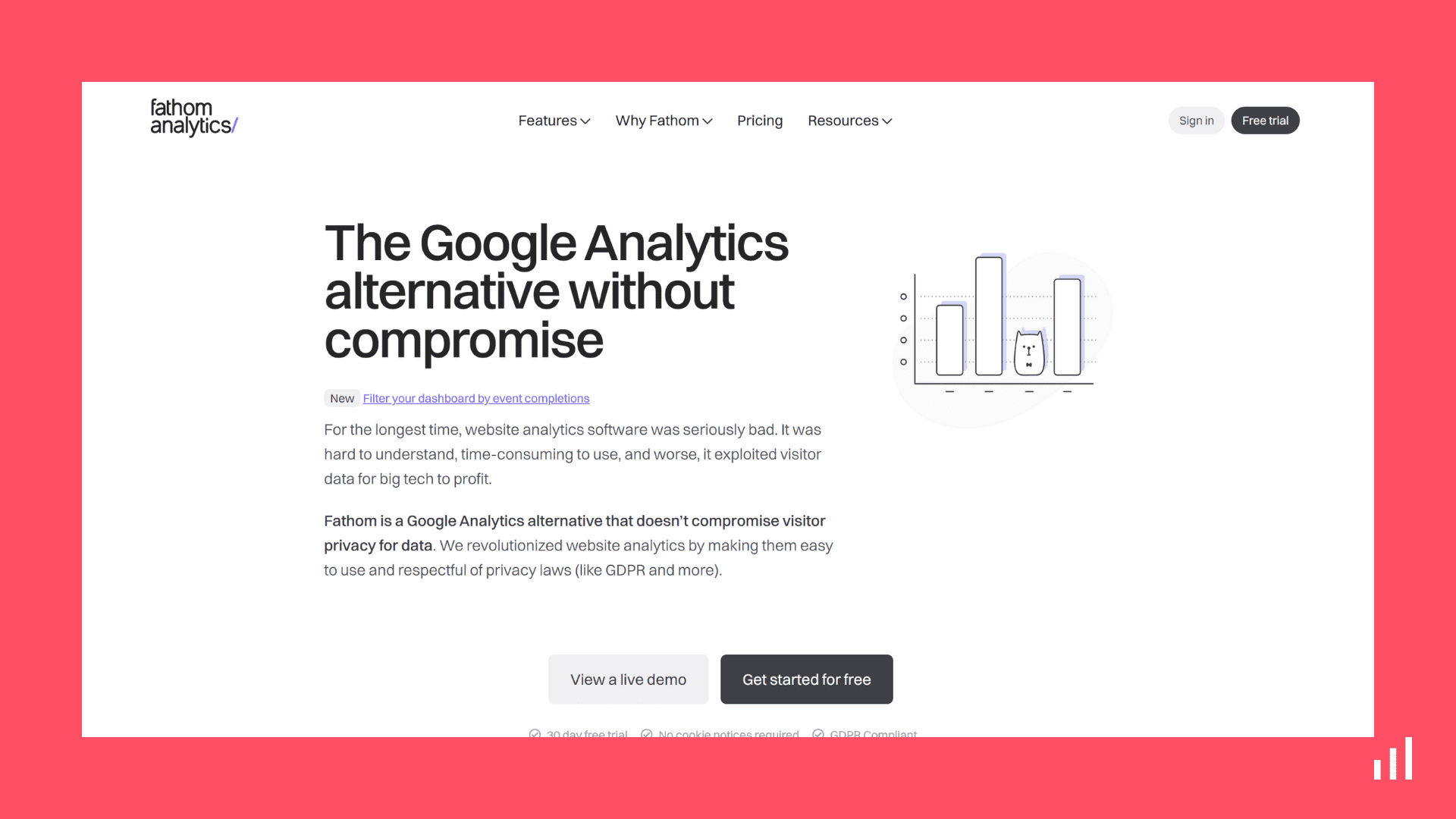 Pros
Simple and easy-to-use dashboard
Provides uptime monitoring as an added feature
Supports event tracking (e.g., tracking the number of PDF downloads, Newsletter signups, etc.)
Cons
Some users have said that the UI requires improvements.
Other options are more privacy-friendly
It's event-setting, and goal-tracking features are limited
Pricing
Fathom Analytics has multiple pricing plans (10+), but the good thing is that all plans have the same feature set, with the only capping on monthly pageviews.
The pricing starts at $14/month for up to 100,000 pageviews and goes to $274/month for up to 25,000,000 monthly pageviews.
Piwik PRO
Like Matomo, Piwik PRO also branched out of a popular open-source analytics tool, Piwik.
Piwik PRO has seen significant development compared to when it was branched out of Piwik. It has now become a web and product analytics tool for enterprise customers, making it a very expensive choice for many.
If Piwik PRO's pricing doesn't suit your budget, then it is worthwhile looking at the below alternatives. Also, the low data retention policy of Piwik PRO is a deal breaker for many.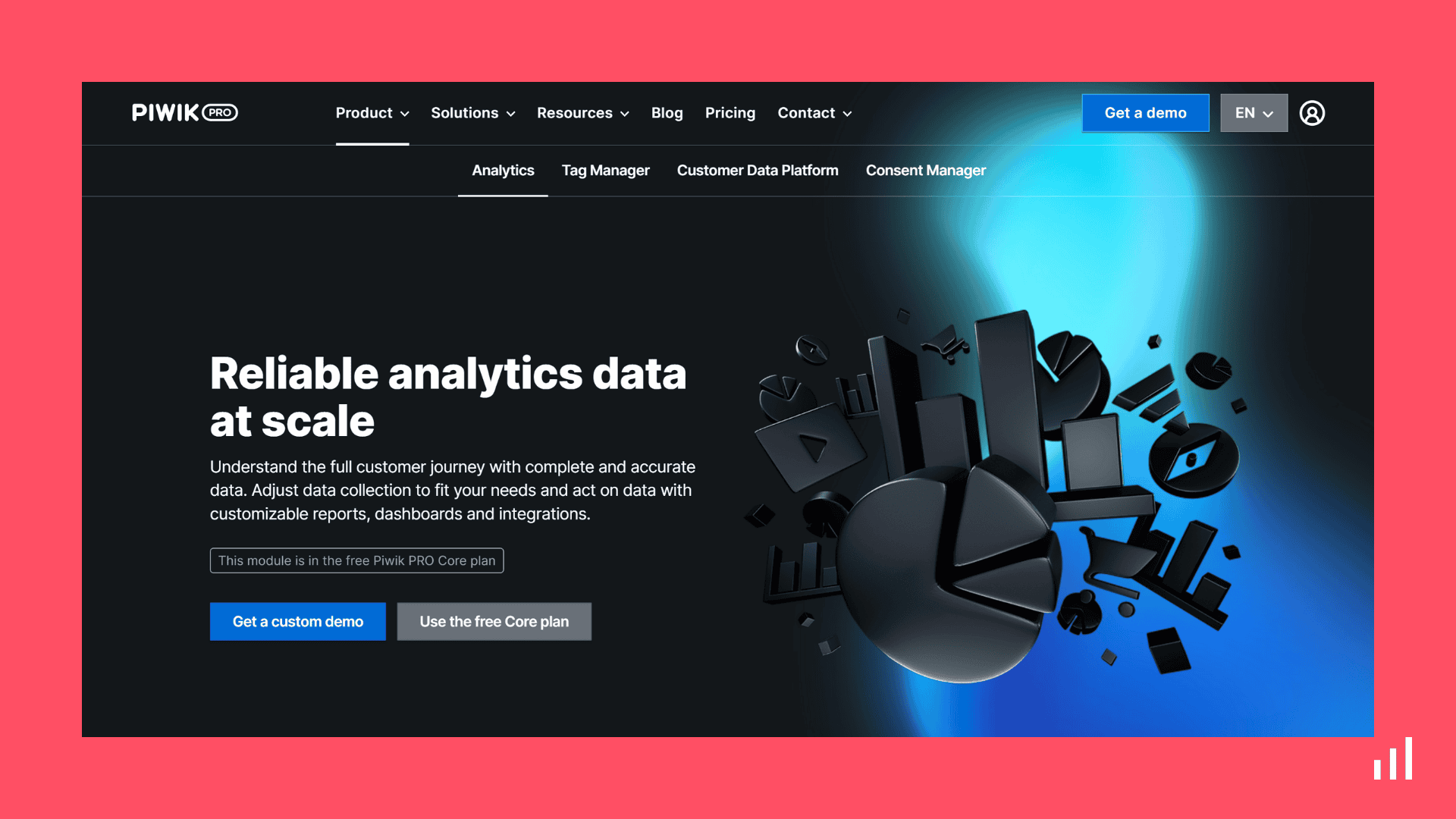 Pros
Provides detailed reports on visitor behavior, including location, device, and more.
Open-source, which means it's free to use.
Offers customizable dashboards and reports.
Provides privacy-focused options.
Offers a cloud-hosted solution.
Cons
Complex analytics tool that requires training
Piwik has problems with loading, data retention, and an exponential increase in disk consumption.
Primarily meant from enterprise, hence an expensive solution.
Pricing
Piwik PRO is an enterprise solution and is expected to be expensive. If you try looking up the pricing on their site, you won't be able to, as it requires contacting the sales team.
Though the pricing isn't public, but according to Optimize Smart, the pricing plans start at $419/month for 1,000,000+ actions. Note that this info was shared in 2022, so the pricing is highly likely to be updated.
Adobe Analytics
Adobe Analytics is a small part of Adobe's giant Marketing Cloud. It's a tool meant to be a complex web analytics tool that also comes with Business Intelligence (BI). Also, Adobe Analytics works best when you have the other Marketing Cloud tools.
If you are just looking for a simple yet powerful analytics tool, Adobe Analytics may not be the right choice as it's complex, needs other tools to function properly, and is expensive too.
You should only consider it only if you have specific feature requirements such as predictive analytics but be ready to shed a ton of money.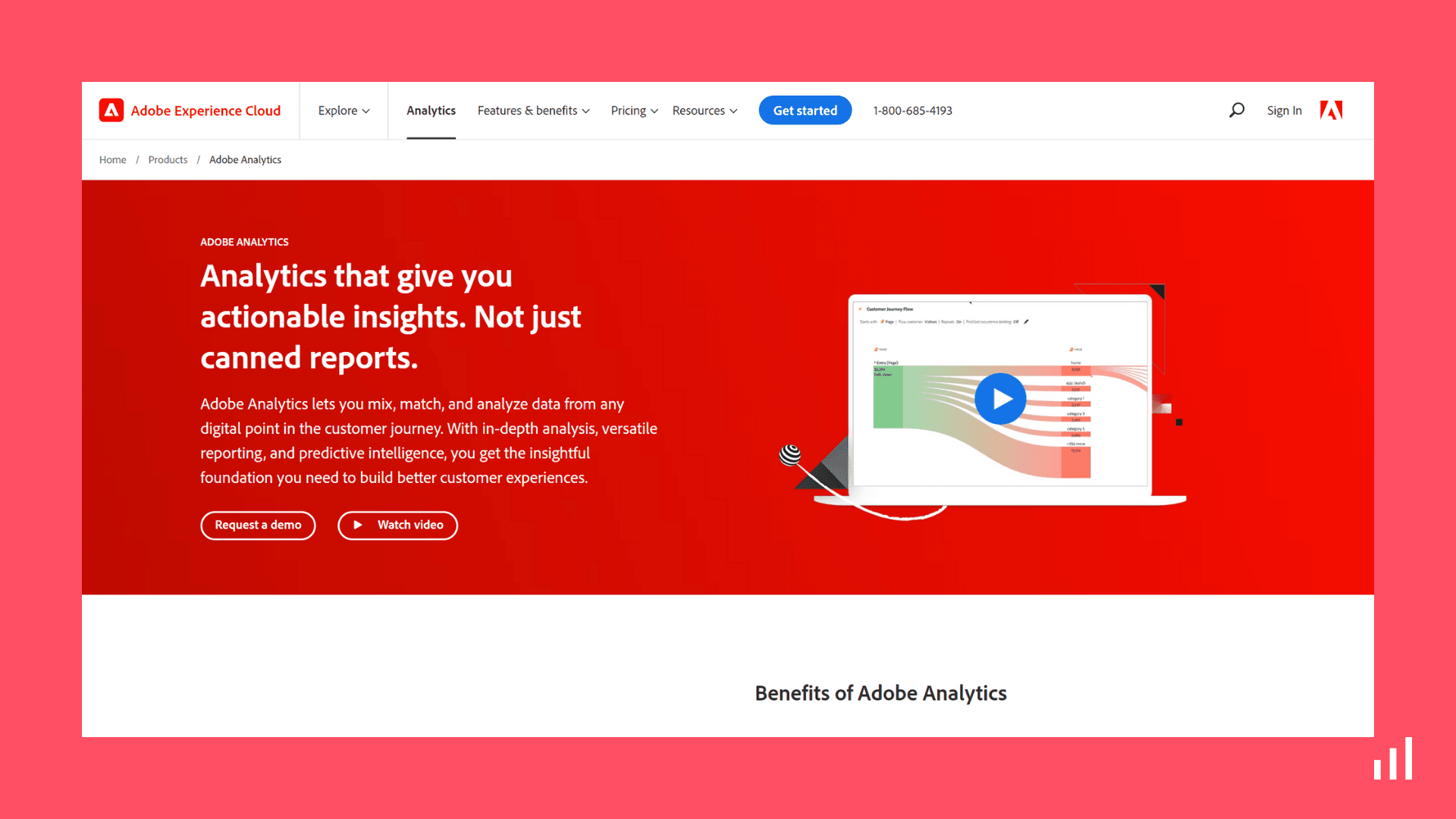 Pros
Adobe Analytics has been in business for many years, making it a mature tool with many features.
Apart from just web analytics, it also doubles up as a marketing analytics tool with features like ad hoc analysis and multichannel data collection.
Cons
Adobe Analytics is a sales-led product, and you would often need an implementation partner. It's a very complex analytics tool.
The cost of Adobe Analytics, along with the fees/charges of the implementation partner, makes it an expensive affair.
It needs to work with many other Adobe products to give businesses all the data it can, but then it makes it very complex.
Pricing
Adobe Analytics provides three different plans along with many add-ons. The plans "Select," "Prime," and "Ultimate." The pricing of all the plans is hidden behind a "Get Pricing" button, which makes you contact the sales team to get pricing info.
Though the pricing info isn't public, however according to Nabler, the pricing is somewhere between $48,000 on the lower side and $350,000 on the high side.
Paying and justifying this much for an analytics tool is only justifiable when the revenue is in multi-millions, and even then, you can find better options.
Matomo
Matomo is an analytics tool that branched out of a popular open-source analytics tool called Piwik. One benefit of Matomo is that it comes with a self-host (on-premise) and cloud version. Most people choose the cloud version, though, as the self-host version requires dedicated knowledge of servers.
Though Matomo comes with many useful features and reasonable pricing, the UI is reported to be complex by some of its users. In this case, choosing a more straightforward, easy-to-use, and understandable alternative is better.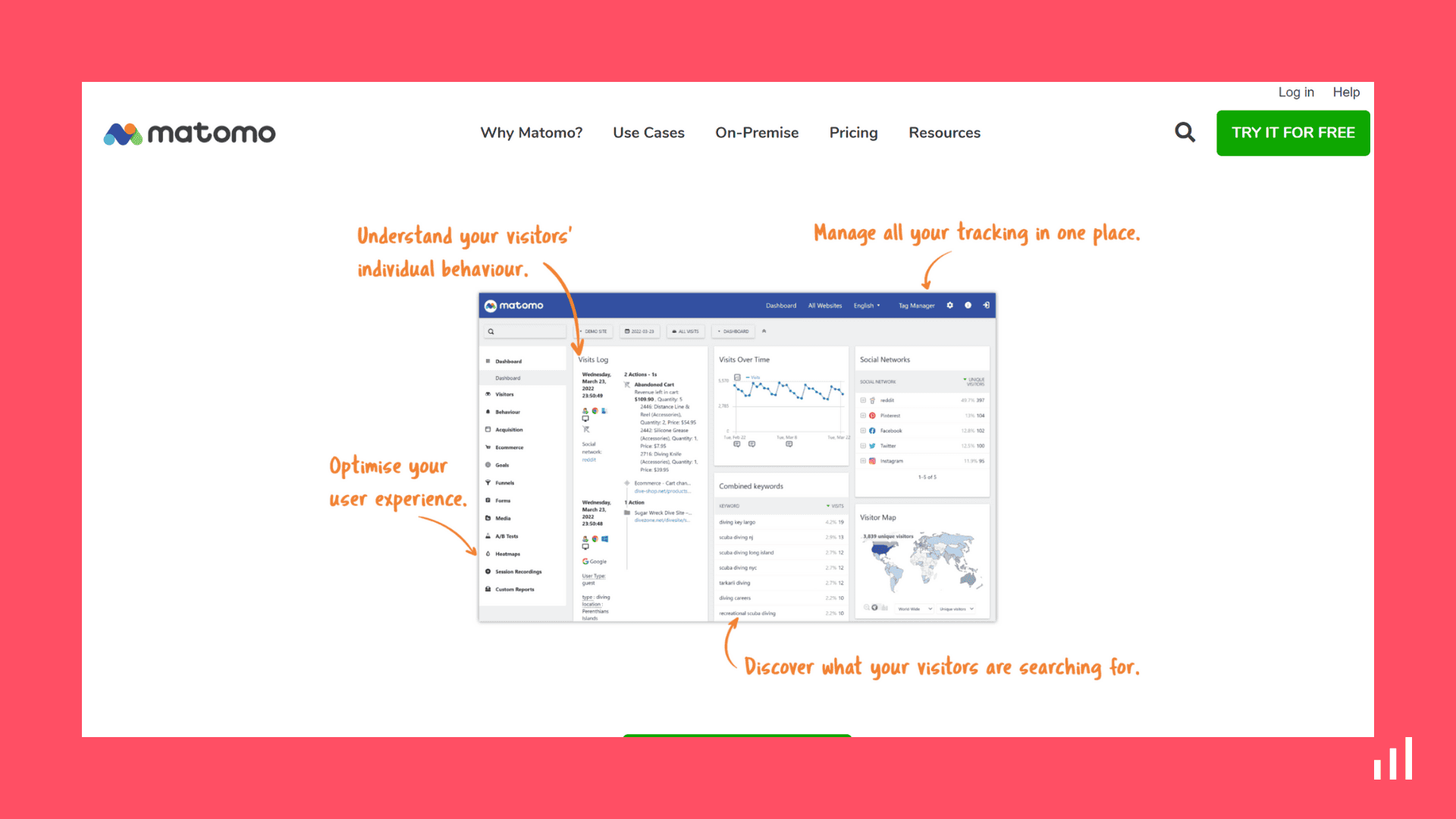 Pros
The self-hosted version is free to use.
Feature-rich.
Cons
Payment is required to unlock additional features in the self-hosted version, and the cloud version lacks certain features.
The UI might feel complex to some.
Cloud plans are expensive compared to other tools.
Pricing
The pricing of Matomo depends on whether you are on the self-hosted or cloud plan. Also, based on add-one, the price might change. Currently, the self-hosted plan with no add-ons is free, and the cloud version costs ~$35/month (changes based on your local currency).
Plausible
Plausible is a popular privacy-friendly web analytics tool that gained popularity for offering a clean-looking tool on a budget (though pricing has changed since then). The open-source version of Plausible is quite popular too among developers, but it requires technical knowledge.
Also, Plausible says it's privacy-friendly, but according to some reports, the way they collect data makes this debatable.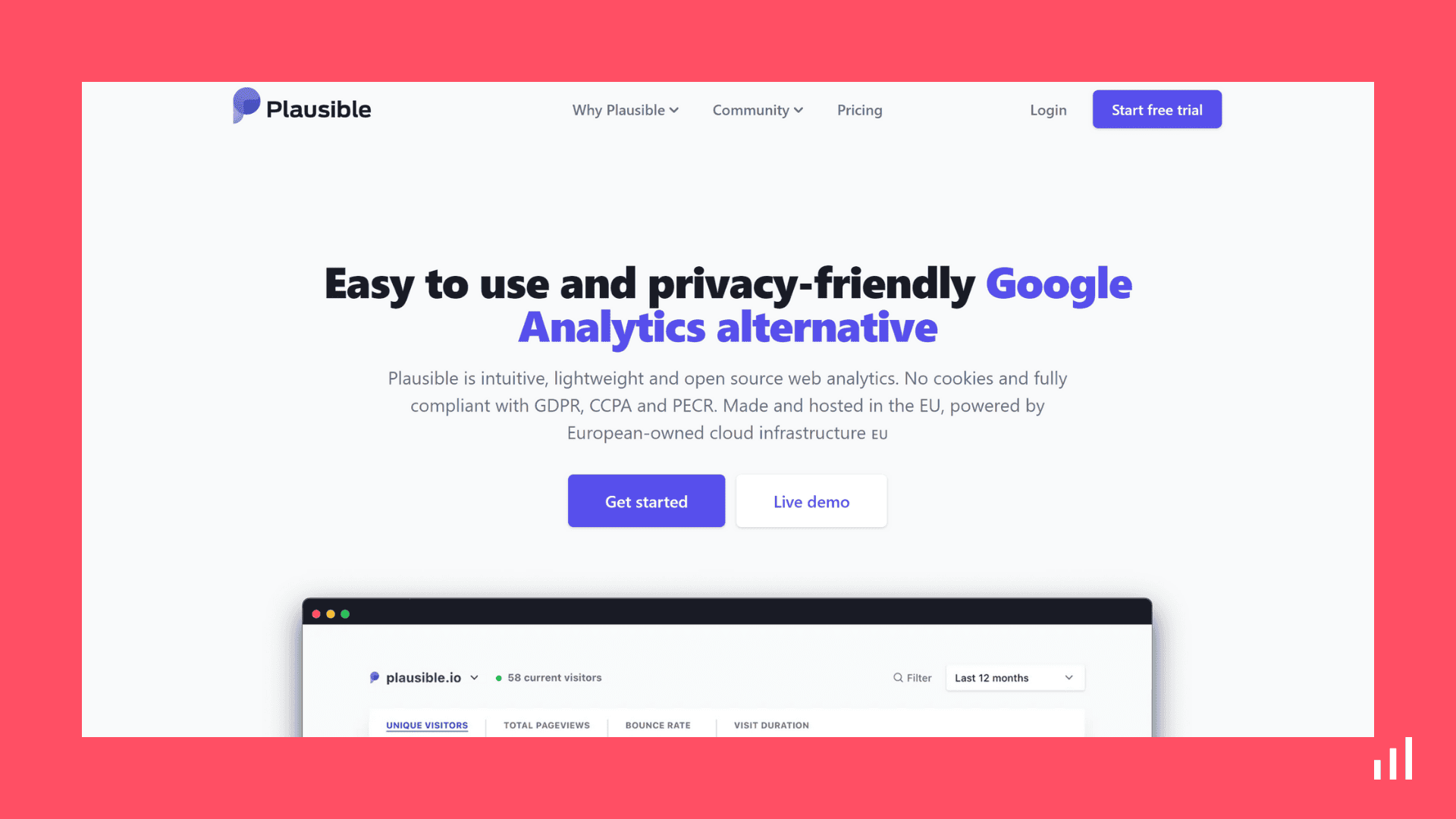 Pros
Provides detailed reports on visitor behavior.
Privacy-focused, which means it doesn't use cookies or collect personal data.
Offers a clean and straightforward user interface.
Provides customizable dashboards and reports.
Offers a free trial.
Cons
Limited features compared to other paid options.
A lower degree of in-depth reporting.
Other solutions are more privacy-friendly.
Pricing
Plausible's pricing starts at $9/month when paid monthly or $7.5/month when paid annually. Though this is indeed affordable, you'll have to keep in mind that this is the pricing for websites with less than 10,000 page views.
The next tier starts at $19/month when paid monthly or ~$15.9/month when paid annually for websites with less than 100,000 pageviews.
Amplitude
Amplitude is a product analytics tool and an event-tracking platform founded in 2012 by Spenser Skates and Curtis Liu.
Amplitude is primarily used for customer journey analytics, digital analytics, mobile analytics, product intelligence, and product analytics. It's a complex product with a hefty price tag focused on larger organizations.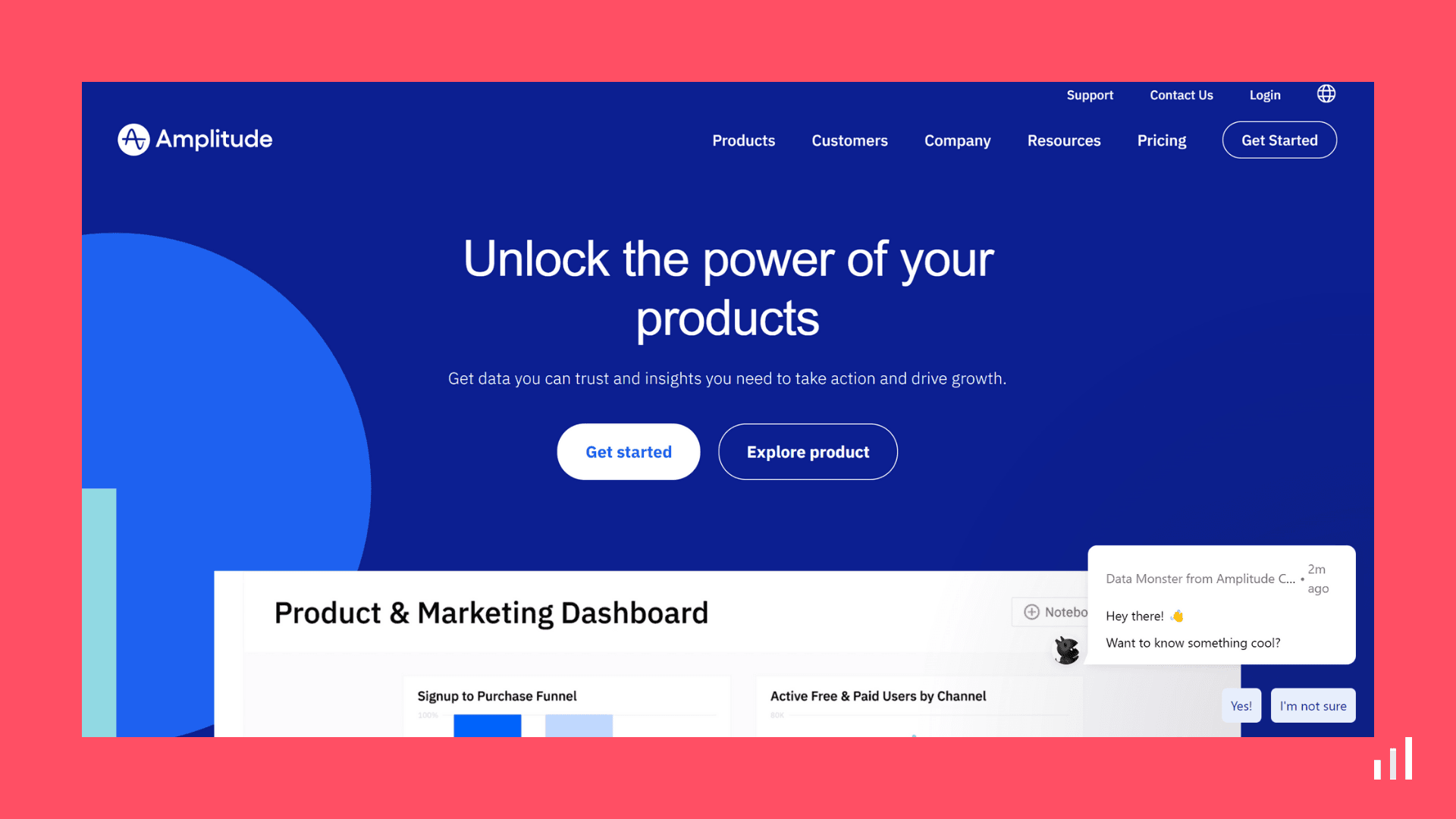 Pros
Feature-rich product analytics tool
Details product metrics reporting
Cons
Paid plans are expensive
Complex tool and has a learning curve
Pricing
Amplitude is a product of analytics meant to be used by enterprises with substantial spending budgets.
The price for their most affordable plan used to be ~$12,000/year in 2020, which has reportedly increased to ~$25,000/year. To get the ~$25,000/year pricing, you must bargain with Amplitude's sales & onboarding team.
Pendo
Pendo is a product analytics tool that enables product managers to proactively engage with customers and understand how their product is being used. Also, yes, tools like Pendo are better to be used by a PM and not the best choice for solopreneurs or small teams.
It also has many features that help you provide personalized user onboarding and in-app training, which is an added feature of Pendo. Furthermore, these features are available on mobile too.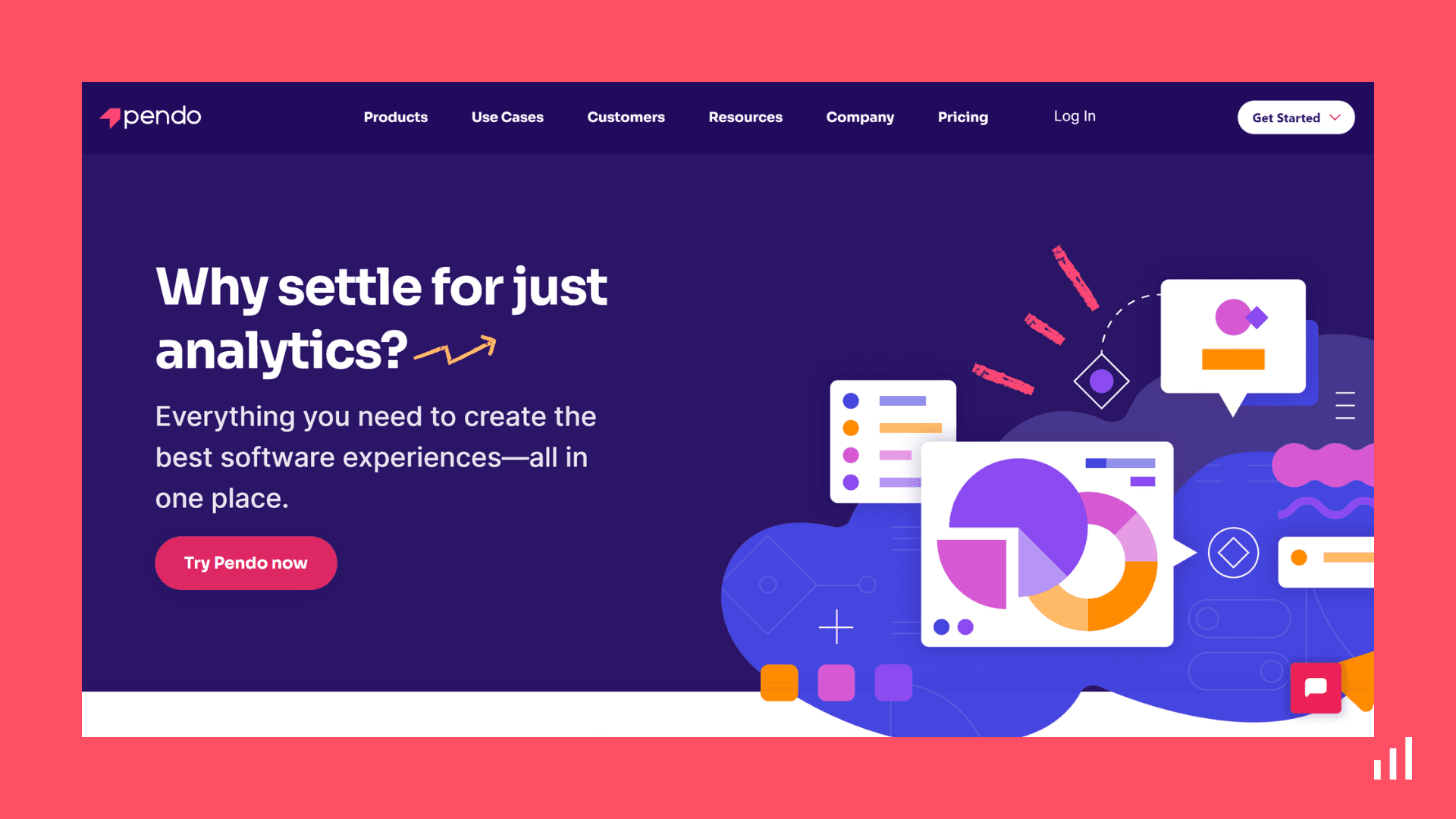 Pros
Provides additional features such as an onboarding tool for SaaS
Provides detailed product analytics
Cons
Too many features make the UI cluttered
Expensive tool
Pricing
Pendo is a software targeted towards enterprises, which also shows up in its pricing. You'll have to pay $7000/year for up to 2000 monthly active users.
It's indeed pricey and certainly not recommended if you are just starting. Better to stick to something affordable and simple.
Mixpanel
Mixpanel is one of the most popular product analytics tools out there and is used by companies like Netflix and CNN. The founders of Mixpanel believed that metrics like registered users, page views, and app downloads were just vanity metrics and could have been easily inflated. Mixpanel was built to solve this by providing absolute product clarity with their metrics.
It offers many ways to customize for the unique needs of businesses from different industries. With its customizable dashboard, Mixpanel allows its users a lot of room to keep track of their numbers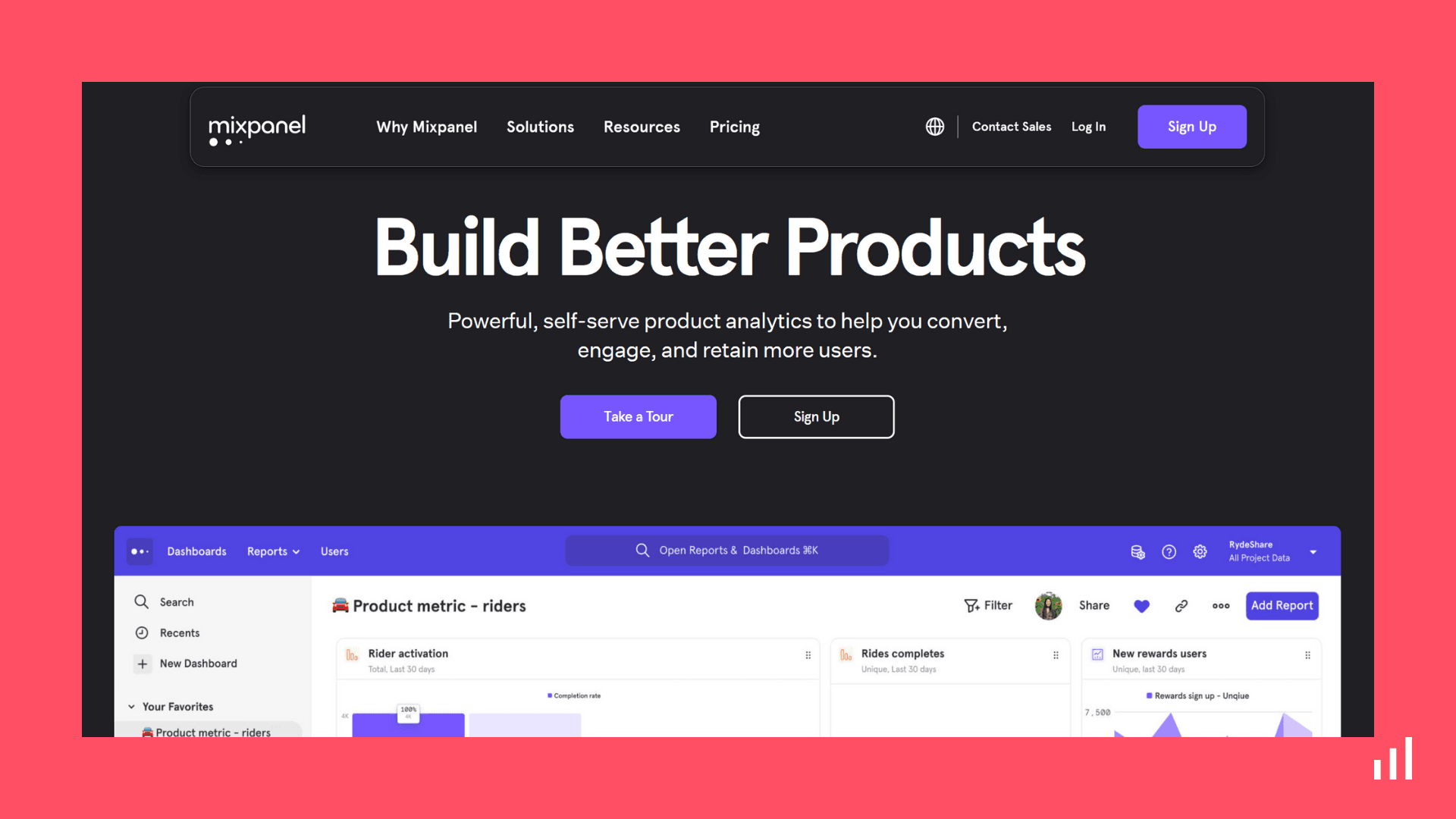 Pros
Provides in-depth product analytics
Custom dashboards and charts can be created
Cons
Using it is hard without dedicated product knowledge
Expensive for most businesses if all features need to be unlocked
Pricing
Mixpanel offers a variety of pricing plans to suit different business needs, with options for startups, small businesses, and enterprises. Prices start at $20/month for the Growth plan, which includes unlimited reports and data pipeline add-ons. The Enterprise plan starts at a heavy $833/ month and includes advanced machine learning and predictive analytics features.
Heap Analytics
Heap is a product analytics tool with features like session replay, heatmap, and user journey. Its primary role is to be the single source of truth for all product-related metrics.
Anyone using Heap can customize it as per their requirements, as it allows users to create custom dashboards and charts. Heap is widely used in the industry for funnel optimization and to improve product adoption.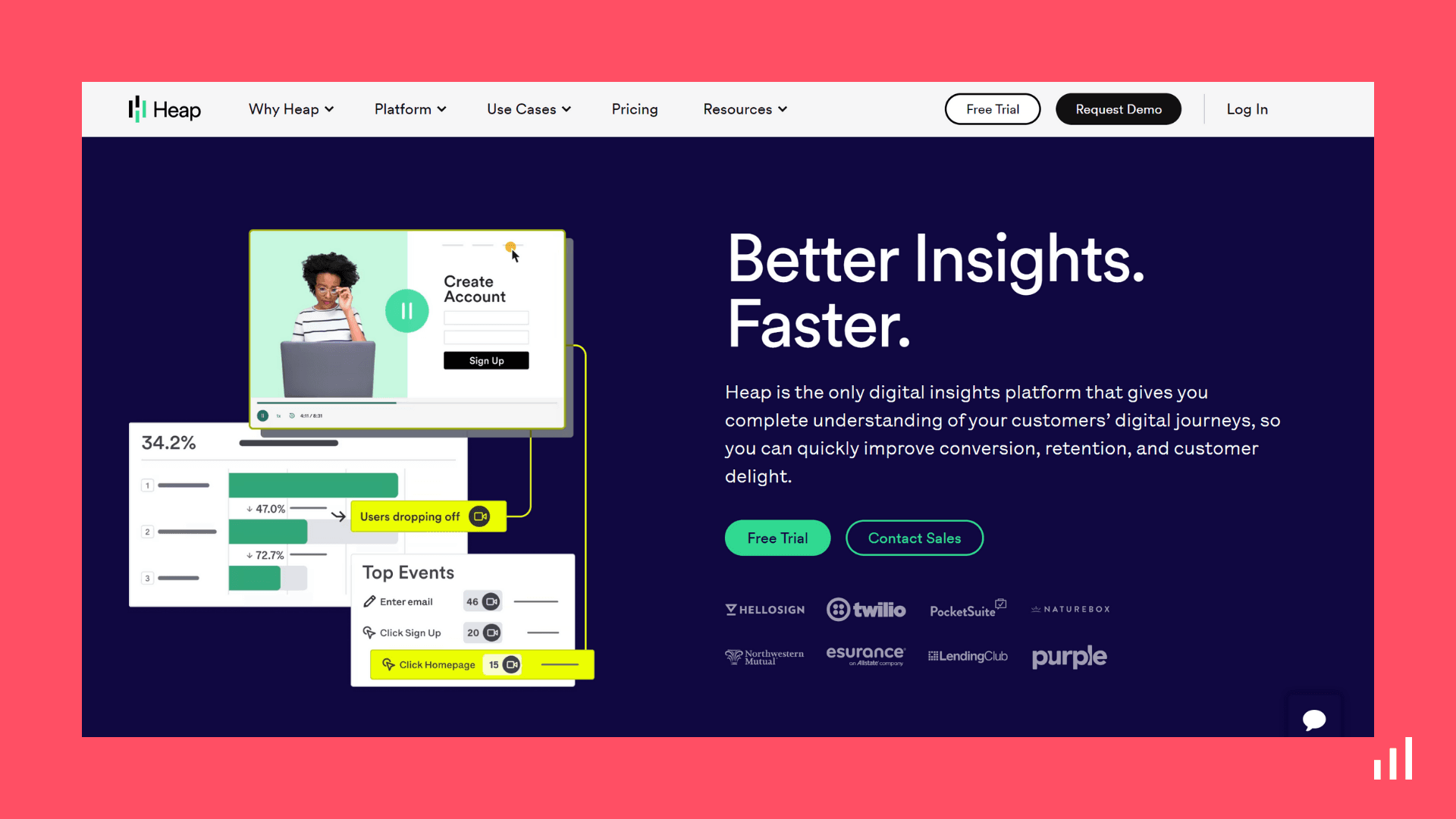 Pros
Provides data enrichment
Provides in-depth product analytics
Cons
Can get overwhelming
Expensive tool to use
Pricing
Heap is an enterprise-grade software tool with three paid plans, Growth, Pro, and Premier. The pricing isn't publicly available on their website. However, some review sites say it starts at $3,600/year for 300K sessions/year (25K sessions/month).
Do note that the starting pricing doesn't contain all the features that Heap offers; you'd have to upgrade to a higher plan.
Things to Look for in an Analytics Tool
Selecting a tool for product analytics is a crucial decision. You might ask what could possibly go wrong when choosing one, yet you can miss out on a lot. Therefore, be sure to go through this checklist before making a choice. You're good to go if the tool provides these:
Ease of Use: Regardless of your chosen product, it must be simple to use. You shouldn't spend your precious time on a complex web analytics tool that takes time and experience to get familiar with.
Accuracy: Getting an accurate picture of what's happening on your website is important. Inaccurate data might lead to misjudged decisions that impact your business.
Straightforward UI: Most of the time, you don't need 75 custom dashboards (looking at you, Google). A straightforward overview of what's happening on your website will give you the insights you need instantly. Look for a tool that gives you the insights you need without too many distracting bells and whistles.
Lightweight: Your website is your storefront on the internet. Providing the best possible experience to your visitors matters. Installing an analytics script has an impact on your page speed. Choose an analytics tool that doesn't slow your website down. This not only affects your visitors' experience. Google will notice this as well.
Privacy: The world is moving in a direction where privacy is becoming increasingly important. Google Analytics has been declared illegal in multiple EU countries. You don't want to get caught up in this mess. Take privacy or compliance with regulation into account.
Integration: To get a complete picture of your business, the tool should be able to integrate with other devices you use, such as your CRM or dashboarding tools.
Pricing: Consider the tool's pricing and ensure it aligns with your budget. Take advantage of some companies' free trials or basic versions to ensure the product suits your needs before committing to a paying plan.
Although this checklist can assist you in getting started, there may be other factors for your organization that you need to consider.
Feel free to try Simple Analytics if you want a tool that checks these boxes. It provides the insights you need in a straightforward dashboard while being 100% GDPR compliant.