A little belated update for September. I was on holiday until last week. It was a little quiet at the Simple Analytics HQ in September since Adriaan went on a trip as well.
Luckily, still enough shit going on to write about, so lets get to it!
From Bari to Bali (without love)
I just returned from a little time off in Bari, but we're already packing.
We're going to Bali in November Bitchazzzzz!
Quite excited to visit the Mecca for Indie Hackers and Digital Nomads (can you still use that term?) and this time Adriaan & I are going together.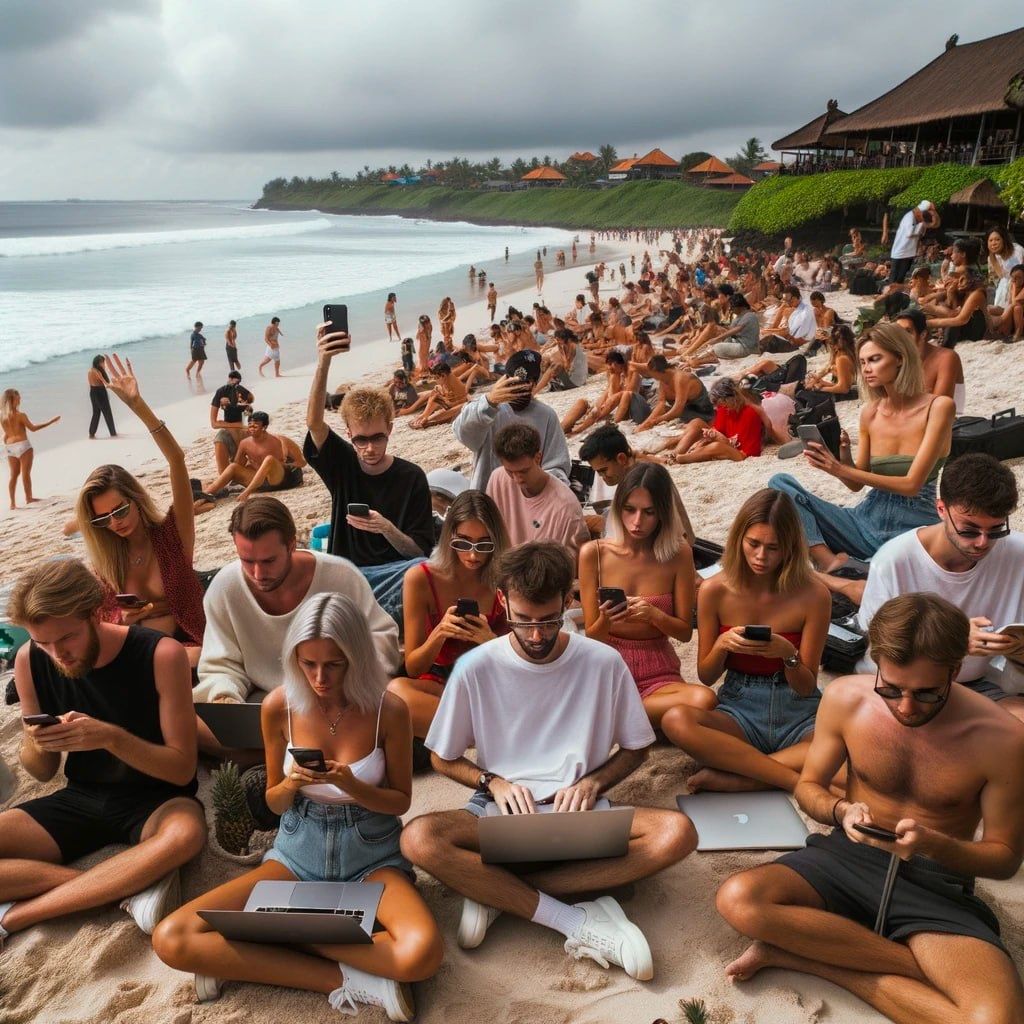 James Potter asked DALL-E 3 to visualize annoying influencers and digital nomads in Bali
Why Bali?
Because it's nice and we can do whatever we want and….there is one more thing.
Can't announce the details yet, but our little team is getting bigger….
We hired our first engineer 🎉🎉
and now we're going to Bali to kickstart our partnership🏄‍♂️
I will provide a full update on this and how it came together next month. Quite the story.
Going on a trip to a sunny destination is something we'd love to do more often. It's good for morale, change of scenery and nice to work together closely. Plus, we can chill together and maybe launch a little weekend project (who knows).
If you are reading this and you are in Bali in November, I'd love to meet up and make (internet) friends.
Internet Friends
Alright, this will sound a bit nerdy (and it is), but we have a WhatsApp group called: "Internet Friends." It's a group of people who don't know each other well but are kind of in the same scene: The Indie Hacker scene 😎😎
We try to come together once in a while to talk about MRR, APIs, Pieter Levels, Typescript, Bali & Twitter. (If this somehow resonates, you're invited to join next time).
When I moved to Amsterdam I met Mike from Minimum Studio on Twitter. He invited me for a day of co-working at this office. We clicked, and Mike had the genius idea to organize a little drink for people who were kind of in the same scene and wanted to meet.
We met a couple of times, but it died out after a while. The group chat was still quite active so last month Adriaan and I hosted a new "Internet Friends - Beer and Pizza" at our office.
It was very interesting to hear what everyone was building online and since people liked the setup, I tweeted whether other "builders" in Amsterdam would like to join next time.
I got 80+ replies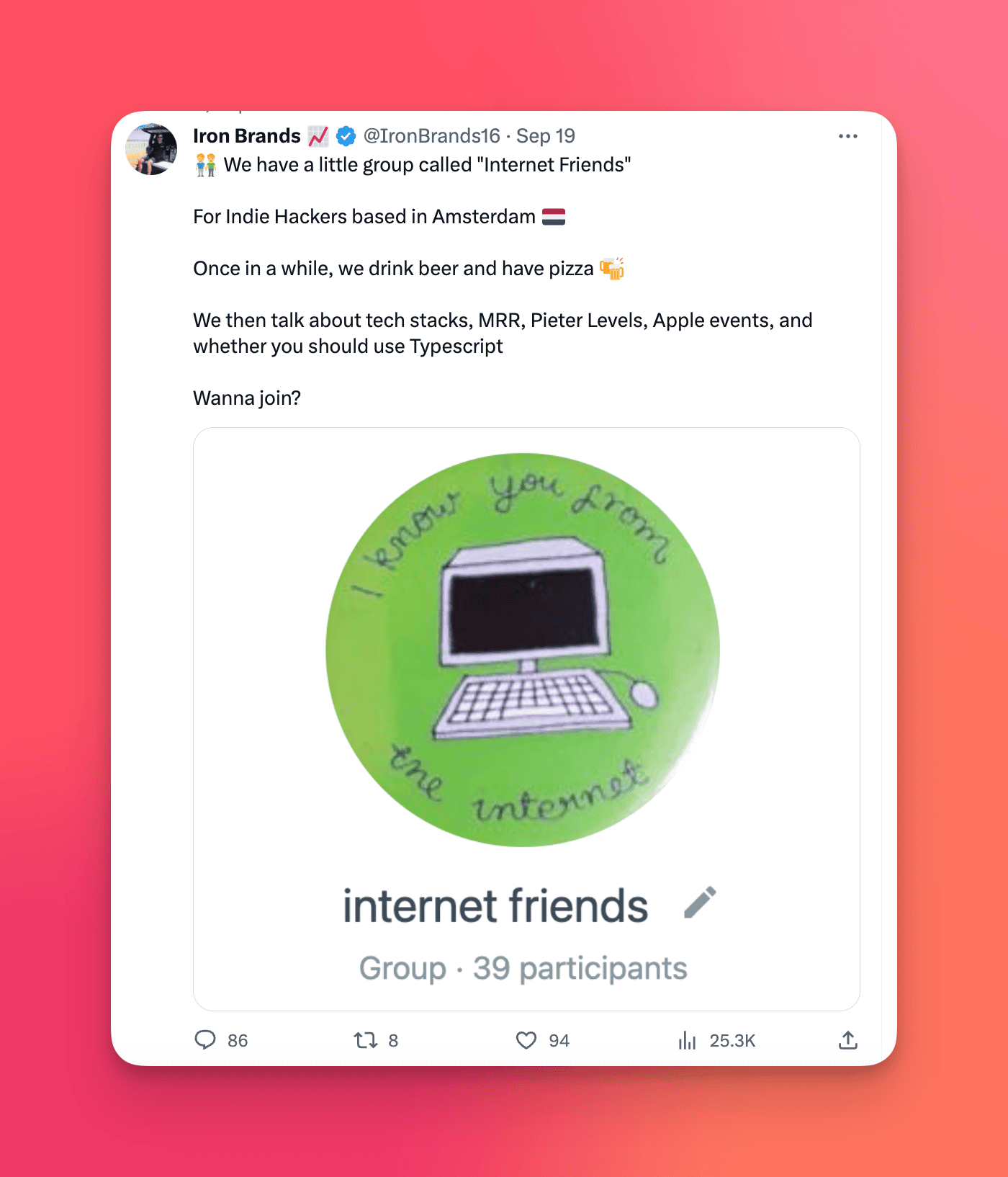 We're leaving for Bali in just two weeks, so the next "Internet Friends" will be somewhere at the beginning of December. It's going to be a busy one!
Lemme know if you want to join.
Business Goals
Okay, back to Simple Analytics.
Since Adriaan and I are a two-man team (aka powerhouse), and we don't have a lot of structure in our operations. We don't have hard deadlines, hard goals, or metrics (OKRs, KPIs, or whatever KPMG calls it). We don't even have structured meetings.
We want to change that (a bit), so we now had our first quarterly strategy meeting to discuss our business goals.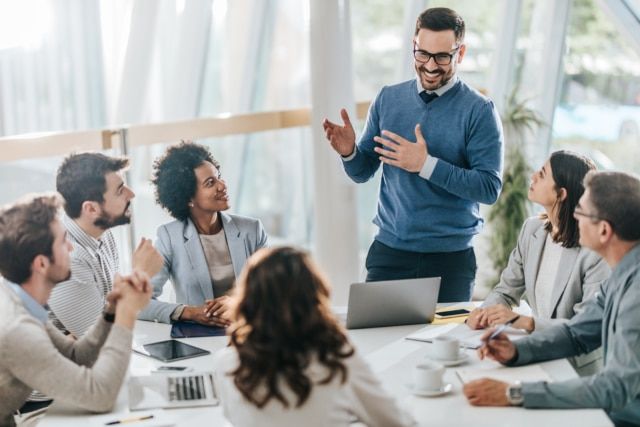 I hope it doesn't turn us into this
We butchered the first strategy meeting already by just focusing on a new pricing plan. So we are going for a round two later this year.
I'm thinking of structuring the meeting in three parts to create a meeting structure that will be the same for every strategy meeting (so we can prepare accordingly).
Business Goals

MRR
Finances
Strategy
Team
Deadlines

Marketing Goals

Results of last quarter
Focus
Targets

Engineering Goals

Results of last quarter
Features
Deadlines
The business one should be more general. Then, I would take responsibility for the marketing part and present it, and Adriaan for the engineering part. Based on our preparations, we can discuss prioritizing our actions for the next quarter.
If any of you know a better approach to quarterly align our goals, I'm very happy to hear it!
We also decided to have more recurring meetings. These are all our meetings at Simple Analytics:
6-month Feedback Meeting (hate this one to be honest, but kind off necessary)
Quarterly Strategy Meeting
Monthly Founder Meeting (finances, coming month, etc.)
Monthly Team Meeting (check in with the team)
Monthly Shoot the Shit Meeting - Discuss creative stuff we want to build (Eat Pizza)
Three monthly meetings, one quarterly, and one six-month meeting. This should do, I suppose
Numbers
Last but not least the numbers for September.
💰 $23,151 MRR
📈 +$462
👋 168 Signups
😍 55 New customers
💔 30 Churn
Simple Analytics growth is stalling a bit, which isn't very nice to be honest. Although its never a straight line. We're still on track to grow 75% this year, which is insane to me.
Let hope October treats us better. Also the new pricing (which I hope to implement q1 next year should bump our MRR a lot).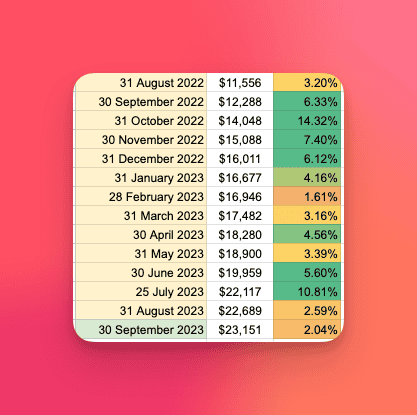 Gentle Reminder of the month: Do Marketing!
This was Simple Analytics MRR from the start. Can you see when Adriaan partnered up with me, and we started pushing marketing? (yes, humble brag)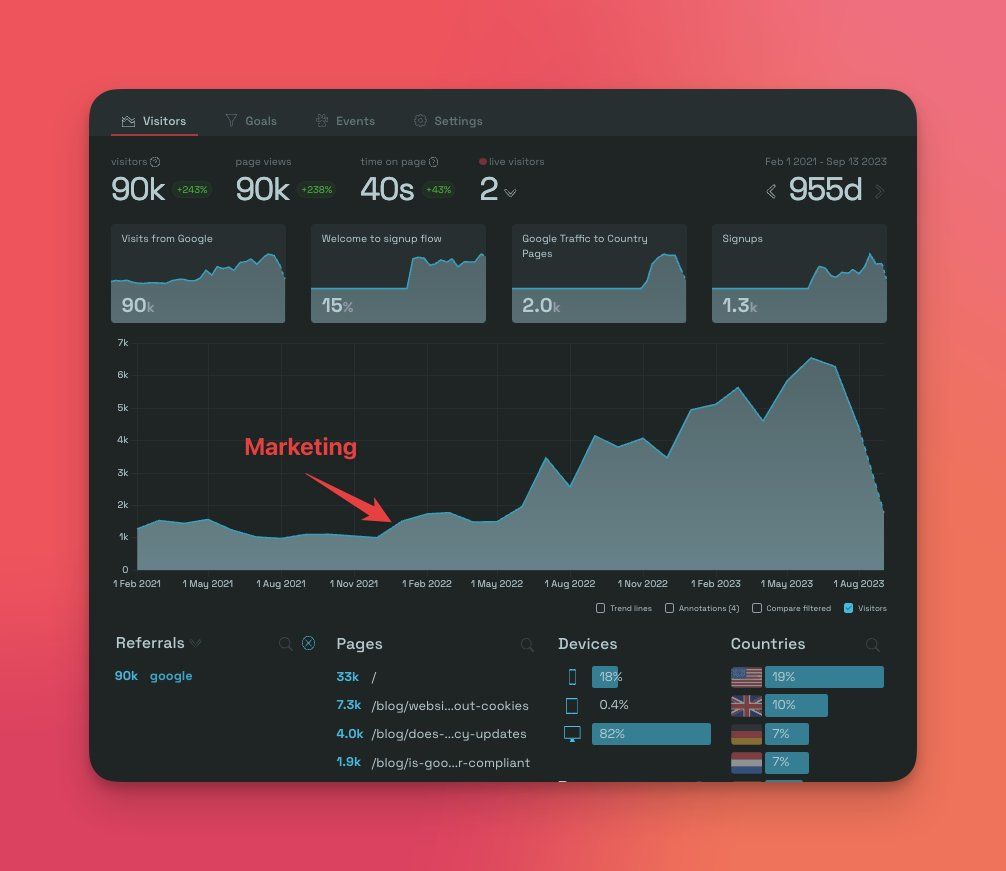 Mic drop.
Bye!