Analytics is essential for every business. The purpose is to help you understand how people interact with your site. Gathering this info will help you optimize your website and make informed business decisions. However, there are a lot of options to choose from and not every one fits your needs.
The UK Government chose Simple Analytics
Join them
What insights should a website analytics tool provide?
First of all, what's really important to you?  What insights would you like to see, and what data do you need?
The answer is specific to your business. Someone operating a travel blog has different needs than a Fortune 500 company. However, almost every business still uses one and the same analytics tool: Google Analytics.
Google Analytics is the default. Many just plug in Google Analytics on their website without considering what data they need (and what they are signing up for when partnering with Google).
For some companies, Google Analytics fits like a glove. Big E-commerce websites that rely heavily on ads and user tracking will benefit from the power of Google Analytics.
However, organizations that want a straightforward overview of how their website is performing might want to think twice. In addition, if you care about the privacy of your website visitors, you should stay away from Google.
There is no one-size-fits-all, but still, almost 90% of the internet uses Google Analytics.
Why Simple Analytics?
Simple Analytics is built on two foundational beliefs. First, we believe in an open and independent web that is friendly to website visitors. This is why Simple Analytics is cookieless by design and does not track users or collect personal data. All our parameters are set up with that in mind, so you directly comply with GDPR, PECR & CCPA regulations.
Secondly, we want to provide an easy analytics tool that gives you the data you need in a clean one-page dashboard.
User-friendly
Simple Analytics is simple to set up and use, and our detailed instructions and videos make things even easier. We only need you to create an account and add our script to your website, and you will see live analytics in minutes. Our UI is clean and intuitive, and our reports are simple to understand and explain.
Customize your dashboard and reports
Our dashboard can be customized to fit your needs. The main visitor dashboard gives you a direct overview of your website performance. It's fully interactive. Everything in the dashboard is clickable to filter for specific views.
Goals
In our Goals dashboard, you can create funnels to track visitors' engagement, marketing campaigns, user movement, and traffic from your social. By tracking your customizable conversion goals, you'll have insights into the metrics that matter the most to your organization.
Mini websites as referral links
We also show referral links as mini-websites in our quest to make the cleanest dashboard possible. For example, if you want to view the traffic coming from Twitter, we show you the exact tweets responsible for the traffic. In Google Analytics and other web analytics tools, they will be displayed as a t.co link without any additional information.
SEO-friendly
We focus on the essentials. We believe there is no need for multiple data layers and custom reports for you to make impactful decisions. As a result, the analytics script we run on your website is 15 times smaller than the Google Analytics script (3kb vs. 45kb).
Using our script has a positive effect on your page load speed. Or, if you put it differently, Google penalizes you for using Google Analytics.
The heavier the script, the longer the loading time of your website. Adding Google's script to your website negatively impacts your overall user experience due to increased load time and affects your ability to rank in search engines. Google Analytics is bad for SEO.
Export your data using our API
We don't share your data with third parties or transfer it overseas. The data is stored in the EU and stays there. The data is yours, and we believe you should use the data most effectively. With the Simple Analytics API, you can export your data via streaming. The data is directly transferred to your server or computer from our database. You can also export the data by selecting the fields you want and exporting the data into your dashboarding tools.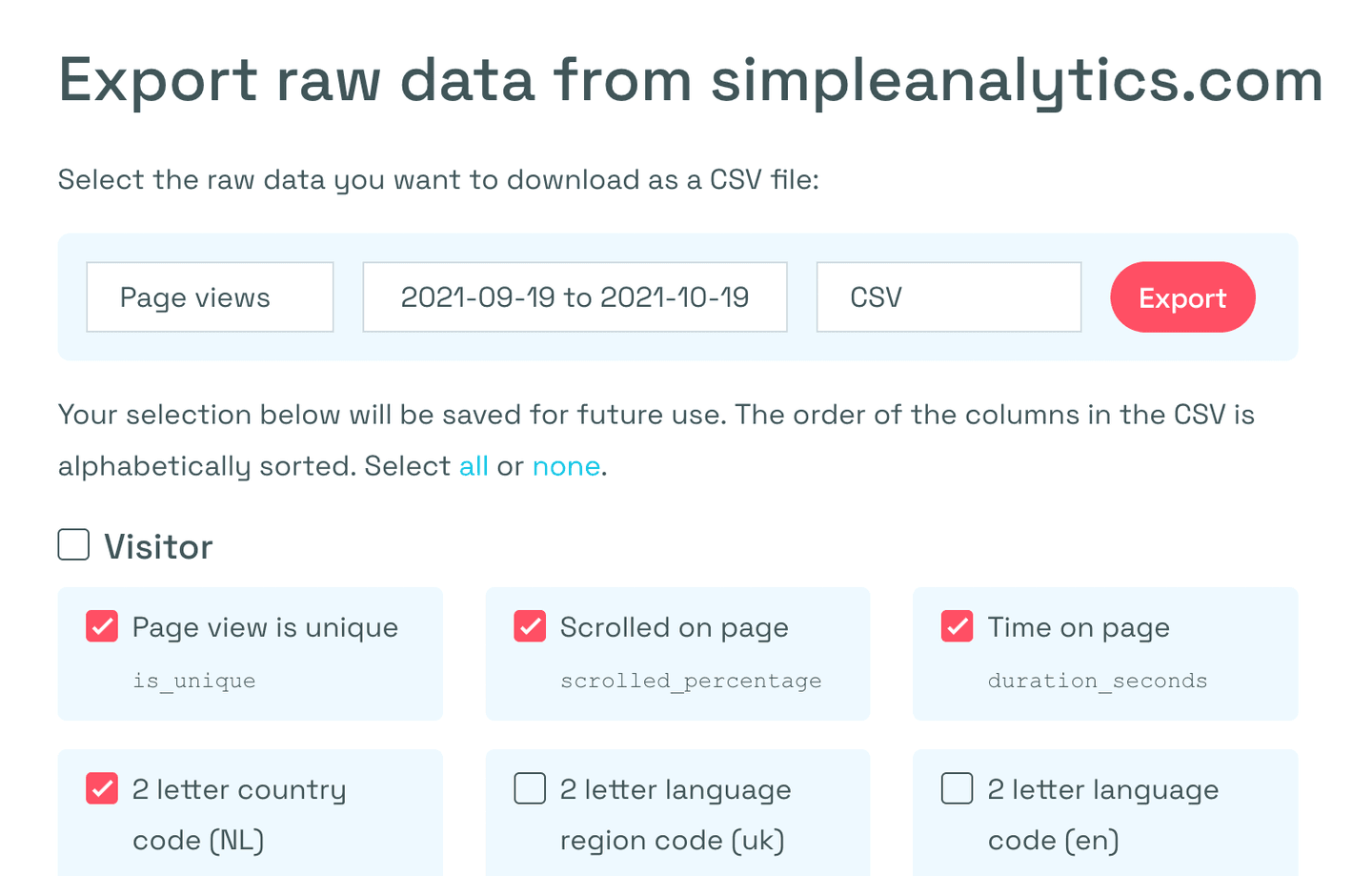 Simple Analytics export your data dashboard
Integrations
Simple Analytics easily integrates with dashboarding tools like PowerBI and Google Looker Studio. It's also possible to set up Simple Analytics using Google Tag Manager. Check out more integrations in our docs.
Import your Google Analytics data
We know how important historical data is for tracking trends. This is why (unlike Google) we built an import tool for Google Analytics data to make the switch as seamless as possible. This is especially interesting now as Google will shut down its current version of Google Analytics on July 1st, 2023. You will also lose access to your historical data in the months following this event.
Which analytics tool should you choose?
Google Analytics is the default analytics tool, but it might not be the optimal tool for everyone. There is no one-size-fits-all. If you rely heavily on tracking and don't care about privacy that much, Simple Analytics might not be the right tool for you.
Simple Analytics is the right tool for you if you:
...use analytics as a navigational tool and want to see the bigger picture
...want a simple dashboard with all the essentials metrics
...care about the privacy of your website visitors
...don't want to sell your data
...want to support the independent web
Who are we?
We are a small and independent team that cares about privacy. We believe that the web should be for everyone, and we are helping create a web that is friendly to website visitors. We are self-funded and transparent about everything we do. We have an open roadmap that you can contribute to.
This is how we try to make the internet slightly friendlier for everyone.
Interested in coming along on our journey? Give us a try!