Hey there! Hope you are doing well on this sunny afternoon (or at least it's sunny in Amsterdam).
Here's our monthly update for May. It's the second edition of this series. I like writing them. Hopefully, I can stick to it.
It was again a busy month in analytics land, so let's dive in!
New faces in the office
Last month, I showed you our new office in Amsterdam. We're super happy with it. The most beautiful part is sharing it with people we like working with. Since last month, there have been two new faces: Rosco & Dries. It's a full house now with eight people.
We had our first office meeting last week to discuss what we wanted to fix and how we would make it nicer. Ultimately, we created a massive list of ideas/tasks and let people vote on the priorities. The office is still bare-bones, but that will change very soon!
Atiksh joined
It's not too often that new people join two months in a row. If you count freelancers as part of your team (in my view, they are), we have doubled in size in two months. Pretty insane growth, right?
The reason for hiring Atiksh is simple. Adriaan is working his ass off building new features for Simple Analytics users. I am working my ass off creating new strategies and ideas to get people to try Simple Analytics. On my end, the creation part is going great; However, shipping is not so much… The reason for this is that I can't code and need Adriaan for that part…
We hired Ankit last month as a "Growth consultant." This has been a great move for us, but the implementation backlog has never been so long. In addition to building new features, Ankit and I started drowning Adriaan with marketing-related stuff.
We concluded we needed someone to take that part of Adriaan's plate. Someone to implement our "marketing ideas." I discussed this with Ankit, who suggested I should talk to Atiksh. We had a great convo, and I sent him a sample assignment, which he aced.
It feels as if my little marketing team is now complete. I don't have to bother Adriaan anymore. He can continue working on the product while Ankit, Atiksh & I focus on growth from idea to implementation. Atiksh can build everything that Ankit & I come up with. We only need Adriaan to merge the code.
Call to Actions
In the past, when Adriaan finished a big feature, he'd plan a "cool down" week to ensure the new feature was working well and work on smaller (mostly marketing-related) tasks. In May, we decided to update our CTAs to convert more website visitors into Simple Analytics users.
We did a few things:
Added big CTA under our blog pages
Added a floating banner to all pages
Added exit intent pop-up on the pricing page
Added banner in public dashboards (that is also an affiliate link)
This is what the big CTA block under our blogs looks like:

Adding a banner in public dashboards is actually the most interesting one. As a Simple Analytics user, you can display your analytics publicly. For example, you can find our live analytics by browsing simpleanalytics.com/simpleanalytics.com. Here are some other public analytics pages: Remoteok.com, Bannerbear.com, Nomadlist.com, Pizzagpt.it
We've added a banner to these pages. If visitors open the public analytics page of, let's say, Remoteok.com public dashboard and then click on the banner to sign up for Simple Analytics, the link will work as an affiliate link for Remoteok.com
If the visitor becomes a Simple Analytics customer, we share 50% of the revenue in the first year with Remoteok.com. This also incentives our current users to share their dashboards publicly on socials.
This banner in the public analytics pages resulted in 45 clicks to our sign-up page in the past month.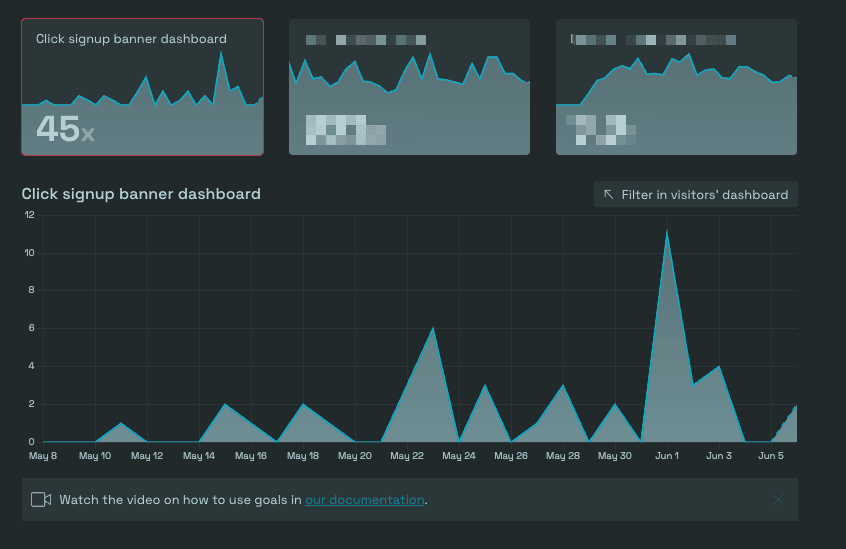 How to Hack Hackernews
This was something else…
Indie hackers reached out to us if we wanted to write a featured post for the Indie Hackers community. It needed to be something other Indie Hackers could immediately benefit from and apply.
It got me thinking about outlining our approach to posting on Hackernews and Reddit. It was also easy for me to write about since I had done it multiple times and just needed to write down the steps.
I posted the blog on Indie Hackers, which was received well.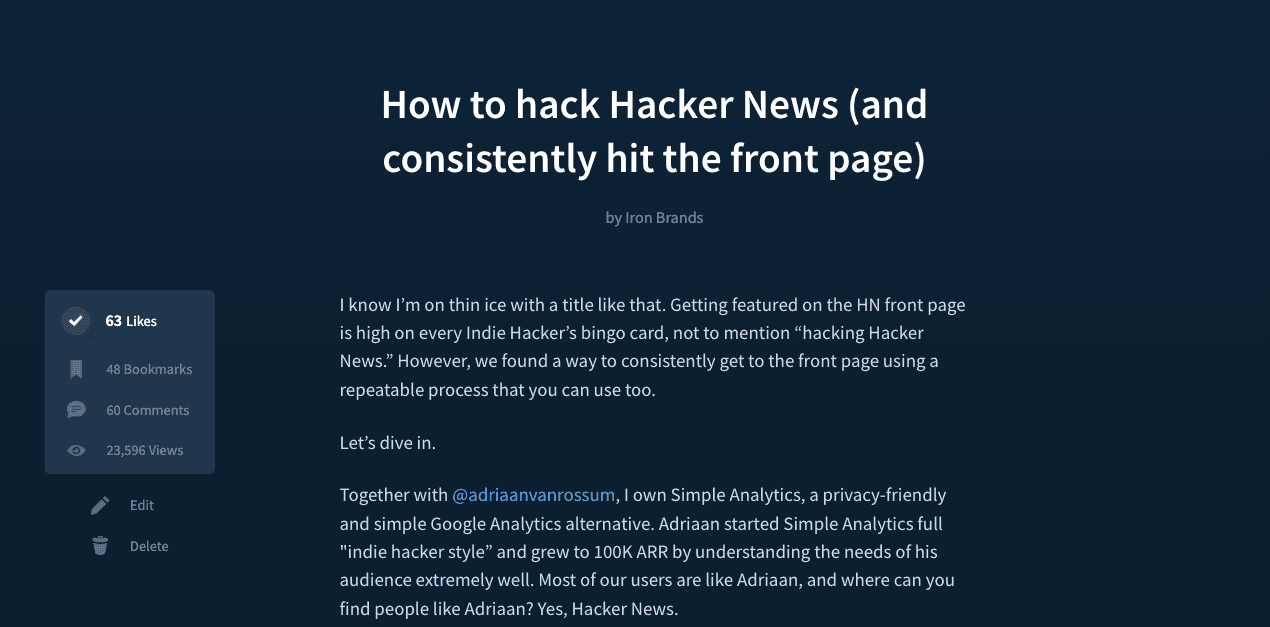 We reached the top spot for May, but this was not the most interesting part.
At some point over the weekend, I started noticing more and more traffic coming from Indie Hackers to our website. This was weird because you mostly get the most traffic in the first two days.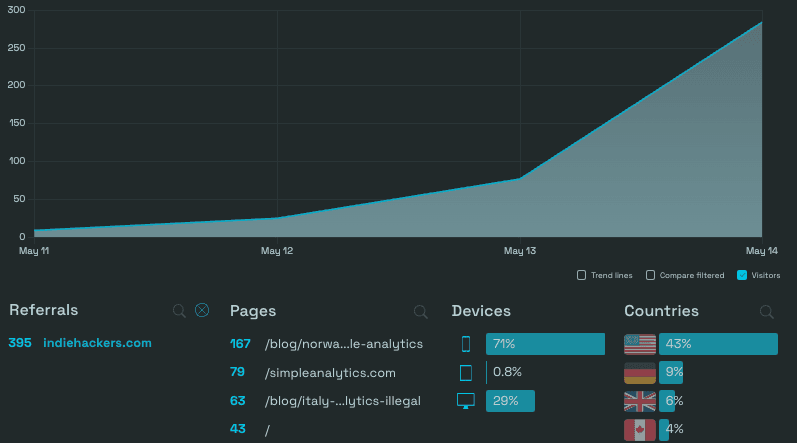 When I researched, I found that a reader reposted my Indie Hackers post on Hackernews. Here it exploded.

We got more than 20K pageviews to the blog on Indie Hackers and 400 upvotes on Hacker News, and a ton of brand awareness for Simple Analytics.
Content is on fire
Next to the viral post on Hacker News, our content output has been on fire this month. We published the most blogs in a month to date. The reason for this is that we have a dedicated little team that has its own angle for creating valuable content:
Carlo is writing interesting posts on privacy matters
Ankit is focusing on use cases for Simple Analytics
I am focusing on writing guides and random stuff
Numbers
Last but not least, our numbers. Last month proved to be a solid month. However, I expected to grow faster.
💰 $18900 MRR
📈 +$753 MRR (+4%)
📊 34K Visits (+3%)
😍 51 New customers
💔 22 Churned
Final Thoughts
A busy month at the Simple Analytics office. As I write this post, Adriaan is in Sweden, and I will take a week off next week. I am recharging my batteries.
June is going to be an interesting month as well. On July 1st, Google is sunsetting Universal Analytics, and everyone and their mother-in-law need to be migrated to GA4 (or Simple Analytics).
In addition, Adriaan will hopefully finish the "team" feature for agencies, and my new little "Growth" team will start shipping at the highest speed in the history of Simple Analytics.