Before we start talking about Mixpanel and its alternative tools, it's essential to understand what product analytics is and how it works.
Product analytics is the data showing how and which of your users interact with the product. It helps to track, visualize and analyze user interaction data.
Mixpanel is a popular analytics tool, but it has its drawbacks. In this article, we'll dive into Mixpanel and showcase a few alternatives that might suit you better.
The UK Government chose Simple Analytics
Join them
What is Mixpanel used for?
Mixpanel is one of the most popular product analytics tools out there and is used by companies like Netflix and CNN. The founders of Mixpanel believed that metrics like registered users, page views, and app downloads were just vanity metrics and could have been easily inflated. Mixpanel was built to solve this by providing absolute product clarity with their metrics.
It offers many ways to customize for the unique needs of businesses from different industries. With its customizable dashboard, Mixpanel allows its users a lot of room to keep track of their numbers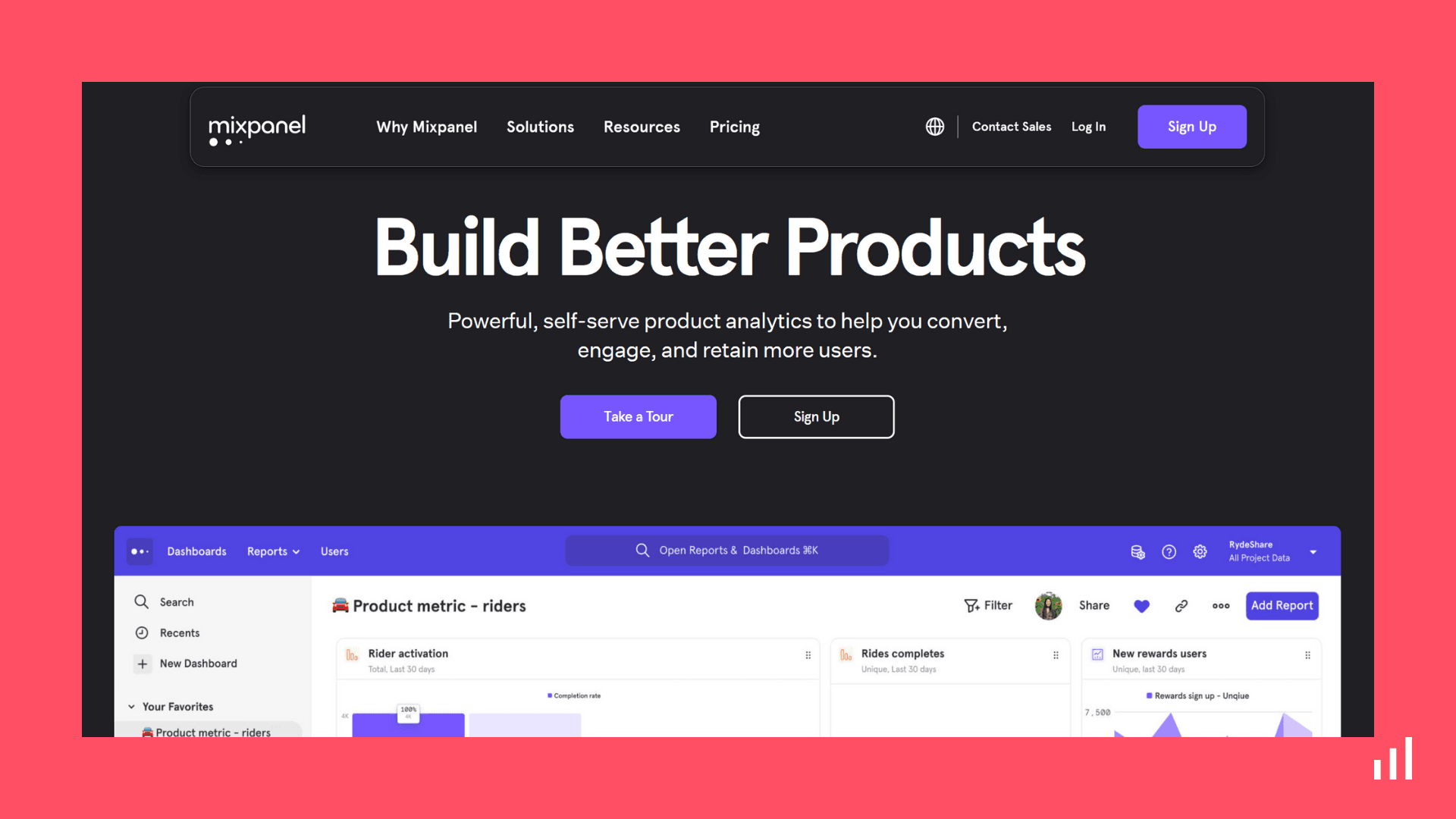 Pricing of Mixpanel
Mixpanel offers a variety of pricing plans to suit different business needs, with options for startups, small businesses, and enterprises. Prices start at $20/month for the Growth plan, which includes unlimited reports and data pipeline add-ons. The Enterprise plan starts at a heavy $833/ month and includes advanced machine learning and predictive analytics features.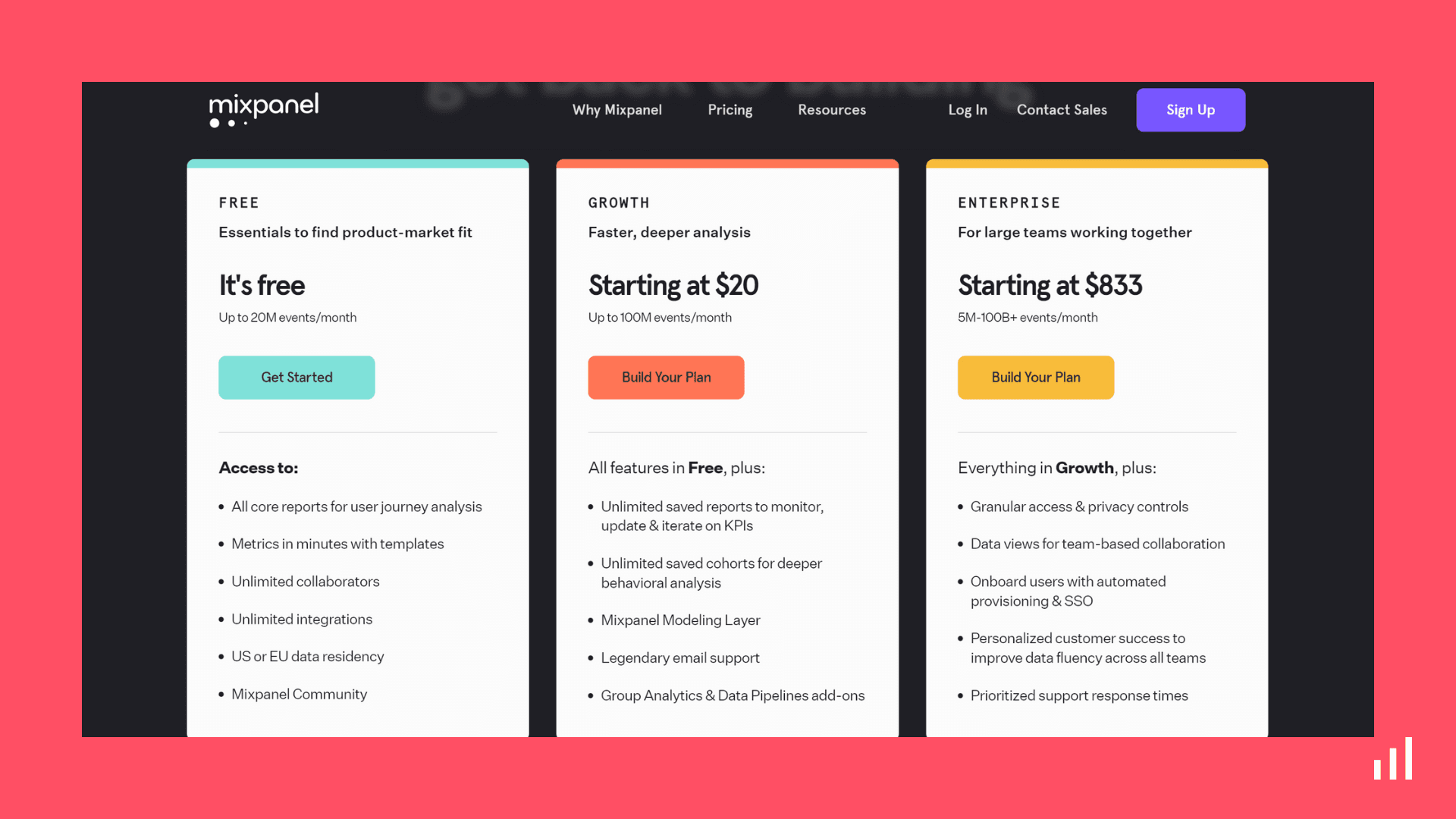 Alternatives to Mixpanel
Mixpanel is a great tool for product analytics. However, while it offers a lot, it is wrapped up in high costs if you want all features to be unlocked. It is also slightly complicated to navigate.
There are other alternatives that offer the same straightforward analytics capabilities for a lesser prices.
Simple Analytics
Simple Analytics is a robust and user-friendly product analytics alternative to Mixpanel. It is a straightforward and affordable analytics tool that prioritizes user privacy, but still has most features in place.
PS: If you are looking for a Google Analytics replacement, you might want to check out a direct comparison with Google Analytics
Now let's review a few benefits of using Simple Analytics over Mixpanel.
Pros of using Simple Analytics
Simplified UI - Using tools that are easy to navigate around is always preferred over complex ones. Simple Analytics offers a straightforward user interface that makes analysis easier. Working with it is, therefore, a smooth activity.
Affordable Pricing- Simple Analytics is exceptionally cost-effective. They offer both product and web analytics tools at a reasonable price. They have plans starting at $9/month. It packs the tools and features from the most expensive tools for a friendly price.
Automated Event Collection- Another feature that makes Simple Analytics stand out in its product category is automated event collection. While you must manually set additional tags for other tools, Simple Analytics does the job for you. Once you link it to your website, it lets you track the metrics of all action buttons just by hovering over them.
Mini Websites- As a business with an online presence, you often get featured in the conversation of your users. You might get a mention on Twitter or a feature on a website. While most tools let you know where you got a mention, they don't deliver the specifics. Simple Analytics stands out here. It gives you the specifics of your feature and helps you track it through a mini website..
Cons of using Simple Analytics:
The user interface of Simple Analytics is made to look simple and easy to understand so everyone, be it the founder or marketing teams, can use it easily. A Product Manager may need a few more screens, but that is something that can be quickly built with goals.
Pricing of Simple Analytics:
Simple Analytics is one of the most cost-efficient tools available in its segment. The product is perfect for businesses. It caters to companies and has plans for individuals and businesses. Therefore it ensures that the best features are available at a very reasonable price.
The pricing of Simple Analytics starts at a low $9/month, making it a pocket-friendly tool for all businesses.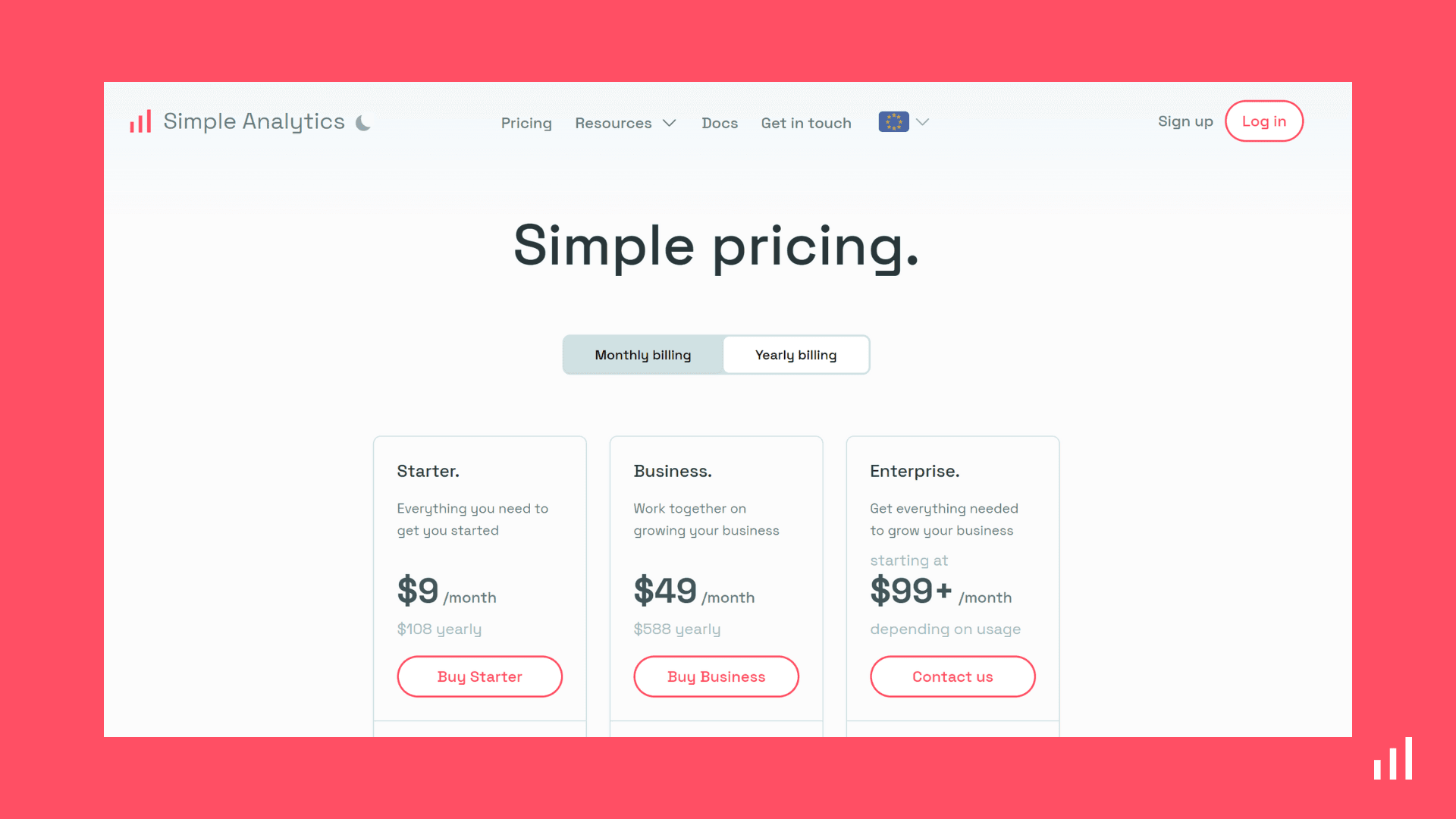 Pendo
Pendo is a product analytics tool that enables product managers to proactively engage with customers and understand how their product is being used. Also, yes, tools like Pendo are better to be used by a PM and not the best choice for solopreneurs or small teams.
It also has many features that help you provide personalized user onboarding and in-app training, which is an added feature of Pendo. Furthermore, these features are available on mobile too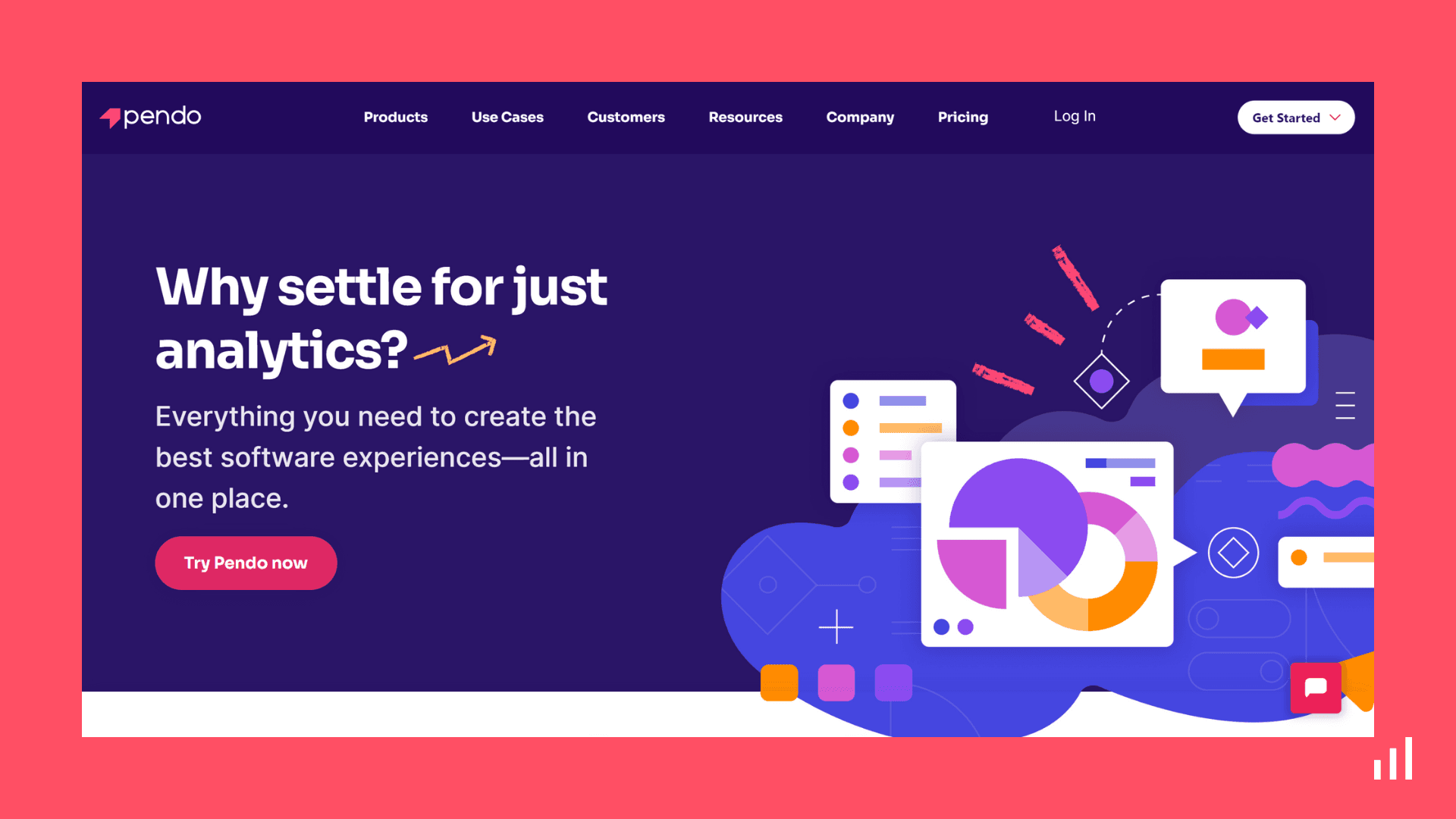 Pros
Provides additional features such as an onboarding tool for SaaS
Provides detailed product analytics
Cons
Too many features make the UI cluttered
Expensive tool
Pricing
Pendo is a software targeted towards enterprises, which also shows up in its pricing. You'll have to pay $7000/year for up to 2000 monthly active users.
It's indeed pricey and certainly not recommended if you are just starting. Better to stick to something affordable and simple.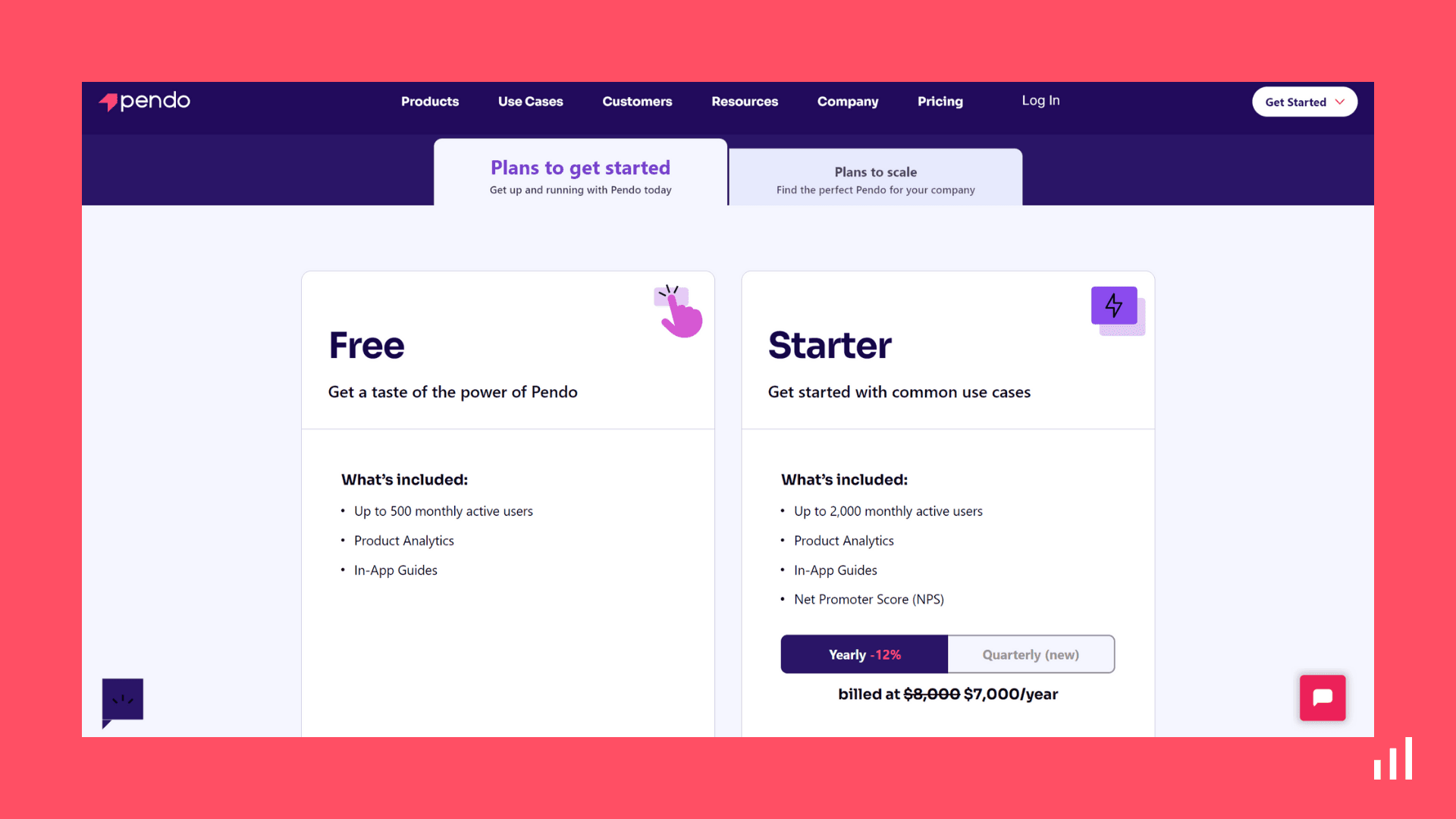 Smartlook
Smartlook is a product analytics platform that allows businesses to track user behavior and interactions on their websites and mobile applications. As a result, it provides insights that help companies to improve user experiences and conversion rates.
Also, Smartlook is in the process of being acquired by Cisco, which might bring lots of product changes soon.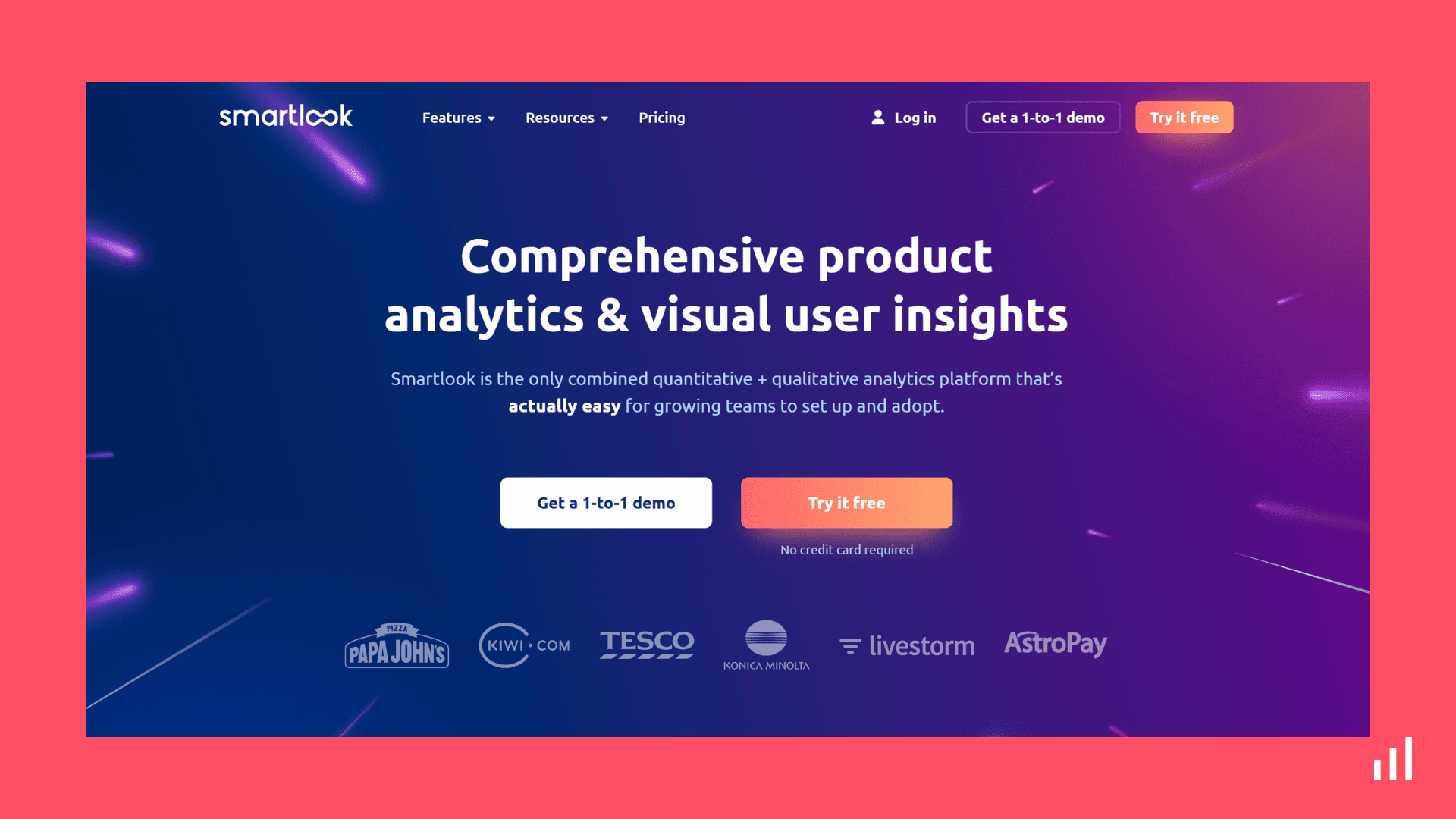 Pros
Affordable pricing
Provides additional features such as crash reports
Cons
Pricing can be expensive for high-traffic sites
Uncertain future as it's in the process of being acquired
Pricing
Smartlook offers three pricing plans: a free plan with limited features, a pro plan that starts at $55/month, and an enterprise plan with private pricing.
Recently Cisco has shown intent to acquire Smartlook, which may affect their product pricing as Cisco might want to make it a more enterprise-focused tool.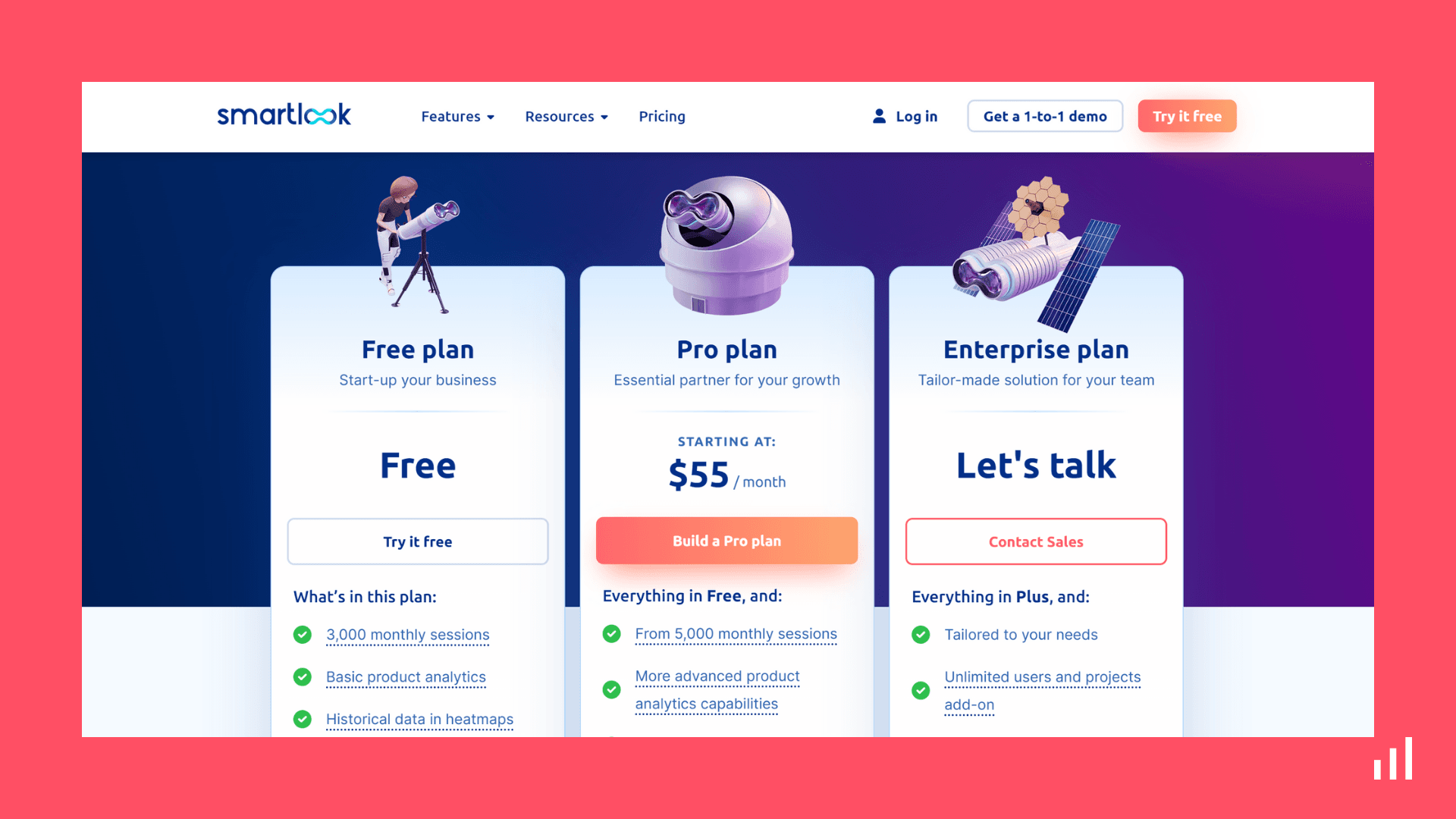 Snowplow
Snowplow is an open-source event analytics tool that collects and analyzes behavioral data and passes the same to business information tools, machine learning models, or for advanced data analytics.
It's a complex tool specially built for large organizations to make data-driven product decisions at scale.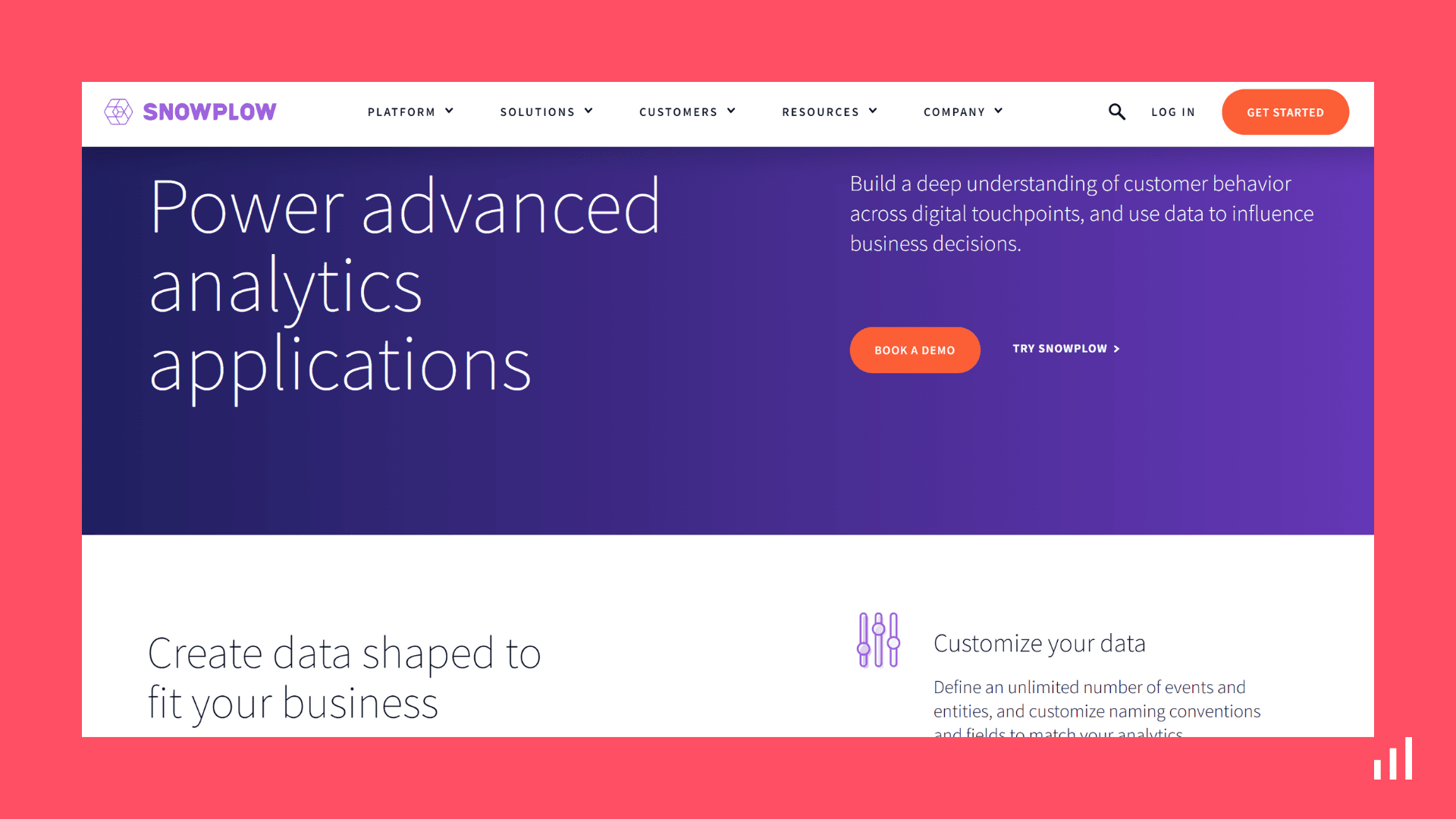 Pros
Provides accurate data to make decisions.
Solves the problem of understanding users at scale.
Cons
Complex, and most users don't have the resources to implement it
Requires to be connected to other tools for a complete analytics
Expensive tool
Pricing
Snowplow is an open-source tool, meaning you can self-host some parts, but their core behavioral data platform pricing starts at $800/month. This pricing might suit large-sized organizations but is unsuitable for most businesses.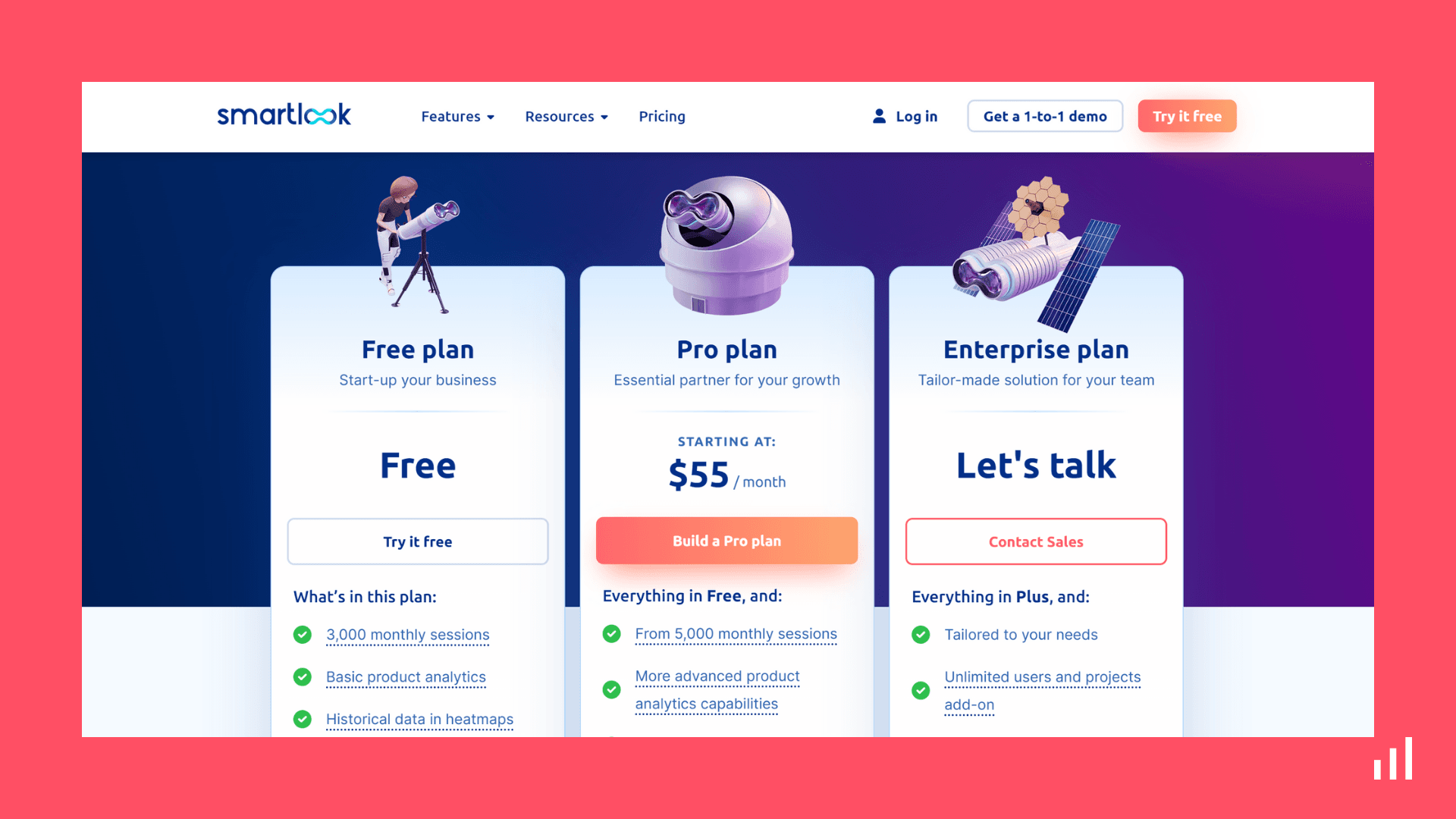 Things to Look for in an Analytics Tool
Selecting a tool for product analytics is a crucial decision. You might ask what could possibly go wrong when choosing one, yet you can miss out on a lot. Therefore, be sure to go through this checklist before making a choice. You're good to go if the tool provides these:
Ease of Use: Regardless of your chosen product, it must be simple to use. You shouldn't spend your precious time on a complex web analytics tool that takes time and experience to get familiar with.
Accuracy: Getting an accurate picture of what's happening on your website is important. Inaccurate data might lead to misjudged decisions that impact your business.
Straightforward UI: Most of the time, you don't need 75 custom dashboards (looking at you, Google). A straightforward overview of what's happening on your website will give you the insights you need instantly. Look for a tool that gives you the insights you need without too many distracting bells and whistles.
Lightweight: Your website is your storefront on the internet. Providing the best possible experience to your visitors matters. Installing an analytics script has an impact on your page speed. Choose an analytics tool that doesn't slow your website down. This not only affects your visitors' experience. Google will notice this as well.
Privacy: The world is moving in a direction where privacy is becoming increasingly important. Google Analytics has been declared illegal in multiple EU countries. You don't want to get caught up in this mess. Take privacy or compliance with regulation into account.
Integration: To get a complete picture of your business, the tool should be able to integrate with other devices you use, such as your CRM or dashboarding tools.
Pricing: Consider the tool's pricing and ensure it aligns with your budget. Take advantage of some companies' free trials or basic versions to ensure the product suits your needs before committing to a paying plan.
Although this checklist can assist you in getting started, there may be other factors for your organization that you need to consider.
Feel free to try Simple Analytics if you want a tool that checks these boxes. It provides the insights you need in a straightforward dashboard while being 100% GDPR compliant.
Frequently Asked Questions
What features does Mixpanel offer?
Event tracking, funnel analysis, retention analysis, segmentation, A/B testing, and user profiles are just a few of Mixpanel's services.
Is Simple Analytics GDPR compliant?
Yes, Simple Analytics is an analytics tool that is fully GDPR compliant. In addition, it corresponds with EU-based servers and ensures user data is secure and confidential.
Should I use Simple Analytics?
Simple Analytics is a privacy-friendly Google Analytics alternative that gives you the insights you need without collecting personal data. If you care about the privacy of your users and want an intuitive dashboard with the most important website insights, Simple Analytics might be the tool you are looking for.