Adobe Analytics has long been a prominent player in web analytics, providing a comprehensive set of capabilities and features. However, not every business might be a good fit, considering its pricing model and enterprise-oriented nature.
This blog will examine how Adobe Analytics charges and proposes a less expensive alternative that simplifies analytics and cares about privacy.
The UK Government chose Simple Analytics
Join them
Adobe Analytics
Adobe Analytics is a comprehensive web analytics and data intelligence tool designed to help businesses understand website performance, customer behavior, and digital marketing efforts. It gathers data from various sources, including websites, mobile apps, and connected devices, and integrates with other Adobe Experience Cloud solutions.
Businesses can monitor user behavior, campaign performance, and key metrics in real-time, enabling quick optimization of marketing campaigns and decision-making.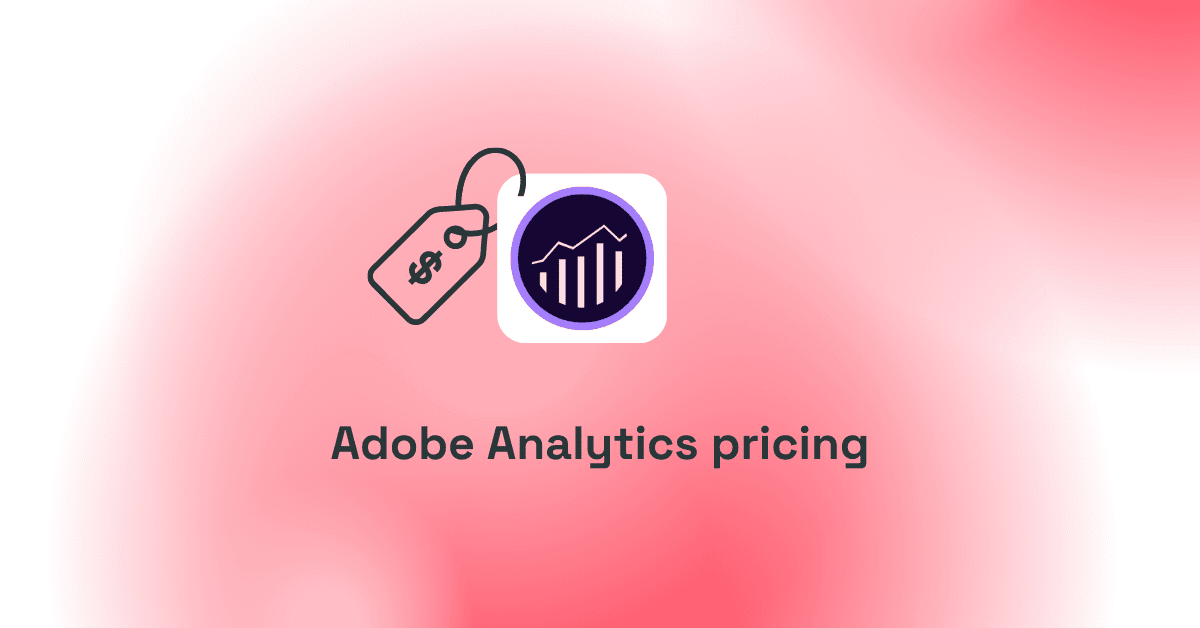 Adobe Analytics Pricing Plan
Adobe Analytics provides various pricing options for businesses of varying sizes and needs. Because it is tailored to each customer's needs specifically, Adobe's pricing structure is not made public on its website.
Adobe Analytics has three plans available:
Select
Enterprise-gradient marketing analytics
What's Included:
API
Quick Insights
Usage Reporting
Unique Segment Creation
Retention
Cohort Analysis
3rd Party Integrations
Pricing: Though the pricing info isn't public, however according to Nabler, the pricing is somewhere between $48,000 on the lower side and $350,000 on the high side.
Prime
Digital intelligence for the enterprise
What's Included:
Includes Everything in Select, plus
Segment Comparision
Retroactive Data Reprocessing and Replay
Virtual Report Suites (multi-report suite consolidation)
Intelligent Alerts
Pricing: Pricing is not publicly disclosed
Ultimate
Digital Intelligence for the experience enterprise
What's Included:
Includes Everything in Prime, plus
Cross-device Analytics
Field-based Identity Stitching
Data Repair API
Algorithmic Attribution
Pricing: Pricing is not publicly disclosed
Adobe Analytics also offers Add-ons, for which you can contact the Adobe team for pricing.
Simple Analytics: A Better Alternative
Simple Analytics is a privacy-focused website analytics platform that simplifies website traffic and user behavior without compromising privacy. It does not collect any personal data and adheres to GDPR guidelines.
Simple Analytics gives you the insights you need without complexities to improve your business. Pricing is transparent and based on the number of page views, with flat monthly fees and flexible pricing tiers.
Simple Analytics Pricing Plan
Simple Analytics offers a straightforward pricing model based on the number of page views your website receives. Simple Analytics provides annual and monthly billing options, and it should be noted that Simple Analytics also provides a 50% discount for Non-profits on every plan.
A general overview of their pricing is as follows:
Starter
Everything you need to get started
What's Included:
100,000 datapoints per month
1 user
10 websites
events
aggregated export
Monthly: $19/month ($9/month billed yearly)
Business
Work together on growing your business
What's Included:
Everything from the Starter plan, plus
1,000,000 datapoints per month
10 users
100 websites
raw level export
Monthly: $59/month ($49/month billed yearly)
Enterprise
Get everything you need to grow your business
What's Included:
Everything from the Business plan, plus
1,000,000+ datapoints per month
10+ users
100+ websites
prio email support
Monthly: starting at $99+/month, ***depending on usage
Comparison
Adobe Analytics and Simple Analytics are distinct platforms with different features and pricing models. Let's look at the pricing plans and see if simple analytics is a better alternative than Adobe Analytics.
Adobe Analytics
Simple Analytics
Starting Price
CustPricing is not publicly disclosed
Starter - $19/mo
Business - $59/mo
Enterprise - $99/mo
Free trial period
Available (Contact sales representative)
14 days
Trackable Items
Unlimited*
Starter - 10 websites
Business - 100 websites
Enterprise - 100+ websites
User Seats
Unlimited for all plans
Starter - 1 user
Business - 10 users
Enterprise - 10+ users / Unlimited
Data Retention
25 months by default
Unlimited
Final Thoughts
The pricing structure offered by Simple Analytics is straightforward and transparent. It is based solely on the number of page views and events that your website receives/collects. There are no additional fees for data storage, advanced features, or user licenses. Adobe Analytics pricing is not publicly available. It has customized pricing based on many factors.
The best pricing model for your business will be determined by looking at your specific requirements, budget, and scalability requirements. Ultimately, choosing between Simple Analytics and Adobe Analytics depends on your budget, particular analytics requirements, technical capabilities, and the significance of user privacy.
If you are looking for a straightforward analytics tool that gives you the insights you need for a pocket-friendly price, feel free to try Simple Analytics!
FAQs
Can I get a price estimate for Adobe Analytics?
Yes, you should contact Adobe directly or their sales team to get accurate pricing information for Adobe Analytics. They will provide you with a tailored price quote based on your specific business requirements, data volume, and desired functionalities.
Can I cancel my Simple Analytics plan at any time?
Yes. You can cancel your subscription at any moment. You will still have access to your account and data until the end of the period you paid for.
Can I bargain over the cost of Adobe Analytics?
Adobe makes pricing options adaptable to each business's specific requirements. Although pricing can be negotiated to some extent, it depends on several factors, including the size of the company, the specific requirements, and the ongoing relationship with Adobe. It is best to discuss any available discounts, promotional offers, or potential pricing negotiations with Adobe's sales team.
Who uses Adobe Analytics?
Many companies and organizations across many industries, including e-commerce, tourism, and more, use Adobe Analytics to acquire insightful information on user activity.
How do I launch Adobe Analytics?
You must create an Adobe account and get the required licensing before using Adobe Analytics. Then, when everything is set up, put the tracking code into your website or app and gather data for analysis and reporting. For assistance with setup, Adobe offers thorough documentation and support.
Is Adobe Analytics free?
No, Adobe Analytics is not free. It's one of the most expensive analytics tools on the market and is mainly focused on enterprise customers. The prices range from $48,000 to $350,000 per year.