Analytics platforms can help businesses extract valuable insights from user behavior. Amplitude is popular due to its extensive features and analysis capabilities. In this blog, we'll review Amplitude pricing and look at alternatives that offer similar features at a lower price.
The UK Government chose Simple Analytics
Join them
Amplitude
Amplitude is a product analytics platform that helps businesses gather data and make informed decisions based on user behavior. It focuses on event-based tracking and analyzing user events. The platform offers tools for data visualization, A/B testing, funnel analysis, retention tracking, and customer segmentation, enabling businesses to measure changes and experiments' impact on user behavior.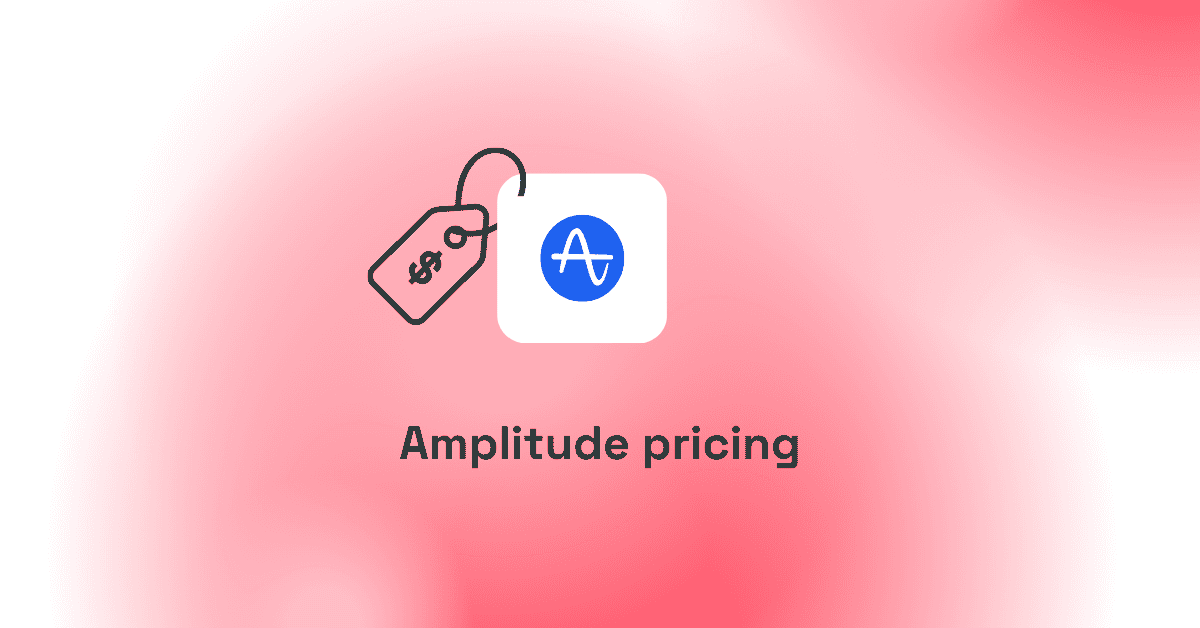 Amplitude Pricing Plan
Amplitude offers pricing choices based on your company's size and needs. Their pricing structure often considers the number of monthly tracked users or events, the amount of support and services necessary, and any additional features or add-ons.
Amplitude has three plans:
Starter
Great for startups and small teams wanting to start with product analytics.
What's Included:
Up to 100K MTUs included with unlimited events
Core analytics charts
Advanced collaboration
Data planning tools
Unlimited data sources and destinations
Unlimited users
10 free chart saves
Pricing: Free plan
Growth
Made for teams that need to scale with full visibility into the customer journey.
What's Included:
Includes Everything in Starter, plus
Up to 1MM MTUs available with unlimited events
Advanced behavioral analytics
Behavioural cohorts
5 Automatic syncs to third-party destinations
Single Sign-On (SSO)
Onboarding support and customer success
Unlimited chart saves
Pricing: This can cost $995/month, depending on your demands. You can request a demo to see how it works and get the exact amount.
Enterprise
Built for data-led organizations that drive business strategy with insights.
What's Included:
Includes Everything in Growth, plus
Data governance at scale
Root cause analysis
Real-time monitoring
Dedicated CSM
Causal insights and monitoring
Advanced permissions and password-protected links
Pricing: Custom. You can discuss the scale and price with sales.
Simple Analytics: A Better Alternative
Simple Analytics is a privacy-focused website analytics platform that simplifies website traffic and user behavior without compromising privacy. It does not collect any personal data and adheres to GDPR guidelines.
Simple Analytics offers website metrics and insights without complexity. Pricing is transparent and based on the number of page views, with flat monthly fees and flexible pricing tiers.
Simple Analytics Pricing Plan
Simple Analytics offers a straightforward pricing model based on the number of page views your website receives. Simple Analytics provides annual and monthly billing options, and it should be noted that Simple Analytics also provides a 50% discount for Non-profits on every plan.
A general overview of their pricing is as follows:
Starter
Everything you need to get started
What's Included:
100,000 data points per month
1 user
10 websites
events
aggregated export
Monthly: $19/month ($9/month billed yearly)
Business
Work together on growing your business
What's Included:
Everything from the Starter plan, plus
1,000,000 data points per month
10 users
100 websites
raw level export
Monthly: $59/month ($49/month billed yearly)
Enterprise
Get everything you need to grow your business
What's Included:
Everything from the Business plan, plus
1,000,000+ data points per month
10+ users
100+ websites
prio email support
Monthly: starting at $99+/month, ***depending on usage
Comparison
Amplitude and Simple Analytics are distinct platforms with different features and pricing models. Let's look at their pricing plans and see if simple analytics is a better alternative than Amplitude.
Amplitude Analytics
Simple Analytics
Starting Price
Starter - Free.
Growth - On req.
Enterprise - On req.
Starter - $19/mo ($9/mo if paid yearly)
Business - $59/mo
Enterprise - $99/mo
Free trial period
Free plan available
14 days
Trackable Items
Unlimited
Starter - 10 websites
Business - 100 websites
Enterprise - 100+ websites
User Seats
Unlimited for all plans
Starter - 1 user
Business - 10 users
Enterprise - 10+ users / Unlimited
Data Retention
Unlimited for all plans
Unlimited
Final Thoughts
Simple Analytics offers a cost-effective, privacy-focused, and minimalist approach to analytics, making it an attractive option for small businesses and those with limited budgets. With no additional fees for users or events, it provides essential website metrics and insights without requiring advanced features.
Amplitude offers more advanced capabilities, but Simple Analytics may provide cost advantages.
Ultimately, choosing between Simple Analytics and Amplitude should be based on your specific requirements, budget, and priorities, as well as the range of features and functionalities you need.
If you are looking for a straightforward analytics tool that gives you the insights you need for a pocket-friendly price, feel free to try Simple Analytics!
FAQs
What happens to my charges if my traffic increases or decreases in Simple Analytics?
You only pay for what you actually need. You will be charged for overages if your plan's page view limit is exceeded. Simple Analytics automatically calculates your price based on your average number of page views (first looking back one month, then the average of the previous three months).
Does Amplitude offer special pricing or discounts for startups?
Yes! The Amplitude Startup Scholarship provides one year of their paid Growth plan features for free.
What is an MTU in Amplitude?
An MTU (monthly tracked user) is a unique user who triggers one or more events in a project within a calendar month. An MTU can be either an anonymous user (which Amplitude will track via device ID) or an identified user (tracked by user ID). Amplitude will track any anonymous users as distinct MTUs, even if they have previously visited while logged in. If an anonymous user subsequently logs into the site, all events triggered by the user while they were anonymous will be merged under their user ID and will count as a single MTU.