Fathom Analytics is a solution that prioritizes data privacy and provides useful insights to improve your business. This blog will examine its pricing structure and compare it to another privacy-friendly analytics tool.
The UK Government chose Simple Analytics
Join them
Fathom Analytics
Fathom Analytics is a web analytics tool that prioritizes privacy and simplicity, offering valuable insights into website performance and visitor behavior. It does not use cookies, making it an excellent choice for understanding website visitors without spying on them.
The interface is clean and simple, providing real-time information on website traffic, visitor counts, referrers, and popular pages.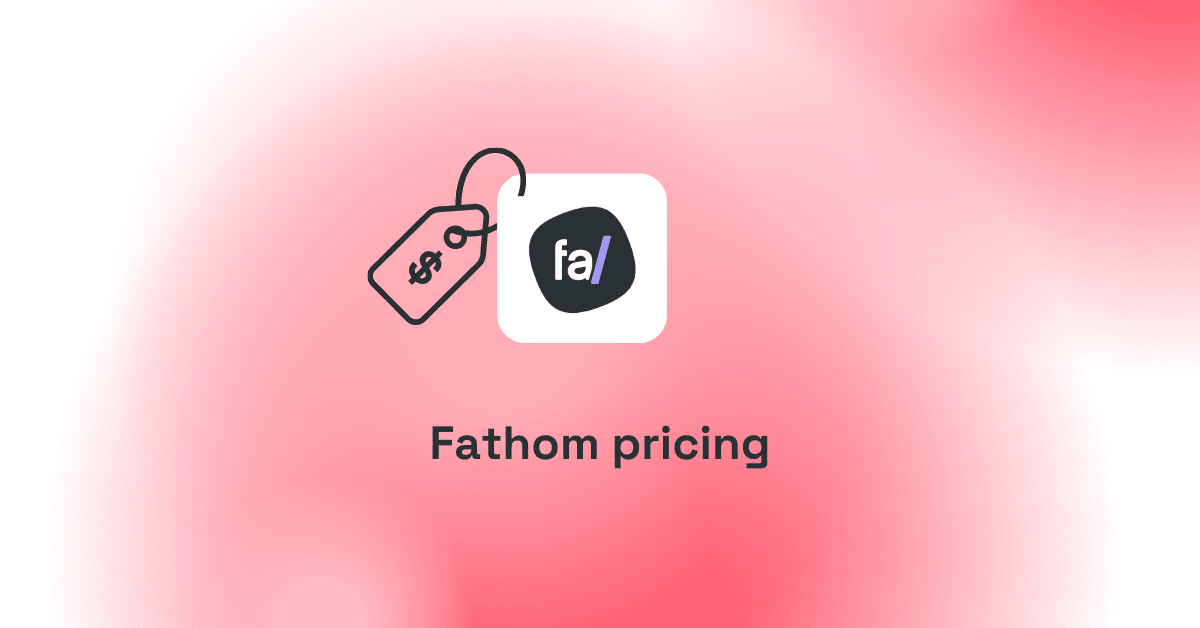 Fathom Analytics Pricing Plan
In Fathom Analytics, pricing is based on monthly page views.
| Page Views/Month | Price/Month |
| --- | --- |
| 100,000 | $14 |
| 200,000 | $24 |
| 500,000 | $44 |
| 1,000,000 | $54 |
| 2,000,000 | $74 |
| 5,000,000 | $94 |
| 10,000,000 | $124 |
| 15,000,000 | $184 |
| 20,000,000 | $244 |
| 25,000,000 | $274 |
All plans include:
Up to 50 sites included
100% Data Ownership
Uptime monitoring
No cookie banners required
Unlimited email reports
Forever data retention
Unlimited CSV data exports
Privacy law compliance
Enterprise-grade infrastructure
If you need more than 50 sites, Fathom Analytics charges $14/m for each additional 50 sites.
Simple Analytics: A Better Alternative
Simple Analytics is a privacy-focused website analytics platform that simplifies website traffic and user behavior without compromising privacy. It does not collect any personal data and adheres to GDPR guidelines.
Simple Analytics gives you the insights you need without complexities to improve your business. Pricing is transparent and based on the number of page views, with flat monthly fees and flexible pricing tiers.
Simple Analytics Pricing Plan
Simple Analytics offers a straightforward pricing model based on the number of page views your website receives. Simple Analytics provides annual and monthly billing options, and it should be noted that Simple Analytics also provides a 50% discount for Non-profits on every plan.
A general overview of their pricing is as follows:
Starter
Everything you need to get started
What's Included:
100,000 datapoints per month
1 user
10 websites
events
aggregated export
Monthly: $19/month ($9/month billed yearly)
Business
Work together on growing your business
What's Included:
Everything from the Starter plan, plus
1,000,000 datapoints per month
10 users
100 websites
raw level export
Monthly: $59/month ($49/month billed yearly)
Enterprise
Get everything you need to grow your business
What's Included:
Everything from the Business plan, plus
1,000,000+ datapoints per month
10+ users
100+ websites
prio email support
Monthly: starting at $99+/month, ***depending on usage
Comparison
Fathom Analytics and Simple Analytics are distinct platforms with different features and pricing models. Let's examine their pricing plans and see if Simple Analytics is better than Fathom Analytics.
Fathom Analytics
Simple Analytics
Starting Price
Pricing is based on monthly page views which start at $14
Starter - $19/mo ($9/mo if paid yearly)
Business - $59/mo
Enterprise - $99/mo
Free trial period
30 days
14 days
Trackable Items
50 (default) for all plans
Additional charges for more
Starter - 10 websites
Business - 100 websites
Enterprise - 100+ websites
User Seats
Unlimited
Starter - 1 user
Business - 10 users
Enterprise - 10+ users / Unlimited
Data Retention
Unlimited
Unlimited
Final Thoughts
Both Simple Analytics and Fathom Analytics offer transparent pricing, making it possible to anticipate costs and avoid surprises.
The biggest difference between the two is their method of data collection. Whereas Simple Analytics does not collect any personal data, Fathom Analytics collects and stores IP hashes. It's hard to say whether this complies with GDPR, but it is less privacy-friendly.
The choice between Visitor Analytics and Simple Analytics will ultimately depend on your individual needs, budget, and preferences.
If you are looking for a straightforward analytics tool that gives you the insights you need for a pocket-friendly price, feel free to try Simple Analytics!
FAQs
Is Fathom Analytics free?
No, Fathom Analytics is not free. It costs 14/m for up to 100K page views. This is comparable to other analytics tools like Simple Analytics.
Is Fathom Analytics open-source?
Fathom Analytics is open-source (only partly with limited features), but unlike Plausible and Piwik, no self-hosted version exists.
Is Fathom GDPR-compliant?
Unlike Google Analytics, Fathom is GDPR-compliant because it doesn't transfer data to the U.S. They have non-EU-based servers in Germany. They don't use cookies, but they use anonymized IP addresses to collect information on website visitors. It's debatable whether this is privacy-friendly or not. Simple Analytics doesn't make any concessions concerning privacy.
Why is Simple Analytics preferred over Fathom?
Privacy enthusiasts will prefer Simple Analytics since it collects no personal data at all. In addition, Simple Analytics also is more feature-rich in terms of event collection and goal tracking.