Heap has a customized price plan based on parameters such as the number of websites, applications to track, data volume, support needs, and additional features. It's a powerful tool, but before you sign up, you might want to check other tools offering the same features but with a better pricing structure.
Understanding the pricing structure and examining other possibilities is important for making an informed decision. Let's dive into this article to learn more about Heap and a better alternative.
The UK Government chose Simple Analytics
Join them
Heap
Heap is a web and mobile analytics platform that helps businesses monitor and analyze user interactions on their website or apps. It provides insights into user behavior and performance metrics, enabling businesses to optimize their websites and applications for improved user experiences and increased conversions. Key features include engagement tracking, real-time analytics, product data management, multi-channel marketing, and more.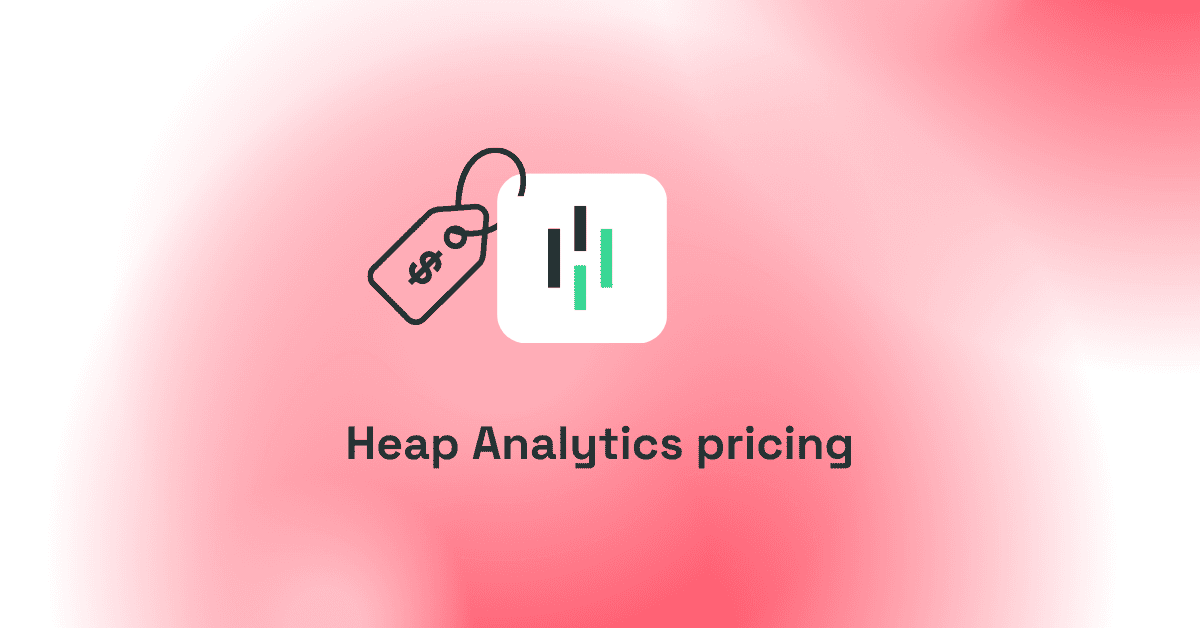 Heap Pricing Plan
Heap employs a customized pricing strategy, focusing on your company's specific needs and determining the cost based on usage and features.
Heap has four plans available:
Free
Find product-market fit
What's Included:
Core analytics charts
Unlimited enrichment sources
Guides integrations
6 months data history
SSO
Pricing: Free plan, Up to 10k monthly sessions
Growth
Scale your start-up
What's Included:
Includes Everything in Free, plus
Unlimited users & reports
Chart customization
CSV exports
12 months data history
Email support
Pricing: Starting at $3,600 annually (data from review website, but Heap doesn't mention this publicly), up to 300k sessions/year
Pro
Supercharge your analytics
What's Included:
Includes Everything in Growth, plus
Account analytics
Engagement Matrix
Real-time report alerts
Optional add-ons
Standard support
Pricing: Custom Session Pricing
Premier
Enable teams in large organizations
What's Included:
Includes Everything in Pro, plus
Data warehouse integration
Behavioral targeting
Unlimited projects
Advanced user permissions
Dedicated CSM
Premium support
Pricing: Custom Session Pricing
Simple Analytics: A Better Alternative
Simple Analytics is a simple-to-use, privacy-friendly analytics alternative to Google Analytics and the likes of Amplitude and Piwik. It's also one of the few analytics tools completely GDPR-compliant with EU-hosted servers.
The primary benefit of using Simple Analytics is that it lets you retain all the powerful features, such as event monitoring and goal tracking, without compromising on privacy. You also get to access something called "Mini Websites," which lets you see actual pages that referred your website, such as a tweet mentioning your website.
Simple Analytics Pricing Plan
Simple Analytics offers a straightforward pricing model based on the number of page views your website receives. Simple Analytics provides annual and monthly billing options, and it should be noted that Simple Analytics also provides a 50% discount for Non-profits on every plan.
A general overview of their pricing is as follows:
Starter
Everything you need to get started
What's Included:
100,000 datapoints per month
1 user
10 websites
events
aggregated export
Monthly: $19/month (or $9/month paid yearly)
Business
Work together on growing your business
What's Included:
Everything from the Starter plan, plus
1,000,000 datapoints per month
10 users
100 websites
raw level export
Monthly: $59/month (or $49/month paid yearly)
Enterprise
Get everything you need to grow your business
What's Included:
Everything from the Business plan, plus
1,000,000+ datapoints per month
10+ users
100+ websites
prio email support
Monthly: starting at $99+/month, ***depending on usage
Comparison
Heap and Simple Analytics are distinct platforms with different features and pricing models. Let's look at the pricing plans and see if Simple Analytics is a better alternative than Heap
Heap Analytics
Simple Analytics
Starting Price
Free - Free
Growth - Starting at $3,600 annually
Pro - Custom pricing
Premier - Custom pricing
Starter - $19/mo ($9/mo if paid yearly)
Business - $59/mo
Enterprise - $99/mo
Free trial period
Free plan available
14 days
Trackable Items
Free - 1
Growth - 1
Pro - 2 (Add-on More)
Premier - Unlimited
Starter - 10 websites
Business - 100 websites
Enterprise - 100+ websites
User Seats
Unlimited in all the paid plans
Starter - 1 user
Business - 10 users
Enterprise - 10+ users / Unlimited
Data Retention
Free - 6 months
Growth - 12 months
Pro - 1 Year (Add-on Additional Years)
Premier - 1 Year (Add-on Additional Years)
Unlimited
Final Thoughts
With Simple Analytics' transparent and straightforward pricing based on page views, estimating costs and budget for analytics is simpler. Heap, on the other hand, uses a custom pricing strategy that can be more complicated and may change based on things like the amount of data and support you need.
You should choose between Simple Analytics and Heap based on your requirements, budget, and priorities. Assessing the elements and functionalities and estimating both platforms will assist you in deciding which is the best fit for your business.
If you are looking for a straightforward analytics tool that gives you the insights you need for a pocket-friendly price, feel free to try Simple Analytics!
FAQs
What happens if I exceed the limit for my Heap plan?
You don't have to worry. Once you exceed your plan's monthly limit, you'll receive an email asking you to upgrade to the appropriate tier. You'll need to do this before you can view your data again.
This also means you'd have to pay significantly more to move to the next plan.
What are datapoints in Simple Analytics?
You can collect two data types with Simple Analytics: page views and events. The combined term for both is datapoint. The datapoints will only be page views if you don't use events. If you do use events, the datapoints will also be events.
In Heap, what does a session mean?
A session is a period of activity by a single user on your app or website. It can include many pageviews or events. On the web, a session ends after 30 minutes of pageview inactivity from the user. On mobile, a session ends after 5 minutes of inactivity, regardless of the app's background or foreground state.
What kind of tool is Simple Analytics?
Simple Analytics is a privacy-friendly Google Analytics alternative that gives you the insights you need without collecting personal data. If you care about the privacy of your users and want an intuitive dashboard with the most important website insights, Simple Analytics might be the tool you are looking for.
Is Simple Analytics GDPR compliant?
Yes, Simple Analytics is an analytics tool that is fully GDPR compliant. In addition, it corresponds with EU-based servers and ensures user data is secure and confidential.