Web analytics tools provide valuable insights into visitor data, assisting in improving the user experience, business expansion, and optimizing marketing strategies. Plausible is a well-known tool for web analytics that prioritizes privacy.
In this blog, we will look at Plausible's pricing and discuss a better option for businesses looking for an analytics solution that fits their needs.
Plausible
Plausible is a web analytics tool that focuses on privacy and makes website analytics easy to use. Plausible's clear user interface and lightweight design make it easy to understand key metrics without affecting website performance.
It simplifies analytics by providing essential metrics like page views, unique visitors, and bounce rates, enabling businesses to set goals, monitor website conversions, and measure marketing campaign effectiveness.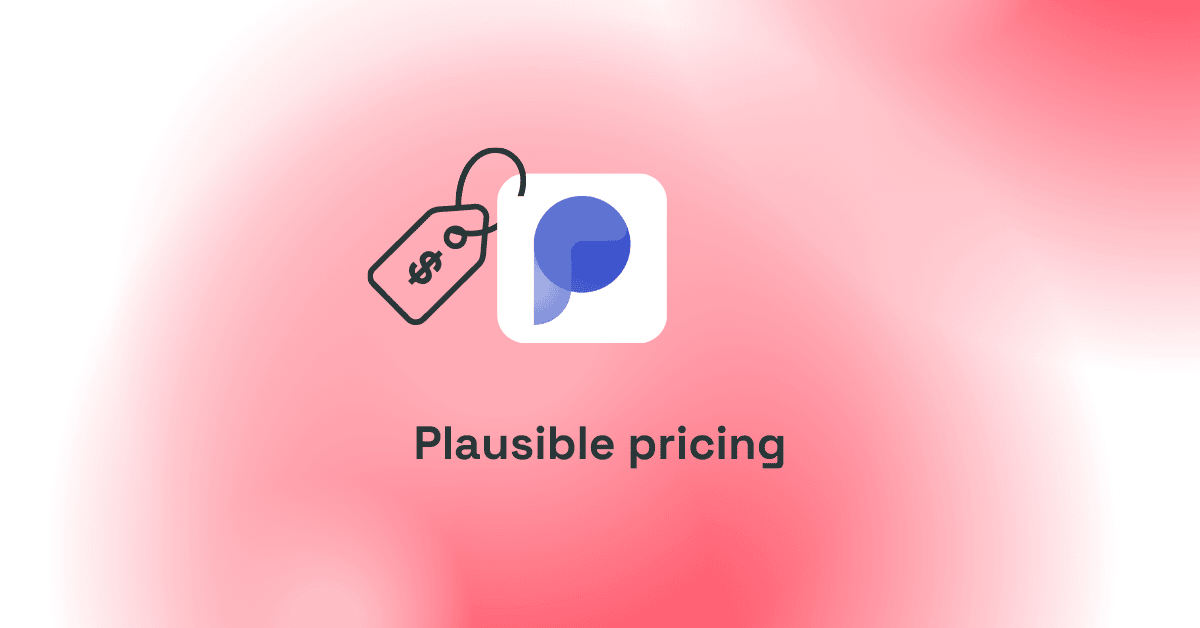 Plausible Pricing Plan
Plausible offers a simple and fair pricing plan that is based on monthly page views.
Pricing Plan:
| Monthly Page Views | Pricing (Monthly) | Pricing (Annually) |
| --- | --- | --- |
| 10,000 | $9 | $90 |
| 100,000 | $19 | $190 |
| 200,000 | $29 | $290 |
| 500,000 | $49 | $490 |
| 1 million | $69 | $690 |
| 2 million | $89 | $890 |
| 5 million | $129 | $1,290 |
| 10 million | $169 | $1,690 |
| 10 million + | Contact Plausible Team | Contact Plausible Team |
Features are included in all plans:
50 websites (Contact the Plausible team if you have more sites)
Email/Slack reports
100% data ownership
Custom events
Unlimited data retention
Unlimited team members
Simple Analytics: A Better Alternative
Simple Analytics is a privacy-focused website analytics platform that simplifies website traffic and user behavior without compromising privacy. It does not collect any personal data and adheres to GDPR guidelines.
Simple Analytics gives you the insights you need without complexities to improve your business. Pricing is transparent and based on the number of page views, with flat monthly fees and flexible pricing tiers.
Simple Analytics Pricing Plan
Simple Analytics offers a straightforward pricing model based on the number of page views your website receives. Simple Analytics provides annual and monthly billing options, and it should be noted that Simple Analytics also provides a 50% discount for Non-profits on every plan.
A general overview of their pricing is as follows:
Starter
Everything you need to get started
What's Included:
100,000 datapoints per month
1 user
10 websites
events
aggregated export
Monthly: $19/month ($9/month billed yearly)
Business
Work together on growing your business
What's Included:
Everything from the Starter plan, plus
1,000,000 datapoints per month
10 users
100 websites
raw level export
Monthly: $59/month ($49/month billed yearly)
Enterprise
Get everything you need to grow your business
What's Included:
Everything from the Business plan, plus
1,000,000+ datapoints per month
10+ users
100+ websites
prio email support
Monthly: starting at $99+/month, ***depending on usage
Comparison
Plausible and Simple Analytics are distinct platforms with different features and pricing models. Let's examine their pricing plans and see if simple analytics is a better alternative than Plausible.
Plausible
Simple Analytics
Starting Price
Starts at $9/month
Starter - $19/mo ($9/mo if paid yearly)
Business - $59/mo
Enterprise - $99/mo
Free trial period
30 days
14 days
Trackable Items
50 websites
Starter - 10 websites
Business - 100 websites
Enterprise - 100+ websites
User Seats
Unlimited for all plans
Starter - 1 user
Business - 10 users
Enterprise - 10+ users / Unlimited
Data Retention
Unlimited for all plans
Unlimited
Final Thoughts
Simple Analytics and Plausible have a simple and fair pricing model based on monthly page views. However, Simple Analytics may be a better alternative if you want to be 100% compliant with all privacy laws. Plausible is a privacy-friendly solution, but according to some reports, the way they collect data this debatable.
The choice between Simple Analytics and Plausible is based on your specific needs and preferences. To make an informed decision, consider your financial strategy, desired elements, and privacy preferences.
If you are looking for a straightforward analytics tool that gives you the insights you need for a pocket-friendly price, feel free to try Simple Analytics!
FAQs
Is Plausible GDPR-compliant?
Plausible is GDPR-compliant in the sense that they don't transfer data to the U.S. as Google Analytics does. However, Plausible also claims they don't collect any personal data. Plausible uses hashed versions of IP addresses to track website users. They don't use cookies, but they use anonymized IP addresses to collect information. It's debatable whether this is privacy-friendly or not. Simple Analytics does not make any concessions concerning privacy.
What is the alternative to Google Analytics for privacy?
There are many privacy-friendly alternatives to Google Analytics. The best one is Simple Analytics. It gives you the insights you need in an intuitive dashboard while being 100% GDPR compliant. In contrast to other privacy-friendly tools, it does not collect any personal data at all and is cookieless by design.
Is Plausible analytics free?
There is a self-hosted version of Plausible. You can install it for free, but you must pay for hosting and maintaining your own servers. If you are not technical, this is not an option. The cloud-hosted version is not free.
Why is Simple Analytics preferred over Plausible?
Privacy enthusiasts will prefer Simple Analytics since it collects no personal data at all. In addition, Simple Analytics also is more feature-rich in terms of event collection and goal tracking.