Siteimprove is a well-known analytics tool that provides insights in your website performance. It's a great tool and used by many companies. However, it is important to understand Siteimprove's pricing structure and examine its alternative options before signing up.
In this blog, we will see Siteimprove's pricing plan and other compelling alternatives that might better fit your goals and budget.
Siteimprove
Siteimprove is a comprehensive marketing solution that includes three solution packages: Inclusivity, Content Experience, and Marketing Performance, which help organizations improve their digital presence while also ensuring the accessibility, compliance, and quality of their websites. It offers features like campaign analytics, conversion tracking, multiple site management, visitor tracking, etc.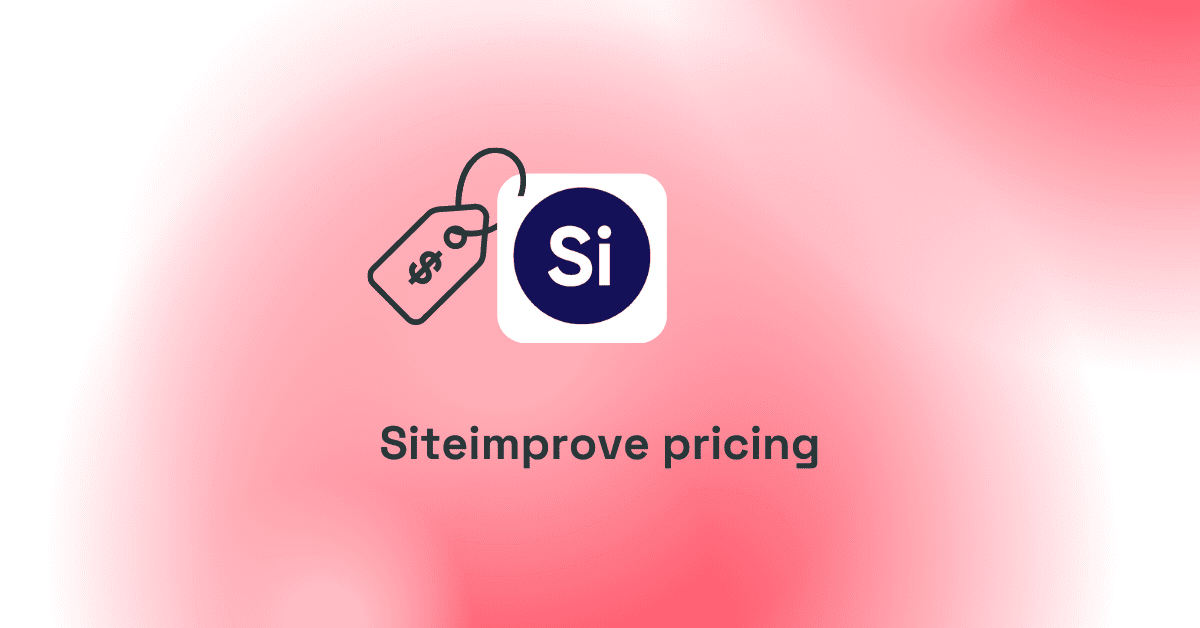 Siteimprove Pricing Plan
The Siteimprove platform is customized to fit the needs of your business—whether it's simply staying on top of your website content quality or aggressive digital growth. The best way to understand their pricing is to contact them so they can prepare a quote specific to your needs.
Even though the pricing isn't public, according to some sites/resellers, it costs $999/year but also requires additional software purchases.
Simple Analytics: A Better Alternative
Simple Analytics is a privacy-focused website analytics platform that simplifies website traffic and user behavior without compromising privacy. It does not collect any personal data and adheres to GDPR guidelines.
Simple Analytics gives you the insights you need without complexities to improve your business. Pricing is transparent and based on the number of page views, with flat monthly fees and flexible pricing tiers.
Simple Analytics Pricing Plan
Simple Analytics offers a straightforward pricing model based on the number of page views your website receives. Simple Analytics provides annual and monthly billing options, and it should be noted that Simple Analytics also provides a 50% discount for Non-profits on every plan.
A general overview of their pricing is as follows:
Starter
Everything you need to get started
What's Included:
100,000 datapoints per month
1 user
10 websites
events
aggregated export
Monthly: $19/month ($9/month billed yearly)
Business
Work together on growing your business
What's Included:
Everything from the Starter plan, plus
1,000,000 datapoints per month
10 users
100 websites
raw level export
Monthly: $59/month ($49/month billed yearly)
Enterprise
Get everything you need to grow your business
What's Included:
Everything from the Business plan, plus
1,000,000+ datapoints per month
10+ users
100+ websites
prio email support
Monthly: starting at $99+/month, ***depending on usage
Comparison
Siteimprove and Simple Analytics are distinct platforms with different features and pricing models. Let's look at their pricing plans and see if simple analytics is a better alternative than Siteimprove.
Siteimprove
Simple Analytics
Starting Price
Custom
Starter - $19/mo ($9/mo if paid yearly)
Business - $59/mo
Enterprise - $99/mo
Free trial period
Custom
14 days
Trackable Items
Custom
Starter - 10 websites
Business - 100 websites
Enterprise - 100+ websites
User Seats
Custom
Starter - 1 user
Business - 10 users
Enterprise - 10+ users / Unlimited
Data Retention
Custom
Unlimited
Final Thoughts
When compared to Siteimprove, Simple Analytics generally has a more affordable price. Pricing for Siteimprove might vary greatly depending on the features, website traffic, and customization requirements. Simple Analytics, on the other hand, features fixed pricing options, which provide cost stability.
Simple analytics may be a preferable option because its pricing is transparent and open to the public, whereas Siteimprove's pricing is not.
Ultimately, choosing between Simple Analytics and Siteimprove depends on your budget, particular analytics requirements, technical capabilities, and the significance of user privacy.
If you are looking for a straightforward analytics tool that gives you the insights you need for a pocket-friendly price, feel free to try Simple Analytics!
FAQs
What is Siteimprove Analytics?
Siteimprove is a complex analytics tool that is mostly used in governmental organizations such as municipalities. If you are looking for an intuitive and smooth analytics tool, you should check out Simple Analytics.
How much does Siteimprove cost?
They don't show their pricing our their website. Hence, giving it a spin without getting quoted is not feasible. They are an enterprise-grade analytics solution.
Is Siteimprove GDPR-compliant?
No, Siteimprove is not GDPR-compliant since they run their servers through AWS. This means there is an opportunity for your visitor data will be sent to the U.S.
Why is Simple Analytics preferred over Siteimprove?
In contrast to Siteimprove, Simple Analytics is 100% GDPR-compliant. In addition, Simple Analytics is easy to use and has an intuitive dashboard. It's easy to install and a better fit for small -and mid-sized businesses.