Snowplow is well-known for its adaptable and flexible approach to web analytics. It's a powerful tool that helps you get the user insights you need for your business. However, its pricing structure and associated costs may discourage many businesses, particularly smaller ones.
In this blog, we'll look at the Snowplow pricing structure and discuss a better alternative with the same features at a more affordable price.
The UK Government chose Simple Analytics
Join them
Snowplow
Snowplow is an open-source event data platform that enables businesses to collect, process, and analyze event data from various sources. With its adaptability and customization, businesses can gain insights into user behavior, product usage, and customer journeys. Data governance, real-time analytics, and cloud processing are some features of Snowplow.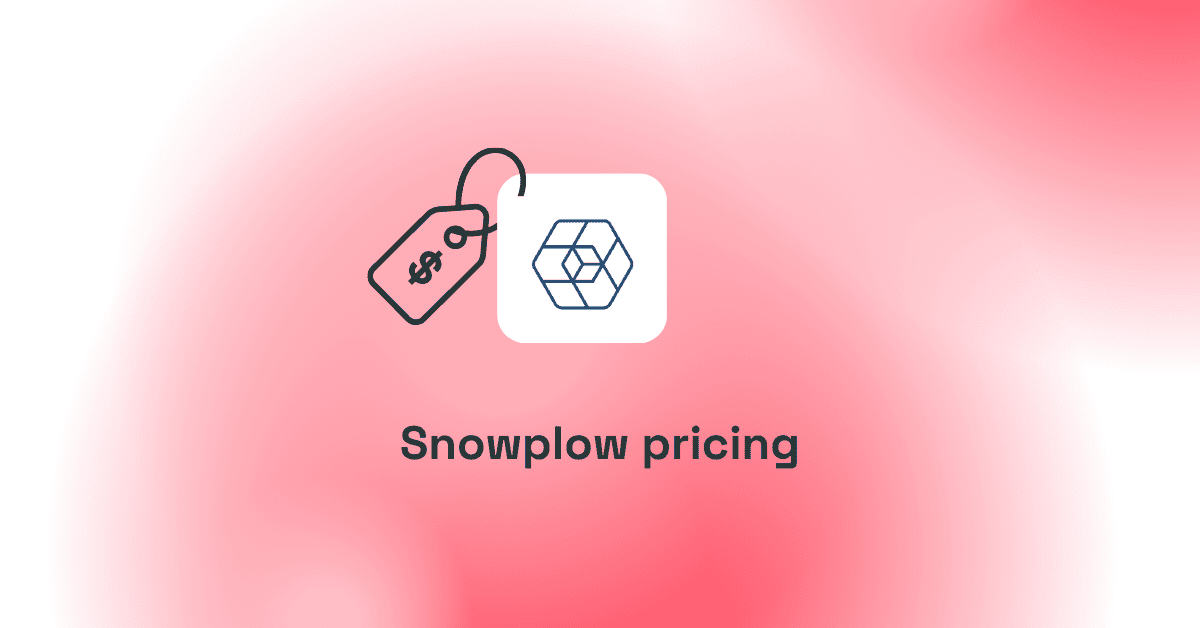 Snowplow Pricing Plan
Snowplow is an open-source event data platform with a price structure that differs from traditional software due to the platform's self-hosted and self-managed nature.
Snowplow has three plans available:
Open Source (Self-hosted)
For Data Engineers to build and manage their own infra.
What's Included:
All building blocks to send data to your storage destination
Install and manage your infrastructure
Fully scalable
Self-managed data plane
Pricing: Free
BDP Cloud (Hosted SAAS)
For teams seeking a turn-key managed solution
What's Included:
Multi-region deployment
Up to 80m monthly events
Load to Snowflake, Databricks, Redshift
15+ trackers
Pricing: From $800/m after trial
BDP Enterprise (Hosted in your Cloud)
For teams powering data apps across the business
What's Included:
Includes everything in Cloud, plus
No event limit
Load to Redshift, BigQuery, S3, GCS, Kinesis, Pub/Sub, and more
Help to manage data across teams
Advanced data management interface
Pricing: Event-based pricing
BDP Enterprise plan is divided into three tiers - Basecamp, Ascent, and Summit. More details can be found on the Snowplow website.
Simple Analytics: A Better Alternative
Simple Analytics is a simple-to-use, privacy-friendly analytics alternative to Google Analytics and the likes of Amplitude and Piwik. It's also one of the few analytics tools completely GDPR-compliant with EU-hosted servers.
The primary benefit of using Simple Analytics is that it lets you retain all the powerful features, such as event monitoring and goal tracking, without compromising on privacy. You also get to access something called "Mini Websites," which lets you see actual pages that referred your website, such as a tweet mentioning your website.
Simple Analytics Pricing Plan
Simple Analytics offers a straightforward pricing model based on the number of page views your website receives. Simple Analytics provides annual and monthly billing options, and it should be noted that Simple Analytics also provides a 50% discount for Non-profits on every plan.
A general overview of their pricing is as follows:
Starter
Everything you need to get started
What's Included:
100,000 datapoints per month
1 user
10 websites
events
aggregated export
Monthly: $19/month (or $9/month paid yearly)
Business
Work together on growing your business
What's Included:
Everything from the Starter plan, plus
1,000,000 datapoints per month
10 users
100 websites
raw level export
Monthly: $59/month (or $49/month paid yearly)
Enterprise
Get everything you need to grow your business
What's Included:
Everything from the Business plan, plus
1,000,000+ datapoints per month
10+ users
100+ websites
prio email support
Monthly: starting at $99+/month, ***depending on usage
Comparison
Snowplow and Simple Analytics are distinct platforms with different features and pricing models. Let's examine the pricing plans and see if simple analytics is a better alternative.
Snowplow
Simple Analytics
Starting Price
Open Source - Free
BDP Cloud - From $800/m
BDP Enterprise - Event-based pricing
Starter - $19/mo ($9/mo if paid yearly)
Business - $59/mo
Enterprise - $99/mo
Free trial period
14 days (BDP Cloud)
Demo available (BDP Enterprise)
14 days
Trackable Items
Unlimited*
Starter - 10 websites
Business - 100 websites
Enterprise - 100+ websites
User Seats
Unlimited*
Starter - 1 user
Business - 10 users
Enterprise - 10+ users / Unlimited
Data Retention
Unlimited*
Unlimited
Final Thoughts
Snowplow BDP cloud plans start at $800 per month, which may not be suitable for businesses with tight budgets. Simple Analytics has more affordable pricing, with its Starter plan starting at $19 per month (or $9 when paid yearly) and suitable for all kinds of businesses.
But in the end, your specific analytics requirements, technical capabilities, budget, and data privacy requirements should ultimately guide your decision. Take your time evaluating each platform and selecting the one that is most suitable for your company.
If you are looking for a straightforward analytics tool that gives you the insights you need for a pocket-friendly price, feel free to try Simple Analytics!
FAQs
What happens to my charges if my traffic increases or decreases in Simple Analytics?
You only pay for what you actually need. This means that if your plan's page view limit is exceeded, you will be charged for overages. Simple Analytics automatically calculates your price based on your average number of page views (first looking back one month, then the average of the previous three months).
How does Snowplow's event-based pricing work?
Each interaction with your digital product counts as an 'event'. Their pricing model allows you to fairly scale up in a linear way as you grow and therefore track more events. This generally scales in a far more predictable and more cost-effective way than monthly-tracked user pricing adopted by some other analytics tools.
What type of product support is available with BDP Cloud vs BDP Enterprise in Snowplow?
BDP Cloud is currently a lower-cost (according to Snowplow), self-serve option. BDP Enterprise offers various levels of custom onboarding and ongoing strategic support depending on your chosen tier and the onboarding package selected.
How does the Snowplow work?
Snowplow gathers data from various sources, including websites, mobile apps, and server-side events, and processes it. It enables interaction with multiple data sources, real-time data processing, and customizable event tracking, allowing businesses to understand user behavior and make data-driven decisions thoroughly.
Can Snowplow replace Google Analytics?
Snowplow can be a good substitute for Google Analytics for companies looking for more customization and flexibility over their data and analytics stack.
What can I use Simple Analytics for?
Simple Analytics is a privacy-friendly Google Analytics alternative that gives you the insights you need without collecting personal data. If you care about the privacy of your users and want an intuitive dashboard with the most important website insights, Simple Analytics might be the tool you are looking for.