Adobe Analytics, previously part of Adobe Marketing Cloud, is now within the Experience Cloud. It's positioned as a business intelligence tool for web analytics, presenting data in the form of reports, dashboards, and charts.
 It's important to note that to harness the full potential of Adobe Analytics, it's designed to be used in conjunction with other tools in Adobe's Experience Cloud.
This article will cover Adobe Analytics' features, strengths, and weaknesses. But there's more! We'll introduce you to an exciting alternative. This innovative solution offers a fresh perspective, empowering you to make informed decisions.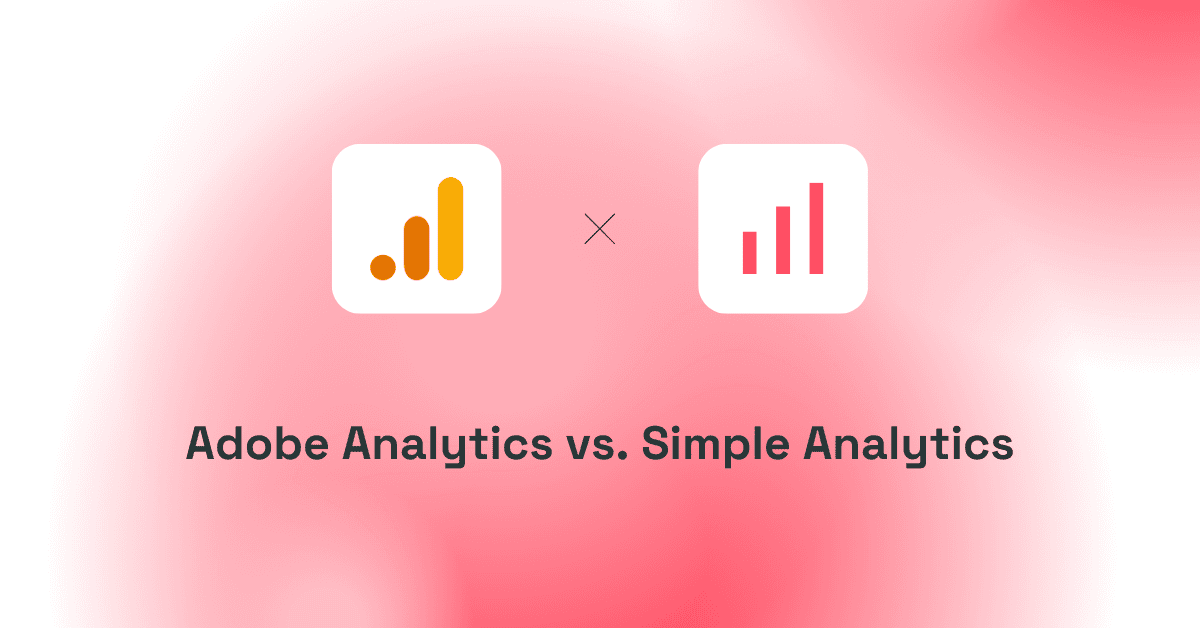 The UK Government chose Simple Analytics
Join them
Adobe Analytics
As mentioned above, Adobe Analytics is part of the Adobe Experience Cloud suite, which includes numerous marketing and analytics tools.
Data segmentation, real-time analytics, customer journey tracking, and advanced reporting are just a few of the fantastic features available in Adobe Analytics. It is designed to manage enormous amounts of data and fulfill enterprise-level business requirements. It is best suited for organizations with a significant presence in the Adobe ecosystem, especially their Experience Cloud.
Pros of Adobe Analytics
Provides a comprehensive toolkit as well as advanced reporting features
Integrates seamlessly with other tools under Adobe Experience Could
Can handle analytics requirements of large enterprises
Provides rich data visualization options.
Cons of Adobe Analytics
Because of its high cost may not be suitable for small firms or organizations with limited budgeting.
It might be perplexing and challenging for beginners or people unfamiliar with analytics tools.
It uses cookies to collect user data, which raises privacy concerns
Adobe Analytics is a sales-led product, and you would often need an implementation partner. It's a very complex analytics tool.
Adobe Analytics Reviews
"Fully fledged web and app analytics solution within the Adobe Suite"

What do you like best about Adobe Analytics?

Once setup properly, Adobe Analytics gives us detailed insights into our web traffic for all of our websites and apps and track all relevant KPIs for our business - until the purchase and engagement metrics. It further neatly integrates into the full Adobe Suite, giving us the ability to setup test landing pages which fall short of goals.

What do you dislike about Adobe Analytics?

There is a steep learning curve associated to Adobe Analytics. It is not always intuitive in creating exactly the view you want (i.e. daily breakdowns) but once properly learned, it has all the needed capabilities.

What problems is Adobe Analytics solving and how is that benefiting you?

Adobe Analytics is our main tool for measuring Web and App Traffic. Through AA we can pinpoint entry and exit points to our sales funnel which are less performant than required and measure the impact of our initiatives to remedy it. Through AA we were able to increase conversion rates by double digits percentage points .

*Andrea S. | Freelance Marketing Manager, ***Mid-Market

Source: G2
"One Complete Solution for User Level Analytics with 360* Approach"

What do you like best about Adobe Analytics?

One of the tools that offers an in-depth analysis of user interacting with the App/Web. Pretty vast offering from a tabular view to charts,funnels, scorecard & much more. Major highlights

From Entry level to Exit - Complete data mapping

Scheduling Reports with ease

Customizing reports with graphs & other mode of presentation.

Customized dashboards

Segment Comparison & many more and the list goes on & on.

Definitely an upper hand if compared to Google Analytics.

What do you dislike about Adobe Analytics?

With the current scheme of things there are hardly any downside with the current solution that Adobe has to offer.

Apart from the price point & the overall financials I don't see any downside.

What problems is Adobe Analytics solving and how is that benefiting you?

User Level Journey Mapping

Traffic level split with a detailed view of engagement & drop-offs

In depth analysis in terms of Conversion & other success metrics splitter into daily/monthly & quarterly window.

Ability to analyze and consume the data to take any business call

Prashant S. | Manager - Retention & Growth, Mid-Market

Source: G2
Simple Analytics: An affordable and simple alternative
Simple Analytics is an easy-to-use analytics tool that gives you the insights you need while being 100% GDPR-compliant.
It was founded by Adriaan van Rossum shortly after the GDPR was approved. Since its inception, Simple Analytics has had customers of all sizes, notable ones being: Michelin, Havas Media, Nomadlist, and the UK Government.
Though Simple Analytics might sound like a simple minimal analytics tool, it does pack some powerful features that many marketers love, such as automated event collection, goal tracking, e-commerce analytics, bypassing ad blockers (as it's privacy-friendly), and much more.
Let's explore a few reasons why it's become a preferred choice for businesses seeking reliable and affordable analytics tools.
Pros of using Simple Analytics
Simple UI: Most product analytics tools like Adobe Analytics come with a complex UI which takes time to understand if you're not a regular user. Simple Analytics, on the other hand, focuses on a clean and easy-to-understand UI that even non-marketers can easily understand.
Affordable: Tracking website and product metrics is pretty affordable with Simple Analytics. For just $9/month, you can track 100,000 datapoints (pageviews + events). Additionally, you get features that you would find in much more expensive tools.
Privacy First: The world is moving in a direction where privacy is becoming increasingly important. Google Analytics has been declared illegal in multiple EU countries. You would rather avoid getting caught up in this mess. Take privacy or compliance with regulations into account.
Mini Websites: Have you ever seen "t.co" as a referrer in your web analytics? If you have, you must have broken your head trying to find the source. Simple Analytics helps you find the exact tweet that referred/mentioned to your website.
Lightweight: Your website is your storefront on the internet. Providing the best possible experience matters. Installing an analytics script has an impact on page speed. Choose an analytics tool that won't slow your website down. Even Google recommends having a website that loads quickly.
Integration: Installing and integrating Simple Analytics is also super easy. It has 20+ integrations to select from, so you can get it added quickly.
Cons of using Simple Analytics
Due to privacy laws, Simple Analytics doesn't store IPs and user identifiers, which makes it lack a couple of metrics, such as bounce rate, but it does have time on page to give you an idea of user stickiness.
Pricing of Simple Analytics
Simple Analytics offers one of the most affordable pricing structures in its segment. The plans start at just $9/month, which lets you track 100,000 data points.
If you need more features, such as team access, the pricing goes up to $49/month, increasing the data points limit from 100,000 to 1,000,000.
Features comparison between Adobe Analytics and Simple Analytics
Feature
Simple Analytics
Adobe Analytics
Account Management
Trackable Items
Unlimited
Unlimited
User Seats
1 to Unlimited users
Unlimited
User Roles
Available
Available
Account Security
Passwordless Login
Single Sign-on
Two-factor Authentication
Data Processing
Data Retention
Unlimited
25 months by default
Data Center Locations
European Economic Area (EEA)
European Economic Area (EEA)
United States
Data Import
GA importer included
Though data sources, API or data connectors
Data Ownership
You
You
Software Hosting
Public Cloud
Public Cloud
Compliance
GDPR, PECR, CCPA
GDPR, CCPA, HIPAA, PECR
Data Freshness
Realtime
2 hours
Data Export
As CSV or via API
Through data feeds, a data warehouse or FTP and SFTP
Cookieless
Simple Analytics is cookieless
Adobe uses tracking cookies
Reporting
Funnel Reporting
Available
Bar chart funnel report
Device Reporting
Available (based on OS and screen sizes)
Available
Segmentation
Available
Advanced segments with Segment builder & Segment manager
Trend Reporting
Available
Available
Alerts & Automation
Integrations
20+ Available and can send a request to the Simple Analytics team for more
200+ Available
Email Reports
Weekly, monthly
Flexible scheduled reporting
Customizability
Annotations
Available
Available
Custom Events
Available
Available
Conclusion
Adobe Analytics has been a long-time player in this market. Still, if you prioritize user privacy, ease of use and want a budget-friendly solution, there are better options.
The pricing of Adobe Analytics's paid plan compared to Simple Analytics is very high as well, plus the dashboard is a complex screen that takes a ton of time and patience to understand. 
Simple Analytics provides the insights you need while being 100% GDPR compliant. They believe the internet should be an independent place that is friendly to website visitors. If this resonates with you, feel free to give it a try!
FAQs: A Better Alternative to Adobe Analytics
Is Adobe Analytics suitable for small businesses?
Adobe Analytics is a comprehensive enterprise analytics solution with many advanced features and capabilities. Its immense functionality may be too much for small businesses. Adobe Analytics is typically used by larger organizations with advanced analytics needs and adequate resources.
What integrations does Adobe Analytics support?
Adobe Analytics works with other Adobe Marketing Cloud tools, such as Adobe Experience Manager, Campaign, and Target. This collaboration results in a unified marketing and analytics ecosystem spanning the customer lifecycle. Furthermore, Adobe Analytics is compatible with various third-party tools and platforms. It allows businesses to leverage their existing technology stack while integrating data from many sources for comprehensive insights and analysis.
Which analytics platform provides the best value for money compared to Adobe Analytics?
Simple Analytics offers straightforward and cost-effective pricing choices based on the number of page views. Its price structure is straightforward, with no hidden costs or complicated tiered structures. This simple method enables firms to precisely calculate costs and expand their analytics usage without incurring unforeseen charges.
Is Adobe Analytics capable of handling massive volumes of data?
Adobe Analytics can handle large amounts of data and provides scalability to enterprises with complex data requirements. The platform has powerful data processing capabilities, allowing it to manage data from multiple channels and sources at the same time.