Chartbeat is an analytics tool specially crafted for publishers; hence, companies like Forbes and Washington Post use it.
It is designed to provide real-time metrics of content performance on your website with data such as visitors, referrers, and much more. The good and bad part about it is being a niche product. If you are a publishing site, then this would serve you well, but on the other hand, it's totally not made for SaaS and other domains.
This article will cover Chartbeat's features, strengths, and weaknesses. But there's more! We'll introduce you to an exciting alternative. This innovative solution offers a fresh perspective, empowering you to make informed decisions.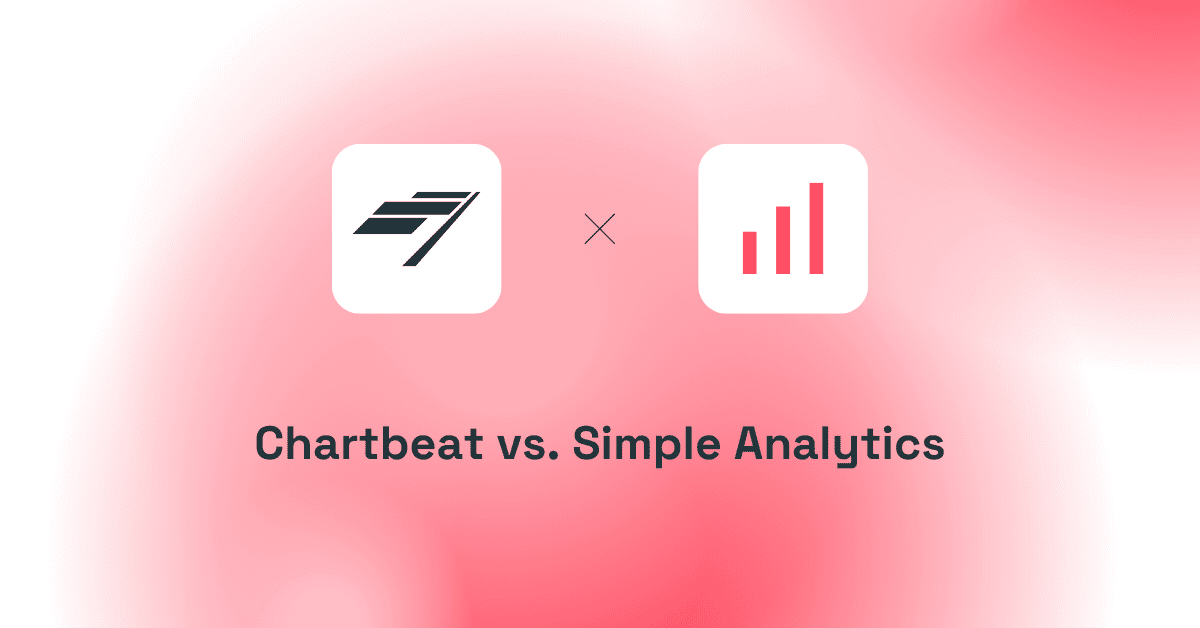 The UK Government chose Simple Analytics
Join them
Chartbeat
Chartbeat allows publishers and content-driven websites to track and analyze audience interaction and website performance in real time. It provides real-time data and insights into how visitors interact with their content and helps them make informed decisions and optimize their strategy.
It has several tools that provide information about website traffic, user behavior, and engagement metrics.
Pros of Chartbeat
Real-time analytics allow you to track content performances and visitor behavior as it happens
Provide insights on the sources of website traffic such as search engines, social media, and referrals
Can create personalized dashboards and reports
Provides real-time alerts
Cons of Chartbeat
Smaller publications may find it exceedingly costly
Not useful for sites that aren't publishers
It focuses primarily on content analytics, and offers a limited amount of data as compared to other analytics solutions.
Chartbeat Reviews
"Super helpful for keeping people engaged on our website"

What do you like best about Chartbeat?

When I'm editing the front page of our site, I use Chartbeat to see which articles are grabbing people's attention. It's helpful to keep people engaged, reading, clicking around. I love the daily reports that tell me which of my stories got the most views so I can see if people are actually reading my work and if not, I can try to improve on that.

What do you dislike about Chartbeat?

Before a training session there were a few features I didn't know how to use but now I do.

What problems is Chartbeat solving and how is that benefiting you?

Keeping people looking at our website is extremely important to make money, simple as that. And Chartbeat helps immensely.

Stephanie S. | AM Content Coordinator, Reporter, Mid-Market

Source: G2
"Chartbeat in an exceptional tool"

What do you like best about Chartbeat?

I love using Chartbeat to keep an eye on how stories are performing in real-time, but I also love the historical data it provides. It helps me plan future content.

What do you dislike about Chartbeat?

I haven't found anything I don't like about Chartbeat.

What problems is Chartbeat solving and how is that benefiting you?

I allows me to compare how our team members' content is performing, which influences our overall coverage strategy and fill any holes that we might be missing.

*Michelle B. | Senior Online Journalist, Enterprise*

Source: G2
Simple Analytics: A flexible alternative
Simple Analytics is an easy-to-use analytics tool that gives you the insights you need while being 100% GDPR-compliant.
It was founded by Adriaan van Rossum shortly after the GDPR was approved. Since its inception, Simple Analytics has had customers of all sizes, notable ones being: Michelin, Havas Media, Nomadlist, and the UK Government.
Though Simple Analytics might sound like a simple minimal analytics tool, it does pack some powerful features that many marketers love, such as automated event collection, goal tracking, e-commerce analytics, bypassing ad blockers (as it's privacy-friendly), and much more.
Let's explore a few reasons why it's become a preferred choice for businesses seeking reliable and affordable analytics tools.
Pros of using Simple Analytics
Simple UI: Most product analytics tools like Pendo come with a complex UI which takes time to understand if you're not a regular user. Simple Analytics, on the other hand, focuses on a clean and easy-to-understand UI that even non-marketers can easily understand.
Affordable: Tracking website and product metrics is pretty affordable with Simple Analytics. For just $9/month, you can track 100,000 data points (pageviews + events). Additionally, you get features that you would find in much more expensive tools.
Privacy First: The world is moving in a direction where privacy is becoming increasingly important. Google Analytics has been declared illegal in multiple EU countries. You would rather avoid getting caught up in this mess. Take privacy or compliance with regulations into account.
Mini Websites: Have you ever seen "t.co" as a referrer in your web analytics? If you have, you must have broken your head trying to find the source. Simple Analytics helps you find the exact tweet that referred/mentioned to your website.
Lightweight: Your website is your storefront on the internet. Providing the best possible experience matters. Installing an analytics script has an impact on page speed. Choose an analytics tool that won't slow your website down. Even Google recommends having a website that loads quickly.
Integration: Installing and integrating Simple Analytics is also super easy. It has 20+ integrations to select from, so you can get it added quickly.
Cons of using Simple Analytics
Due to privacy laws, Simple Analytics doesn't store IPs and user identifiers, which makes it lack a couple of metrics, such as bounce rate, but it does have time on page to give you an idea of user stickiness.
Pricing of Simple Analytics
Simple Analytics offers one of the most affordable pricing structures in its segment. The plans start at just $9/month, which lets you track 100,000 datapoints.
If you need more features, such as team access, the pricing goes up to $49/month, increasing the data points limit from 100,000 to 1,000,000.
Feature comparison between Chartbeat and Simple Analytics
| | Simple Analytics | Chartbeat |
| --- | --- | --- |
| Account Management | | |
| Trackable Items | Unlimited | Unlimited |
| User Seats | 1 to Unlimited users | Unlimited |
| User Roles | Available | Available |
| Account Security | Passwordless Login | Single Sign-on |
| Data Processing | | |
| Data Retention | Unlimited | Unclear, Knowledge base mentions 13 months |
| Data Center Locations | European Economic Area (EEA) | European Economic Area (EEA)s |
| Data Import | GA importer included | Amazon S3 or Google Cloud |
| Data Ownership | You | Chartbeat |
| Software Hosting | Public Cloud | Public Cloud |
| Compliance | GDPR, PECR, CCPA | GDPR, CCPA |
| Data Freshness | Realtime | Realtime |
| Data Export | As CSV or via API | CSV, Amazon S3 or GCS bucket |
| Cookieless | Simple Analytics is cookieless | Uses first-party cookies by default. Cookieless mode is optional. |
| Reporting | | |
| Funnel Reporting | Available | Available |
| Device Reporting | Available (based on OS and screen sizes) | Available |
| Segmentation | Available | Available |
| Trend Reporting | Available | Available |
| Alerts & Automation | | |
| Integrations | 20+ Available and can send a request to the Simple Analytics team for more | Available |
| Email Reports | Weekly, monthly | Can subscribe to daily performance reports |
| Customizability | | |
| Annotations | Available | Available |
| Custom Events | Available | Available |
Conclusion
While Chartbeat has many features and real-time analytics capabilities that publishers would appreciate, it is not affordable for everyone.
Whether you are a publisher or not, Simple Analytics is a better choice with much more affordable pricing, ease of use, and no weird data retention policies. If this resonates with you, feel free to give it a try!
FAQs: A Better Alternative to Chartbeat
Is Chartbeat suitable for all types of websites?
Chartbeat was created primarily for publishers and content-driven websites such as news websites, blogs, and media outlets. It may not be suitable for e-commerce websites or enterprises that require extensive transactional data tracking.
How does Chartbeat track website traffic?
Chartbeat makes use of JavaScript tracking code that is integrated into the publisher's website. This code collects data on user interactions such as page visits, clicks, scroll depth, and engagement metrics. This data is then transmitted to the Chartbeat platform for in-depth analysis and reporting.
What integrations does Chartbeat support?
Chartbeat works with a variety of content management systems (CMS), advertising platforms, and data visualization tools. It integrates with platforms like WordPress, Google Analytics, Google Ad Manager, and Slack, allowing publishers to connect and analyze data from different sources.
What is the alternative to Chartbeat in terms of privacy?
Simple Analytics places significant importance on user privacy and data security. It honors user privacy requests, does not monitor individual users, and anonymizes IP addresses. This privacy-conscious approach aligns with evolving data protection regulations, such as the General Data Protection Regulation (GDPR), and user expectations for greater control over their personal data.