Clicky is a privacy-friendly web analytics tool founded by Noah Merritt in 2006, making it one of the oldest analytics tools focusing on privacy. It's built to provide a way for bloggers and small websites to understand visitor data in a simple UI.
This article will cover Clicky's features, strengths, and weaknesses. But there's more! We'll introduce you to an exciting alternative. This innovative solution offers a fresh perspective, empowering you to make informed decisions.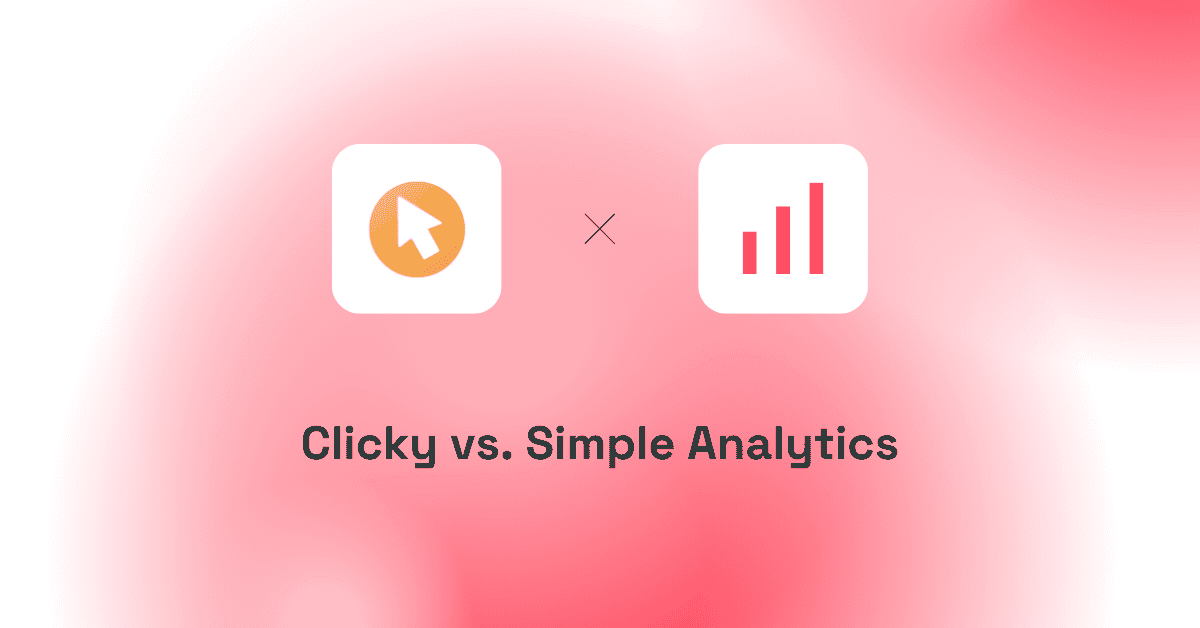 The UK Government chose Simple Analytics
Join them
Clicky
Clicky used to be a privacy-friendly web analytics tool, but with GDPR in place, it's no more compliant with all privacy laws as they are based in the USA. Besides being non-compliant with GDPR, Clicky's UI is dated too but packs some extra features such as uptime monitoring and heatmap.
Pros of Clicky
Affordable and also comes with a free plan for starters
Provides detailed metrics regarding visitor data
Cons of Clicky
The UI hasn't been updated for many years and feels outdated
Clicky is US-based and hosts user data on US servers, making it not compliant with GDPR
Clicky Reviews
""Effortless Time Tracking and Enhanced Productivity: A Review of Clicky in Rippling""

What do you like best about Clicky?

As a user, I appreciate Clicky in Rippling for its intuitive and user-friendly interface. It allows me to track and manage my time effortlessly, view detailed reports, and collaborate with team members effectively. Its seamless integration with other Rippling features makes it a powerful tool for optimizing productivity.

What do you dislike about Clicky?

I wouldn't say I like the limited customization options in Clicky and the time-tracking feature in Rippling. It cannot tailor the interface or reports according to my preferences. This limitation hampers my ability to personalize the tool to suit my needs and workflow.

What problems is Clicky solving and how is that benefiting you?

Clicky is a time tracking and productivity software that solves the problem of accurately tracking and managing work hours. It benefits users by providing real-time insights into time utilization, improving productivity, and enabling accurate invoicing. Clicky streamlines time management and helps users optimize their efficiency and profitability.

*Nikhil A. | Copywriter , Small Business*

Source: G2
"Happy user for almost 10 years"

What do you like best about Clicky?

In-depth analytics, with many ways to customize the data to your preference. The live traffic snapshot is also very helpful for spikes (ie, HN traffic hits). Very reasonable pricing as well. Their integration into SheerSEO is also handy.

What do you dislike about Clicky?

Only the 'Campaign' UTM parameter is tracked for attribution. Source & medium are ignored (oddly). So be sure to make your campaign names very descriptive. Also, the graphs can only show 1 year of previous data, not 2 or 3 consecutively.

What problems is Clicky solving and how is that benefiting you?

I can track multiple websites within one dashboard, with a wide array of tracking options, all at a reasonable price.

*Peter A. | Owner/ Operator, Small Business*

Source: G2
Simple Analytics: A better alternative
Simple Analytics is an easy-to-use analytics tool that gives you the insights you need while being 100% GDPR-compliant.
It was founded by Adriaan van Rossum shortly after the GDPR was approved. Since its inception, Simple Analytics has had customers of all sizes, notable ones being: Michelin, Havas Media, Nomadlist, and the UK Government.
Though Simple Analytics might sound like a simple minimal analytics tool, it does pack some powerful features that many marketers love, such as automated event collection, goal tracking, e-commerce analytics, bypassing ad blockers (as it's privacy-friendly), and much more.
Let's explore a few reasons why it's become a preferred choice for businesses seeking reliable and affordable analytics tools.
Pros of using Simple Analytics
Simple UI: Most analytics tools like Clicky come with a complex UI or outdated UI, which takes time to understand if you're not a regular user. On the other hand, Simple Analytics focuses on a clean and easy-to-understand UI that even non-marketers can easily understand.
Affordable: Tracking website and product metrics is pretty affordable with Simple Analytics. For just $9/month, you can track 100,000 data points (pageviews + events). Additionally, you get features that you would find in much more expensive tools.
Privacy First: The world is moving in a direction where privacy is becoming increasingly important. Google Analytics has been declared illegal in multiple EU countries. You would rather avoid getting caught up in this mess. Take privacy or compliance with regulations into account.
Mini Websites: Have you ever seen "t.co" as a referrer in your web analytics? If you have, you must have broken your head trying to find the source. Simple Analytics helps you find the exact tweet that referred/mentioned to your website.
Lightweight: Your website is your storefront on the internet. Providing the best possible experience matters. Installing an analytics script has an impact on page speed. Choose an analytics tool that won't slow your website down. Even Google recommends having a website that loads quickly.
Integration: Installing and integrating Simple Analytics is also super easy. It has 20+ integrations to select from, so you can get it added quickly.
Cons of using Simple Analytics
Due to privacy laws, Simple Analytics doesn't store IPs and user identifiers, which makes it lack a couple of metrics, such as bounce rate. Still, it does have time on page to give you an idea of user stickiness.
Pricing of Simple Analytics
Simple Analytics offers one of its segment's most affordable pricing structures. The plans start at just $9/month, which lets you track 100,000 data points.
If you need more features, such as team access, the pricing goes up to $49/month, increasing the data points limit from 100,000 to 1,000,000.
Feature comparison between Clicky and Simple Analytics
| | Simple Analytics | Clicky |
| --- | --- | --- |
| Account Management | | |
| Trackable Items | Unlimited | Upto 1000 |
| User Seats | 1 to Unlimited users | Unlimited |
| User Roles | Available | N/A |
| Account Security | Passwordless Login | Two-factor Authentication |
| Data Processing | | |
| Data Retention | Unlimited | Free/basic accounts - 30 days, Premium accounts - Unlimited |
| Data Center Locations | European Economic Area (EEA) | United States |
| Data Import | GA importer included | Third-party integration, JavaScript, API |
| Data Ownership | You | Clicky |
| Software Hosting | Public Cloud | Public Cloud |
| Compliance | GDPR, PECR, CCPA | CCPA |
| Data Freshness | Realtime | Realtime |
| Data Export | As CSV or via API | CSV, XML, JSON, serialized PHP, and PDF |
| Cookieless | Simple Analytics is cookieless | Clicky uses first-party cookies |
| Reporting | | |
| Funnel Reporting | Available | Available |
| Device Reporting | Available (based on OS and screen sizes) | Available |
| Segmentation | Available | Available |
| Trend Reporting | Available | Available |
| Alerts & Automation | | |
| Integrations | 20+ Available and can send a request to the Simple Analytics team for more | 10+ Available |
| Email Reports | Weekly, monthly | Daily, weekly, monthly |
| Customizability | | |
| Annotations | Available | Not Available |
| Custom Events | Available | Available |
Conclusion
While Clicky is a well-known analytics tool, it's important to consider its limitations, such as the pricing structure, depth of insights, and limited third-party connectors, which may affect its feasibility for organizations with particular requirements.
Simple Analytics offers a privacy-first, cost-effective, and user-friendly solution. It emphasizes data protection, simplicity, and server-side tracking, enabling businesses to gain relevant insights without sacrificing user experience or financial constraints. When evaluating web analytics tools, keep your company's needs, budget, and desired feature set in mind.
FAQs: A Better Alternative to Clicky
Is Clicky suitable for small businesses?
Clicky is a good choice for small businesses since it has an easy-to-use interface, reasonable pricing options, and functionality tailored to the needs of smaller websites.
Does Clicky provide tracking for mobile apps?
Not directly, but if you can add the JS tracking script somehow like you can do in a PWA then tracking is possible.
Are there any privacy-centric features available in Clicky?
Clicky gives an option for website visitors to opt out of being monitored. It also provides options for anonymizing IP addresses, which improves visitor privacy. Though it has some privacy-centric features, but that doesn't make them GDPR-compliant.
Which is the most effective budget-friendly alternative option to Clicky?
Simple Analytics has been viewed as cost-effective. It has a simple price structure with a fixed monthly fee. This might be a cost-effective alternative for businesses or individuals searching for basic web analytics without breaking their budget.