There are several analytics tools out there that are meant to be used in special situations, and Foxmetrics is one such tool. It's an analytics tool specially meant to be used by restaurants.
Fox Metrics is primarily built for restaurants with features such as online/offline order tracking, loyalty programs, etc. So if you aren't a restaurant, then directly move to read about the alternative, Simple Analytics.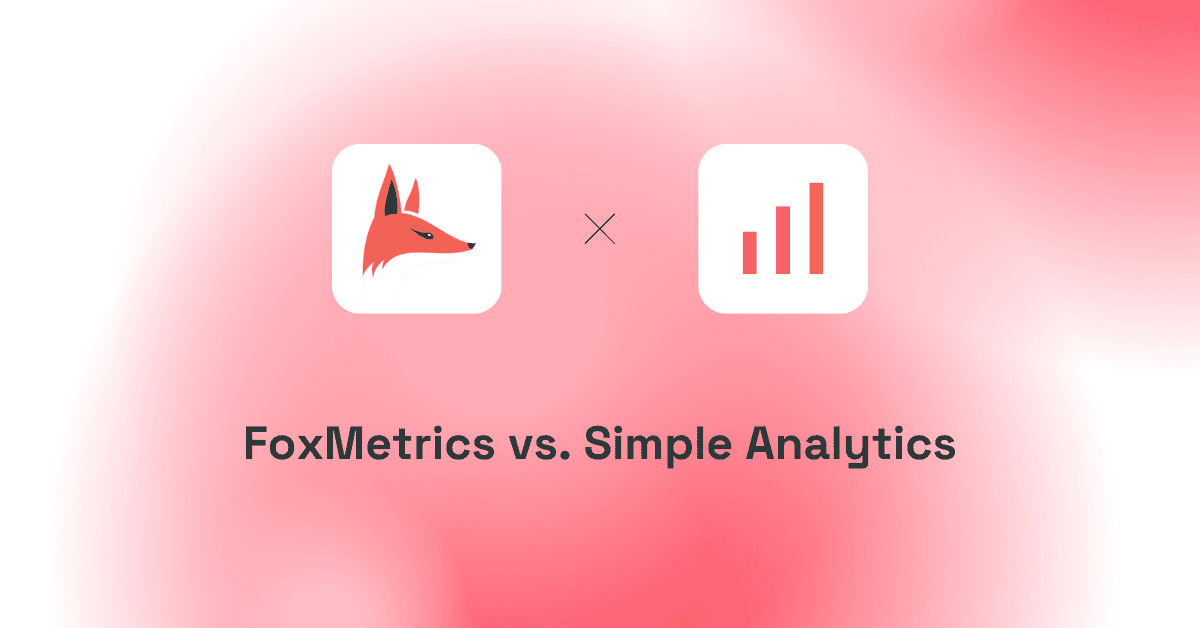 FoxMetrics
FoxMetrics is a data analytics tool specifically meant for restaurants. So if you're anything apart from a restaurant, it's not for you. It comes with added features such as online ordering, loyalty programs, and gift cards, but if you are a SaaS or even e-commerce, then it's useless.
The idea behind FoxMetrics is to be the only tool that restaurants would use for complete analytics and other marketing activities, such as running a loyalty program.
Undoubtedly, FoxMetrics is a great tool, but it's expensive and doesn't work with all businesses, and even if you are a restaurant, it's better to check out a couple of alternatives as well.
Pros of Foxmetrics
Simple integration with several systems
A useful dashboard reporting feature
Ability to create custom reports
Offers personalization and behavioral targeting
Cons of Foxmetrics
Poor data retention policy
Expensive plans
Foxmetrics Reviews
"A way to accelerate the business with less effort and better results."

What do you like best about FoxMetrics?

The first thing that I would like to point out is its integration, it's very easy to integrate with different platforms. Other features like-Dashboard reporting, analytics, tracking campaigns, alerts are a few other features that are very handy. with analytics and user data it's very easy to plan and target customers.

What do you dislike about FoxMetrics?

The price is a bit high but still ok compared to some of the other competition. There is a scope of improvement in integration as not of platforms to be integrated can be increased.

Recommendations to others considering FoxMetrics:

Highly recommended as it is easy to use, reasonable price compared to others. The best feature compares to others. Reduce a lot of workloads and increase productivity.

What problems is FoxMetrics solving and how is that benefiting you?

Customer analytics, getting the user data to target potential customers is the main usage of this product for me but another feature is also useful.

*Ayush J.| Software developer, Small-Business*

Source: G2
"Optimize the performance with Foxmetrics"

What do you like best about FoxMetrics?

Every business needs optimization to develop more ways to increase business. FoxMetrics helped our company in scaling up our business in a new market. With its simple user interface and analytical data features, we get an in-depth view of the market trend and understand customer behavior.

What do you dislike about FoxMetrics?

There are not enough updates for FoxMetrics, and customer support was slow to respond. There should be a mobile version, as not every user operates via a computer.

What problems is FoxMetrics solving and how is that benefiting you?

Before launching our product among new customers, we used FoxMetrics in our company. We calculated the challenges with our product's market among new customers using FoxMetrics. The stats of the software is accurate, which helped in making better decisions for our product. We found that it is one of the best analytical tools available in the market, which has a lot of potentials but needs some improvement.

*Sushma G.| Software Associate, Enterprise*

Source: G2
Simple Analytics: An alternative for businesses of all types
Simple Analytics is an easy-to-use analytics tool that gives you the insights you need while being 100% GDPR-compliant.
It was founded by Adriaan van Rossum shortly after the GDPR was approved. Since its inception, Simple Analytics has had customers of all sizes, notable ones being: Michelin, Havas Media, Nomadlist, and the UK Government.
Though Simple Analytics might sound like a simple minimal analytics tool, it does pack some powerful features that many marketers love, such as automated event collection, goal tracking, e-commerce analytics, bypassing ad blockers (as it's privacy-friendly), and much more.
Let's explore why it's become a preferred choice for businesses seeking reliable and affordable analytics tools.
Pros of using Simple Analytics
Simple UI: Most product analytics tools like FoxMetrics come with a complex UI which takes time to understand if you're not a regular user. On the other hand, Simple Analytics focuses on a clean and easy-to-understand UI that even non-marketers can easily understand.
Affordable: Tracking website and product metrics is pretty affordable with Simple Analytics. For just $9/month, you can track 100,000 data points (pageviews + events). Additionally, you get features that you would find in much more expensive tools.
Privacy First: The world is moving in a direction where privacy is becoming increasingly important. Google Analytics has been declared illegal in multiple EU countries. You would rather avoid getting caught up in this mess. Take privacy or compliance with regulations into account.
Mini Websites: Have you ever seen "t.co" as a referrer in your web analytics? If you have, you must have broken your head trying to find the source. Simple Analytics helps you find the exact tweet that referred/mentioned to your website.
Lightweight: Your website is your storefront on the internet. Providing the best possible experience matters. Installing an analytics script has an impact on page speed. Choose an analytics tool that won't slow your website down. Even Google recommends having a website that loads quickly.
Integration: Installing and integrating Simple Analytics is also super easy. It has 20+ integrations to select from, so you can get it added quickly.
Cons of using Simple Analytics
Due to privacy laws, Simple Analytics doesn't store IPs and user identifiers, which makes it lack a few metrics, such as bounce rate. Still, it does have time on page to give you an idea of user stickiness.
Pricing of Simple Analytics
Simple Analytics offers one of its segment's most affordable pricing structures. The plans start at just $9/month, which lets you track 100,000 data points.
If you need more features, such as team access, the pricing goes up to $49/month, increasing the data points limit from 100,000 to 1,000,000.
Feature comparison between Contentsquare and Simple Analytics
| | Simple Analytics | Foxmetrics |
| --- | --- | --- |
| Account Management | | |
| Trackable Items | Unlimited | Unlimited (only in enterprise plan) |
| User Seats | 1 user to Unlimited users | 5 users to Unlimited users |
| User Roles | Available | Available |
| Account Security | Passwordless Login | Two-factor Authentication |
| Data Processing | | |
| Data Retention | Unlimited | 13 months to 24+ months |
| Data Center Locations | European Economic Area (EEA) | United States |
| Data Import | GA importer included | API, CSV |
| Data Ownership | You | You |
| Software Hosting | Public Cloud | Public Cloud |
| Compliance | GDPR, PECR, CCPA | GDPR, CCPA |
| Data Freshness | Realtime | Realtime |
| Data Export | As CSV or via API | JSON or CSV |
| Cookieless | Simple Analytics is cookieless by default | FoxMetrics relies on first-party cookies |
| Reporting | | |
| Funnel Reporting | Available | Not Available |
| Device Reporting | Available | Available |
| Segmentation | Available | Available |
| Trend Reporting | Available | Not Available |
| Alerts & Automation | | |
| Integrations | 20+ Available | 140+ Available |
| Email Reports | Weekly, monthly | Daily, weekly, monthly |
| Customizability | | |
| Annotations | Available | Not Available |
| Custom Events | This feature is available | Not Available |
Conclusion
Foxmetrics is a practical product analytics tool to give restaurants helpful information. For some businesses, meanwhile, the few customization features and complicated setup are reasons to consider alternatives. Consider Simple Analytics if you're looking for a superior option that provides a more seamless analytics experience.
It is a product analytics solution that outperforms its competitors regarding usability and cost-effectiveness. You can acquire valuable insights and make data-driven decisions because of its user-friendly design and precise data tracking. In addition, Simple Analytics stands out due to its emphasis on simplicity and affordability, which makes it an excellent option for businesses of all sizes.
Are you prepared to streamline your analytics process and maximize the value of your product data? Join Simple Analytics now to start your hassle-free analytics journey.
FAQs: A Better Alternative to Foxmetrics
What kinds of data can FoxMetrics track?
You may measure various data using FoxMetrics, such as page views, clicks, sign-ups, sales, etc. In addition, gaining user engagement, conversion funnels, and customer journeys will help you identify what motivates success and areas for development.
How can FoxMetrics help companies?
FoxMetrics offers insightful data on how users interact with your online domain. FoxMetrics assists you in making data-driven decisions to enhance user experiences and optimize your marketing campaigns by monitoring user actions, conversions, and behavior trends.
What can Simple Analytics be used for?
Simple Analytics is a flexible analytics platform that can help track metrics such as pageviews, time on page, conversion rate, event analytics, goal tracking, and much more.
Is Simple Analytics GDPR compliant?
Yes, Simple Analytics is an analytics tool that is fully GDPR compliant. Furthermore, it corresponds with EU-based servers and ensures user data is secure and confidential.