Mixpanel is a popular product analytics tool founded by Suhail Doshi and Tim Trefren. It's also one of the most matured product analytics tools with detailed reporting and support for product-related metrics such as detailed product analytics, product activation tracker, etc.
This article will cover Mixpanel's features, strengths, and weaknesses. We'll introduce you to an exciting alternative. This innovative solution offers a fresh perspective, empowering you to make informed decisions.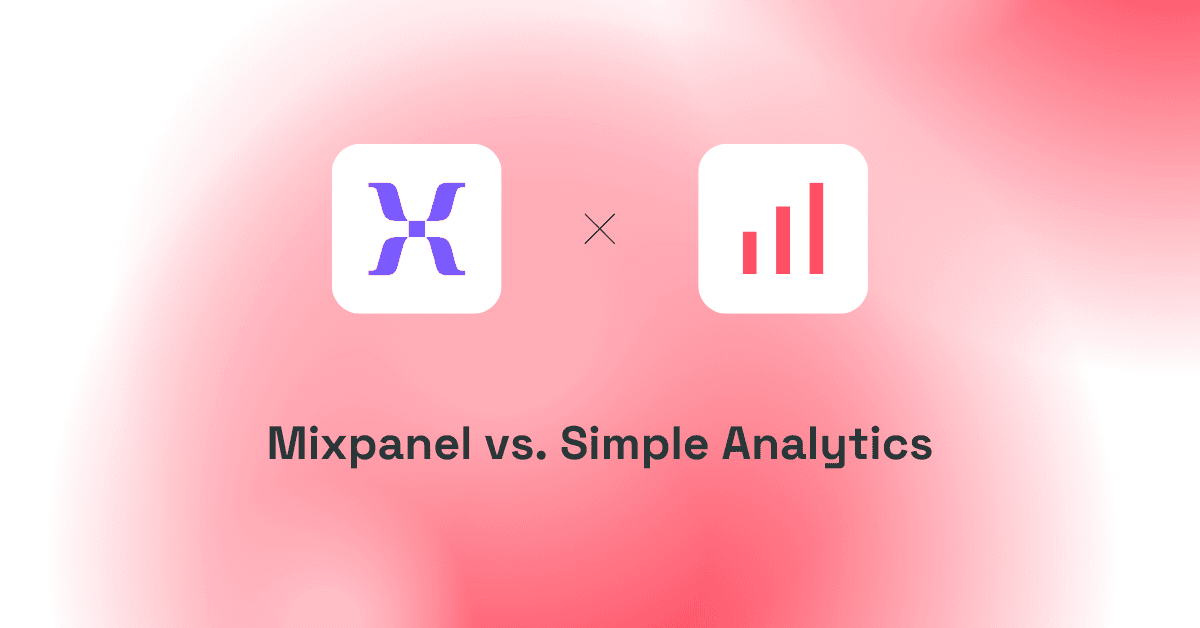 Mixpanel
Mixpanel is a product analytics tool with many tools for tracking and analyzing user behavior inside a product. It provides capabilities for segmentation, audience targeting, and campaign automation. In addition, the ability to save critical details with each event, such as device, browser, and campaign UTM, enriches the data analysis process.
The best part about Mixpanel is that regardless of your business type, it will support it.
Pros of Mixpanel
A diverse set of supported product metrics
Diverse integration options to choose from
Campaign automation and push notifications
Ability to build custom dashboards
Cons of Mixpanel
It can be costly if all features are required
Occasional missing data in reports
Inaccuracies in iOS duration tracking (due to Apple's privacy measures)
Using it is hard without dedicated product knowledge
Mixpanel Reviews
"Mixpanel is a good Web Analytics tool"

What do you like best about Mixpanel?

Ability to create dashboards with Web Analytics dashboards.

What do you dislike about Mixpanel?

User experience is confusing for new users. No option to generate PDF from a dashboard.

What problems is Mixpanel solving and how is that benefiting you?

User tracking - Product Management consume the data to check how application features are used.

*Jan R. | Project Manager / Business Analyst, Enterprise*

Source: G2
"Mixpanel is a tool that crosses borders."

What do you like best about Mixpanel?

Ease of use thanks to its simple design, and intuitive interface for data analysis. Useful tools for the web such as creating events or notifications. It has a very tidy consumable format, users interact permanently with the product in a very simple way.

What do you dislike about Mixpanel?

The free version has many limitations for the user, the configuration can be more complex than other competing tools. There are often errors in the data analysis, but they can be solved

Recommendations to others considering Mixpanel:

It is a useful analysis tool that will allow you to identify customer data and quantify it into better options for your company. It does not require high performance in your computer and anyone can have access to it, I recommend it

What problems is Mixpanel solving and how is that benefiting you?

It is useful to know the opinions of users and the views of our customers, it allows me to generate interactive reports that are of great help when analyzing support data. Its visual edition is useful when managing and segmenting elements.

*Hayden B. | Data Analyst , Mid-Market*

Source: G2
Simple Analytics: An affordable & simpler alternative
Simple Analytics is an easy-to-use analytics tool that gives you the insights you need while being 100% GDPR-compliant.
It was founded by Adriaan van Rossum shortly after the GDPR was approved. Since its inception, Simple Analytics has had customers of all sizes, notable ones being: Michelin, Havas Media, Nomadlist, and the UK Government.
Though Simple Analytics might sound like a simple minimal analytics tool, it does pack some powerful features that many marketers love, such as automated event collection, goal tracking, e-commerce analytics, bypassing ad blockers (as it's privacy-friendly), and much more.
Think of Simple Analytics as a tool that can work both as a web and product analytics tool while being simpler and much more affordable than Mixpanel.
Let's explore a few reasons why it's become a preferred choice for businesses seeking reliable and affordable analytics tools.
Pros of using Simple Analytics
Simple UI: Most product analytics tools like Mixpanel come with a complex UI which takes time to understand if you're not a regular user. On the other hand, Simple Analytics focuses on a clean and easy-to-understand UI that even non-marketers can easily understand.
Affordable: Tracking website and product metrics is pretty affordable with Simple Analytics. For just $9/month, you can track 100,000 data points (pageviews + events). Additionally, you get features that you would find in much more expensive tools.
Privacy First: The world is moving in a direction where privacy is becoming increasingly important. Google Analytics has been declared illegal in multiple EU countries. You would rather avoid getting caught up in this mess. Take privacy or compliance with regulations into account.
Mini Websites: Have you ever seen "t.co" as a referrer in your web analytics? If you have, you must have broken your head trying to find the source. Simple Analytics helps you find the exact tweet that referred/mentioned to your website.
Lightweight: Your website is your storefront on the internet. Providing the best possible experience matters. Installing an analytics script has an impact on page speed. Choose an analytics tool that won't slow your website down. Even Google recommends having a website that loads quickly.
Integration: Installing and integrating Simple Analytics is also super easy. It has 20+ integrations to select from, so you can get it added quickly.
Cons of using Simple Analytics
Due to privacy laws, Simple Analytics doesn't store IPs and user identifiers, which makes it lack a couple of metrics, such as bounce rate, but it does have time on page to give you an idea of user stickiness.
Pricing of Simple Analytics
Simple Analytics offers one of the most affordable pricing structures in its segment. The plans start at just $9/month, which lets you track 100,000 data points.
If you need more features, such as team access, the pricing goes up to $49/month, increasing the data points limit from 100,000 to 1,000,000.
Feature comparison between Amplitude and Simple Analytics
| | Simple Analytics | Mixpanel |
| --- | --- | --- |
| Account Management | | |
| Trackable Items | Unlimited | 1 |
| User Seats | 1 to Unlimited users | Unlimited |
| User Roles | Available | Available |
| Account Security | Passwordless Login | Single Sign-on, Two-factor Authentication |
| Data Processing | | |
| Data Retention | Unlimited | Unlimited |
| Data Center Locations | European Economic Area (EEA) | European Economic Area (EEA) |
| Data Import | GA importer included | Via one-off script or Ingestion API |
| Data Ownership | You | Mixpanel |
| Software Hosting | Public Cloud | Public Cloud |
| Compliance | GDPR, CCPA, PECR | GDPR, CCPA, HIPPA |
| Data Freshness | Realtime | Realtime |
| Data Export | As CSV or via API | Via raw data export API |
| Cookieless | Simple Analytics is cookieless by default | Mixpanel relies on first-party cookies |
| Reporting | | |
| Funnel Reporting | Line up goals for a simple funnel | Funnel trend, time to convert & frequency visualizations |
| Device Reporting | Available | Available |
| Segmentation | Filter dashboard with visitor attributes | Automatically find interesting segments |
| Trend Reporting | Available | Available |
| Alerts & Automation | | |
| Integrations | 20+ Available | 70+ Available |
| Email Reports | Weekly, monthly | Hourly, daily, or weekly based on the event threshold |
| Customizability | | |
| Annotations | Available | Available |
| Custom Events | Available | Available |
Conclusion
There's no doubt that Mixpanel is a great product analytics tool with all the capabilities to help product teams make product decisions. However, Mixpanel is a complex and costly endeavor for companies that just want basic product analytics.
The pricing of Mixpanel paid plan compared to Simple Analytics is very high, plus the dashboard is a complex screen that takes a ton of time and patience to understand.
Simple Analytics provides the insights you need while being 100% GDPR compliant. They believe the internet should be an independent place that is friendly to website visitors. If this resonates with you, feel free to give it a try!
FAQs: A Better Alternative to Mixpanel
Is Mixpanel capable of segmentation and cohort analysis?
Mixpanel does provide customizable dashboards, reports, and visualizations. Custom reports can be created to analyze certain metrics or events of interest. The software offers a variety of visualization methods for aesthetically appealing and informative data presentation.
Can I create custom reports and visualizations in Mixpanel?
Yes, Mixpanel offers segmentation and cohort analysis. Users can be segmented based on various characteristics or behaviors, such as demographics, acquisition source, or engagement level. Cohort analysis aids in the understanding of user behavior patterns across time.
Is Simple Analytics suitable for businesses of all sizes?
Yes, organizations of all sizes can use Simple Analytics. However, it benefits small and medium-sized businesses seeking a cost-efficient analytics solution that prioritizes privacy.
What types of analytics does Simple Analytics provide?
Simple Analytics is a flexible analytics tool capable of working as a web analytics tool and a minimal product analytics tool. It can help you track metrics such as pageviews, referrers, user activity tracking (with events and goals), UTM tracking, and much more. Building custom charts is also super easy on Simple Analytics.