Pendo is a popular product analytics tool that gained popularity because of its in-app guides feature, which is helpful for many SaaS businesses.
Recently, Pendo also added many new features under digital adoption, which help you with SaaS portfolio management, employee experience, in-app support, change management, and much more.
This article will cover Pendo's features, strengths, and weaknesses. We'll introduce you to an exciting alternative. This innovative solution offers a fresh perspective, empowering you to make informed decisions.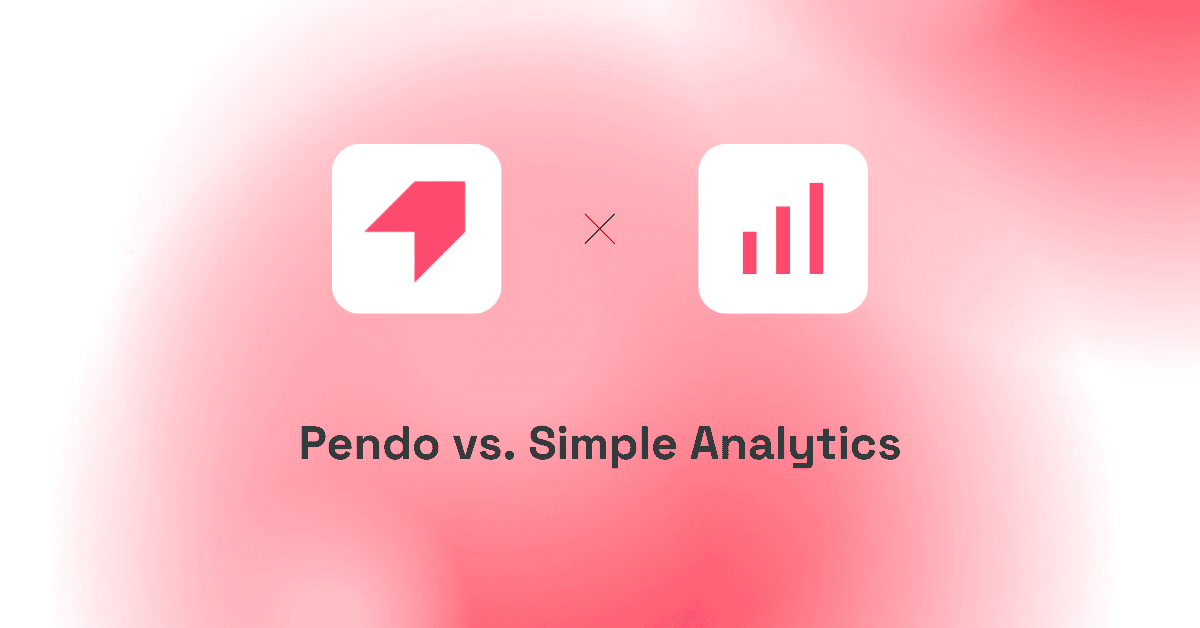 The UK Government chose Simple Analytics
Join them
Pendo
Pendo comes with several features useful for product teams in software businesses, such as session monitoring, engagement statistics, real-time reporting, in-app support, change management, and much more.
Though, Pendo packs a ton of features inside a single app. This makes the UI a bit non-intuitive and overwhelming.
Furthermore, Pendo is a software targeted towards enterprises, which also shows up in its pricing. You'll have to pay $7000/year for up to 2000 monthly active users. Not everyone can afford Pendo's pricing, so looking for something else makes more sense for those who don't need the extra features.
Pros of Pendo
Provides additional features such as an onboarding tool for SaaS
Provides detailed product analytics
Offers user behavior tracking
Cons of Pendo
Too many features make the UI cluttered
Expensive tool
Pendo Reviews
"If you don't already instrument your product with analytics, you should"

What do you like best about Pendo?

The tagging functionality for Pages and Features is rather straightforward and doesn't require a whole lot of knowledge.

I also love the fact that if you tag something at a certain time, all the historical analytics will be crunched when you enable it - you're not loosing historyReview collected by and hosted on G2.com.

What do you dislike about Pendo?

The guide section is a little bit limited, you may sometimes want to be able to do more powerful guides without having to wrangle any Javascript.

Their feature request product (which we use too) is still young and could use some love.Review collected by and hosted on G2.com.

What problems is Pendo solving and how is that benefiting you?

I'm now able to make decisions when it comes to the product based on customer input and not gut feelings anymore.

If I have questions around a part of the product, I look at who uses it the most and the least, and have a slate of interviewees that will help me.

I can also communicate easily within the product via guides without having to ask engineering to build this announcement functionality.

*Greg V. | Product Management, Mid-Market*

Source: G2
"Product could be great but needs a lot more customisation abilities"

What do you like best about Pendo?

you can see the potential the platform could offer

What do you dislike about Pendo?

We aim to use Pendo to gather feedback our sales team receives from customers however the tool is currently only set up to use if you have the app in built into your website and have customers send feedback directly.

Bulk upload isn't usable as you can't upload to custom template.

Manual upload takes forever.

Having no control over what shows on your dashboard makes it useless

Would be great to save custom reports and to have more things pull into the report as since we can't do that, the data stored in pendo isn't of much use e.g. comments and multiple requesters

Would also be great to have more lists in the ticket requests that would allow us to filter requests down more. these should be able to be set up custom, not restricted.

Add SQL or the ability to filter for and/or on browse.

Remove restrictions on statuses, allow people to create their own with custom rules.

Make the platform more useable/intuative.

I probably have more but that's all I can think of for now.

What problems is Pendo solving and how is that benefiting you?

We currently receive our positive and negative feedback in a weekly email round up however this is not filterable or searchable and we can track trends easily with this

Anonymous User, Mid-Market

Source: G2
Simple Analytics: A simpler alternative with better UI
Simple Analytics is an easy-to-use analytics tool that gives you the insights you need while being 100% GDPR-compliant.
It was founded by Adriaan van Rossum shortly after the GDPR was approved. Since its inception, Simple Analytics has had customers of all sizes, notable ones being: Michelin, Havas Media, Nomadlist, and the UK Government.
Though Simple Analytics might sound like a simple minimal analytics tool, it does pack some powerful features that many marketers love, such as automated event collection, goal tracking, e-commerce analytics, bypassing ad blockers (as it's privacy-friendly), and much more.
Let's explore why it's become a preferred choice for businesses seeking reliable and affordable analytics tools.
Pros of using Simple Analytics
Simple UI: Most product analytics tools like Pendo come with a complex UI which takes time to understand if you're not a regular user. Simple Analytics, on the other hand, focuses on a clean and easy-to-understand UI that even non-marketers can easily understand.
Affordable: Tracking website and product metrics is pretty affordable with Simple Analytics. For just $9/month, you can track 100,000 data points (pageviews + events). Additionally, you get features that you would find in much more expensive tools.
Privacy First: The world is moving in a direction where privacy is becoming increasingly important. Google Analytics has been declared illegal in multiple EU countries. You would rather avoid getting caught up in this mess. Take privacy or compliance with regulations into account.
Mini Websites: Have you ever seen "t.co" as a referrer in your web analytics? If you have, you must have broken your head trying to find the source. Simple Analytics helps you find the exact tweet that referred/mentioned to your website.
Lightweight: Your website is your storefront on the internet. Providing the best possible experience matters. Installing an analytics script has an impact on page speed. Choose an analytics tool that won't slow your website down. Even Google recommends having a website that loads quickly.
Integration: Installing and integrating Simple Analytics is also super easy. It has 20+ integrations to select from, so you can get it added quickly.
Cons of using Simple Analytics
Due to privacy laws, Simple Analytics doesn't store IPs and user identifiers, which makes it lack a couple of metrics, such as bounce rate, but it does have time on page to give you an idea of user stickiness.
Pricing of Simple Analytics
Simple Analytics offers one of the most affordable pricing structures in its segment. The plans start at just $9/month, which lets you track 100,000 data points.
If you need more features, such as team access, the pricing goes up to $49/month, increasing the data points limit from 100,000 to 1,000,000.
Features Offered by Simple Analytics
Simple Analytics
Pendo
Account Management
Trackable Items
Unlimited
Unlimited in Portfolio plan
User Seats
1 to Unlimited users
Unlimited
User Roles
Available
Available
Account Security
Passwordless Login
Single Sign-on
Two-factor Authentication
Data Processing
Data Retention
Unlimited
Unlimited
Data Center Locations
European Economic Area (EEA)
United States
Data Import
GA importer included
Import historical data by CSV
Data Ownership
You
Pendo
Software Hosting
Public Cloud
Public Cloud
Compliance
GDPR, PECR, CCPA
SOC2, GDPR, HIPAA.
Data Freshness
Realtime
Hourly updates
Data Export
As CSV or via API
Export feedback & reports by CSV or pull data to the BI tool
Cookieless
Simple Analytics is cookieless
Pendo uses first-party cookies
Reporting
Funnel Reporting
Available
Available
Device Reporting
Available (based on OS and screen sizes)
Available
Segmentation
Available
Available
Trend Reporting
Available
Available
Alerts & Automation
Integrations
20+ Available and can send a request to the Simple Analytics team for more
40+ Available
Email Reports
Weekly, monthly
Receive reports in weekly emails
Customizability
Annotations
Available
Available
Custom Events
Available
Available
Conclusion
There's no doubt that Pendo is a great tool and offers features that no other tool does, but it comes with several cons, which can be a dealbreaker for many.
The pricing of Pendo's paid plan compared to Simple Analytics is very high, plus the dashboard is a complex screen that takes a ton of time and patience to understand. 
Simple Analytics provides the insights you need while being 100% GDPR compliant. They believe the internet should be an independent place that is friendly to website visitors. If this resonates with you, feel free to give it a try!
FAQs: A Better Alternative to Pendo
Are Google Analytics and Pendo similar?
Pendo and Google Analytics are analytics tools, but both are very different. For example, Pendo focuses on helping consumers produce more engaging products.
On the other hand, Google Analytics is a web analytics tool. It largely focuses on assessing web analytics, advertising ROI, and tracking numerous online activities. To conclude, Pendo and Google Analytics are two completely different tools.
What does the Pendo do?
Pendo aims to provide vital insights into how users interact with your application, site, and other digital product forms. It gives in-depth analysis in addition to recording and monitoring user activity.
Additionally, Pendo allows software developers to insert survey questions and polls directly into their programs, increasing user engagement and providing helpful feedback.
Can Pendo be classified as a digital adoption platform?
Pendo provides more than just digital adoption solutions. Pendo primarily aims to decode user behavior and provide actionable insights to boost product engagement. So while digital adoption is one of Pendo's capabilities, the company also assists software developers in developing engaging solutions.
Does Pendo track IP addresses?
Yes, since some companies find it valuable, Pendo stores IP addresses by default as part of its data collection process. "But why is that?"
IP addresses can help understand user demographics like their location and can be important. But It's worth noting that Pendo lets you disable this text capture within the API if you don't want IPs. Just remember that removing this option reduces the quality of the analysis. You have a choice based on your specific needs and interests.
Is Pendo compatible with Jira?
It certainly is. If you use Jira to handle the application development, Pendo integrates properly. This interface lets you seal the feedback loop between your consumers and internal users. It hence enhances productivity between your product and development teams. It leads to improved communication and product development.