Siteimprove is not just an analytics tool. It's a suite of various tools helpful to businesses.
This article will cover Siteimprove's features, strengths, and weaknesses. But there's more! We'll introduce you to an exciting alternative. This innovative solution offers a fresh perspective, empowering you to make informed decisions.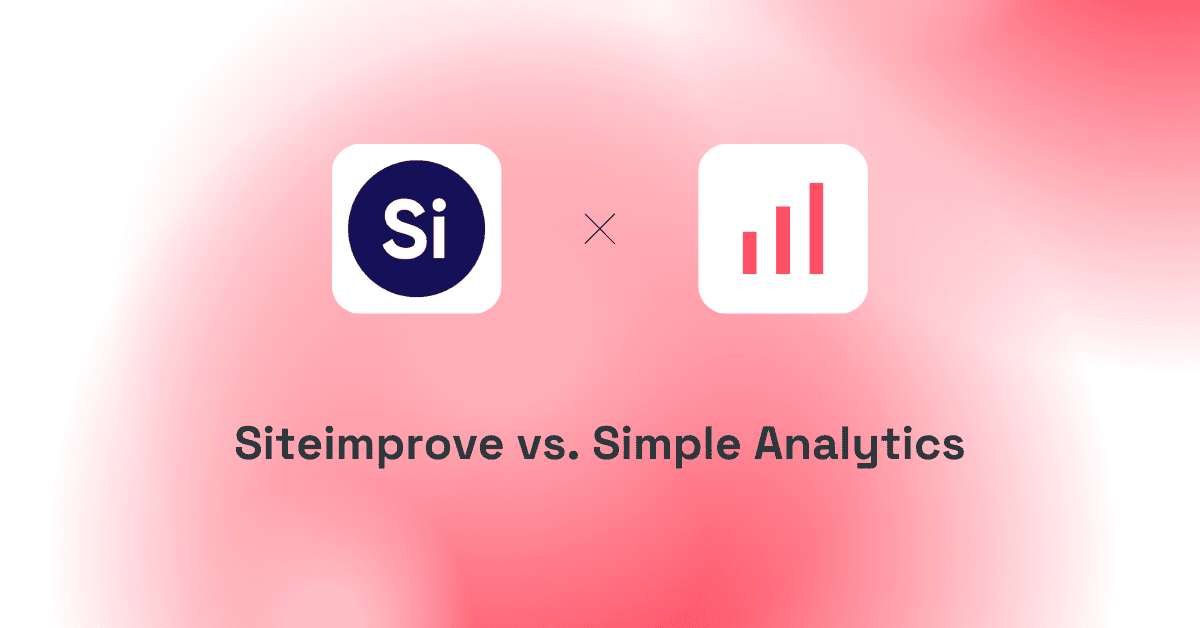 Siteimprove Review
Siteimprove is a marketing tool capable of doing much more than a regular analytics tool. Back to metrics, Siteimprove can provide funnel reporting, behavior maps, campaign monitoring, and much more.
By giving data and actionable recommendations, it attempts to assist businesses in improving their online presence and user experience.
Pros of Siteimprove
In-depth content and web analytics
Provides additional features such as SEO analysis
Content insights are provided
Offers user-friendly interface
Cons of Siteimprove
It is an expensive tool
It has a learning curve
Having too many tools inside one app makes it complex
Siteimprove Reviews
*****"SiteImprove is robust, user-friendly and well supported to help drive website success" What do you like best about Siteimprove?***

The UI intuitive and user-friendly. The navigation, dashboards and policies make it pretty straightforward to understand what you are seeing and how to take action. I am a data geek, so I have used dozens of BI tools and databases, which can have a steep learning curve, but SiteImprove makes it easy for web admins, content managers and executives to understand the current state of the website, the trendlines of process in different areas and the opportunities for improvement. We started with just the QA module (including Accessibility) and made a lot of gains in a s short time. The interface, customer success manager and support were all strong, so we added the SEO module, then Analytics and recently the Performance module to help with page load speed optimization. I like the DCI (Digital Certainty Index) and have included it in my team goals

What do you dislike about Siteimprove?

We have struggled a bit with implementing custom event tracking in Analytics. The SiteImprove support team is very responsive, but we are used to doing everything ourselves in Google Tag Manager, so it is a bit of a mind-shift to work through their support team or to develop the custom events in JS.

What problems is Siteimprove solving and how is that benefiting you?

SiteImprove is improving the digital experience on our websites, by identifying issues, such as broken links, slow page loads and accessibility issues. In addition, SiteImprove serves as a comprehensive cockpit to analyzing and improving our sites. We have built our our Website KPIs (and underlying metrics and categories) in SiteImprove and found it to be much quicker and easier than other analytics tools. We actually started to build these out in Google Anlaytics, but ran into problems grouping pages in a manner that aligned with our content owners and goals. We have a number of other analytical tools tied to our website, but we keep coming back to SiteImprove, as it is effective and we can see our progress and prioritize next steps very easily.

*Pat M., Enterprise*

Source: G2
"The complete solution to optimize your online presence"

What do you like best about Siteimprove?

Siteimprove is an easy-to-use and powerful software tool that helps us improve the organization's website quality and provide visitors with a better web experience. I like its interface; it is straightforward to use and offers an intuitive experience, things that significantly facilitate the implementation and daily use of the tool; it integrates a wide range of features such as SEO analysis, web accessibility, content and performance, among others that help us improve our online presence; in addition, the platform offers customizable reports and task scheduling options to save time and effort. Another thing I also liked is that the platform offers integrations with a wide range of tools and platforms

What do you dislike about Siteimprove?

Some functions within the software can be complex and require more learning time to fully understand; also, the amount of information provided can overwhelm some users.

What problems is Siteimprove solving and how is that benefiting you?

Siteimprove has been a reliable and valuable tool for improving the quality of all our websites; it has provided us with a wide range of options and features to cover all essential aspects of websites, from SEO analysis and web accessibility to performance and content; it has helped us maximize our online presence. Using this tool has made it much easier to identify problems and has helped us find practical solutions to improve the quality of the website.

*Jonah A. | User Experience Designer, Mid-Market*

Source: G2
Simple Analytics: A simpler alternative
Simple Analytics is an easy-to-use analytics tool that gives you the insights you need while being 100% GDPR-compliant.
It was founded by Adriaan van Rossum shortly after the GDPR was approved. Since its inception, Simple Analytics has had customers of all sizes, notable ones being: Michelin, Havas Media, Nomadlist, and the UK Government.
Though Simple Analytics might sound like a simple minimal analytics tool, it does pack some powerful features that many marketers love, such as automated event collection, goal tracking, e-commerce analytics, bypassing ad blockers (as it's privacy-friendly), and much more.
Let's explore a few reasons why it's become a preferred choice for businesses seeking reliable and affordable analytics tools.
Pros of using Simple Analytics
Simple UI: Simple Analytics is one of the easiest analytics tools. The dashboard is built in a way to easily understandable to non-marketers.
Affordable: Tracking website and product metrics is pretty affordable with Simple Analytics. For just $9/month, you can track 100,000 data points (pageviews + events). Additionally, you get features that you would find in much more expensive tools.
Privacy First: The world is moving in a direction where privacy is becoming increasingly important. Google Analytics has been declared illegal in multiple EU countries. You would rather avoid getting caught up in this mess. Take privacy or compliance with regulations into account.
Mini Websites: Have you ever seen "t.co" as a referrer in your web analytics? If you have, you must have broken your head trying to find the source. Simple Analytics helps you find the exact tweet that referred/mentioned to your website.
Lightweight: Your website is your storefront on the internet. Providing the best possible experience matters. Installing an analytics script has an impact on page speed. Choose an analytics tool that won't slow your website down. Even Google recommends having a website that loads quickly.
Integration: Installing and integrating Simple Analytics is also super easy. It has 20+ integrations to select from, so you can get it added quickly.
Cons of using Simple Analytics
Due to privacy laws, Simple Analytics doesn't store IPs and user identifiers, which makes it lack a couple of metrics, such as bounce rate, but it does have time on page to give you an idea of user stickiness.
Pricing of Simple Analytics
Simple Analytics offers one of the most affordable pricing structures in its segment. The plans start at just $9/month, which lets you track 100,000 data points.
If you need more features, such as team access, the pricing goes up to $49/month, increasing the data points limit from 100,000 to 1,000,000.
Feature comparison between Siteimprove and Simple Analytics
| Feature | Simple Analytics | Siteimprove |
| --- | --- | --- |
| Account Management | | |
| Trackable Items | Unlimited | Unlimited |
| User Seats | 1 to Unlimited users | Unlimited |
| User Roles | Available | Available |
| Account Security | Passwordless Login | Single Sign-on |
| Data Processing | | |
| Data Retention | Unlimited | Unlimited |
| Data Center Locations | European Economic Area (EEA) | European Economic Area (EEA) |
| Data Import | GA importer included | Pre-built connectors |
| Data Ownership | You | You |
| Software Hosting | Public Cloud | Public Cloud |
| Compliance | GDPR, PECR, CCPA | GDPR |
| Data Freshness | Realtime | Realtime |
| Data Export | As CSV or via API | API, CVS, PDF & more |
| Cookieless | Simple Analytics is cookieless | Siteimprove uses cookies |
| Reporting | | |
| Funnel Reporting | Available | Available |
| Device Reporting | Available (based on OS and screen sizes) | Available |
| Segmentation | Available | Available |
| Trend Reporting | Available | Available |
| Alerts & Automation | | |
| Integrations | 20+ Available and can send a request to the Simple Analytics team for more | 40+ Available |
| Email Reports | Weekly, monthly | Can schedule reports |
| Customizability | | |
| Annotations | Available | Available |
| Custom Events | Available | Available |
Conclusion
Siteimprove is not just an analytics tool; it brings multiple marketing tools under one roof for ease of use and management. Even though the idea is good, the dashboard becomes a bit overwhelming because it has so many features and options.
However, if ease of use and compliance are important to you, Simple Analytics might be a better option. It focuses primarily on website analytics, giving a lightweight tracking solution that respects user privacy without sacrificing vital information. Feel free to give it a try!
FAQs: A Better Alternative to Siteimprove
Which tool is more cost-effective, Siteimprove or Simple Analytics?
Simple Analytics provides clear pricing plans with no hidden expenses. It offers low-cost choices for businesses of all sizes. Siteimprove's pricing, on the other hand, can vary depending on the features and bundle you select. It's a good idea to examine both tools' pricing structures to see which fits your budget and needs better.
In short, Simple Analytics is much more affordable compared to Siteimprove. However, it comes with extra features to compensate for the high pricing.
Does Siteimprove provide platform integrations?
Siteimprove integrates with popular content management systems (CMS) like WordPress, Drupal, and Sitecore. These connectors provide easy data synchronization and faster integration of Siteimprove capabilities into your existing website maintenance workflow.
How does Siteimprove work?
Siteimprove analyses and scans your website for numerous elements affecting its quality and performance. It checks for broken links, spelling mistakes, accessibility concerns, SEO optimization, and other important factors using automated technologies. Then, Siteimprove delivers extensive data, insights, and recommendations to assist you in identifying and addressing any areas that require improvement.
Why is Simple Analytics preferred over Siteimprove?
In contrast to Siteimprove, Simple Analytics is 100% GDPR-compliant. In addition, Simple Analytics is easy to use and has an intuitive dashboard. It's easy to install and fits small and mid-sized businesses better.