Snowplow is a product analytics tool focusing on behavioral data to help businesses with advanced analytics. It can track across web, mobile, server-side, email, and advertising.
Another good thing about Snowplow is its library which has analytics templates for various use cases that you can use directly.
This article will cover Snowplow's features, strengths, and weaknesses. But there's more! We'll introduce you to an exciting alternative. This innovative solution offers a fresh perspective, empowering you to make informed decisions.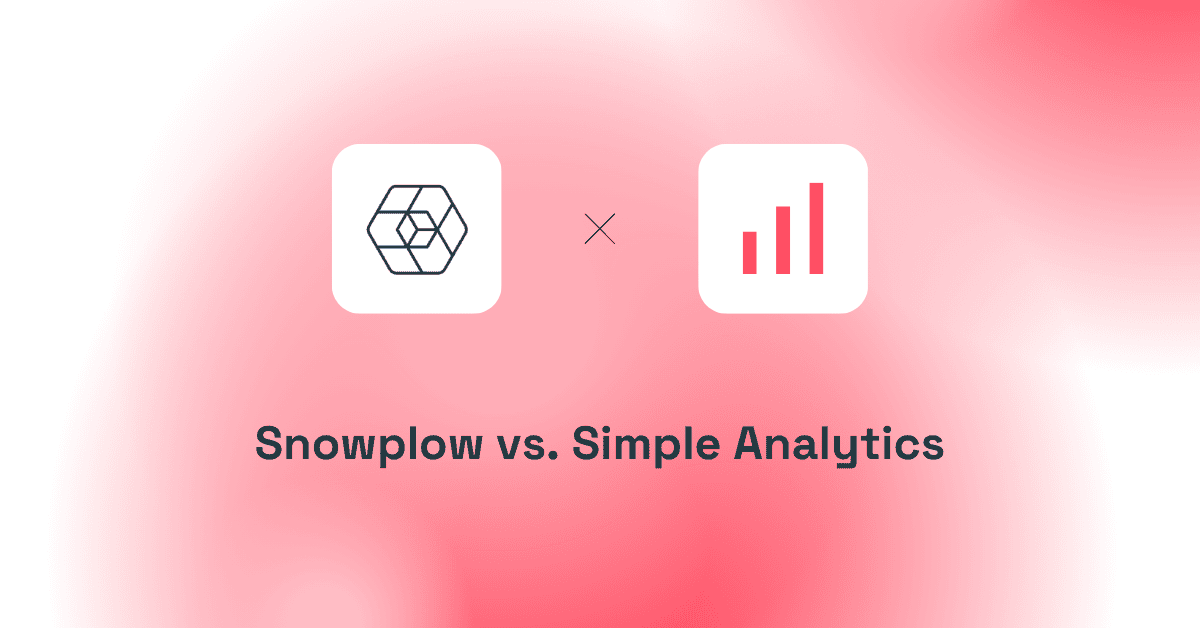 The UK Government chose Simple Analytics
Join them
Snowplow
Snowplow is an open-source event analytics tool that collects and analyzes behavioral data and passes the same to business information tools, machine learning models, or for advanced data analytics.
It's a complex tool specially built for large organizations to make data-driven product decisions at scale. It also has several integrations to choose from, some popular ones being Google Analytics and MailChimp.
Smartlook is also open-source, meaning you can self-host it, but making the servers is an additional task.
Pros of Snowplow
Provides accurate data to make decisions.
Works everywhere (web, mobile apps, emails)
Cons of Snowplow
Complex and most users don't have the resources to implement it
Requires to be connected to other tools for a complete analytics
Snowplow Reviews
"Being datadriven through Snowplow"

What do you like best about Snowplow?

Unlike Saas tools, which have a closed architecture, Snowplow allows us to adjust the environment to our needs and the peculiarities of our business. In addition to being a tool that has good usability for the development team.

What do you dislike about Snowplow?

Today the only problem we have with Snowplow is due to the time zone we are in, and when we need support, it doesn't always happen with the urgency we have. It is the only thing that bothers us.

What problems is Snowplow solving and how is that benefiting you?

Today the main focus in using Snowplow is to track all user behavior in all our products and with that, we can quickly run A/B tests and develop features that add real value to the user.

*Leandro C. | Data Tech Lead, Enterprise*

Source: G2
"Great tracking tool to own your own data at a granular level with less cost"

What do you like best about Snowplow?

Snowplow lets us store very granular data about customer interactions with our site. It's great to have full access to the data and it's open source, so the cost is MUCH lower than comparable products like GA 360 and Adobe.

What do you dislike about Snowplow?

The data still needs a front-end. Snowplow is just a collection tool. Also, this is pretty difficult to self manage without a dedicated person. We talked to some implementation partners, and the costs can be quite high just for the management. Also, there's quite a bit of integration with Engineering required to get events fully logged. Therefore, getting buy-in and time in the Eng roadmap is key to getting the most out of the tool.

What problems is Snowplow solving and how is that benefiting you?

Allows us to debug tracking issues with GA or look at very specific situations to understand bugs that customers are encountering.

*Jason Y. | President, Small-Business*

Source: G2
Simple Analytics: A simpler alternative
Simple Analytics is an easy-to-use analytics tool that gives you the insights you need while being 100% GDPR-compliant.
It was founded by Adriaan van Rossum shortly after the GDPR was approved. Since its inception, Simple Analytics has had customers of all sizes, notable ones being: Michelin, Havas Media, Nomadlist, and the UK Government.
Though Simple Analytics might sound like a simple minimal analytics tool, it does pack some powerful features that many marketers love, such as automated event collection, goal tracking, e-commerce analytics, bypassing ad blockers (as it's privacy-friendly), and much more.
Let's explore a few reasons why it's become a preferred choice for businesses seeking reliable and affordable analytics tools.
Pros of using Simple Analytics
Simple UI: Most product analytics tools like Snowplow come with a complex UI which takes time to understand if you're not a regular user. Simple Analytics, on the other hand, focuses on a clean and easy-to-understand UI that even non-marketers can easily understand.
Affordable: Tracking website and product metrics is pretty affordable with Simple Analytics. For just $9/month, you can track 100,000 data points (pageviews + events). Additionally, you get features that you would find in much more expensive tools.
Privacy First: The world is moving in a direction where privacy is becoming increasingly important. Google Analytics has been declared illegal in multiple EU countries. You would rather avoid getting caught up in this mess. Take privacy or compliance with regulations into account.
Mini Websites: Have you ever seen "t.co" as a referrer in your web analytics? If you have, you must have broken your head trying to find the source. Simple Analytics helps you find the exact tweet that referred/mentioned to your website.
Lightweight: Your website is your storefront on the internet. Providing the best possible experience matters. Installing an analytics script has an impact on page speed. Choose an analytics tool that won't slow your website down. Even Google recommends having a website that loads quickly.
Integration: Installing and integrating Simple Analytics is also super easy. It has 20+ integrations to select from, so you can get it added quickly.
Cons of using Simple Analytics
Due to privacy laws, Simple Analytics doesn't store IPs and user identifiers, which makes it lack a couple of metrics, such as bounce rate, but it does have time on page to give you an idea of user stickiness.
Pricing of Simple Analytics
Simple Analytics offers one of the most affordable pricing structures in its segment. The plans start at just $9/month, which lets you track 100,000 data points.
If you need more features, such as team access, the pricing goes up to $49/month, increasing the data points limit from 100,000 to 1,000,000.
Features comparison between Snowplow and Simple Analytics
| Feature | Simple Analytics | Snowplow |
| --- | --- | --- |
| Account Management | | |
| Trackable Items | Unlimited | Unlimited |
| User Seats | 1 to Unlimited users | Unlimited |
| User Roles | Available | Admin, User, Custom |
| Account Security | Passwordless Login | Single Sign-on |
| Data Processing | | |
| Data Retention | Unlimited | Unlimited |
| Data Center Locations | European Economic Area (EEA) | European Economic Area (EEA) |
| Data Import | GA importer included | Redshift, BigQuery, S3, GCS, Kinesis, Pub/Sub, and more |
| Data Ownership | You | You |
| Software Hosting | Public Cloud | Public Cloud, Private Cloud, On-Premises |
| Compliance | GDPR, PECR, CCPA | GDPR, CCPA |
| Data Freshness | Realtime | Realtime |
| Data Export | As CSV or via API | Redshift, BigQuery, Snowflake & more |
| Cookieless | Simple Analytics is cookieless | Snowplow uses first-party and third-party cookies |
| Reporting | | |
| Funnel Reporting | Available | Available |
| Device Reporting | Available (based on OS and screen sizes) | Available |
| Segmentation | Available | Available |
| Trend Reporting | Available | Available |
| Alerts & Automation | | |
| Integrations | 20+ Available and can send a request to the Simple Analytics team for more | 30+ Available |
| Email Reports | Weekly, monthly | Can subscribe to email reports |
| Customizability | | |
| Annotations | Available | Available |
| Custom Events | Available | Available |
Conclusion
Though Snowplow has great event and product analytics data, the complexity of the UI is a dealbreaker for many. In addition, the pricing of Snowplow's paid plan compared to Simple Analytics is very high, plus the dashboard is a complex screen that takes a ton of time and patience to understand. 
Simple Analytics provides the insights you need while being 100% GDPR compliant. They believe the internet should be an independent place that is friendly to website visitors. If this resonates with you, feel free to give it a try!
FAQs
What exactly is the goal of Snowplow Analytics?
Snowplow Analytics is intended to track websites, applications, and Internet of Things hardware. It employs trackers, little pieces of code that run in response to specified conditions. These trackers generate event-level data that you may process and analyze on your infrastructure, such as Amazon Web Services. Snowplow Analytics will be accessible on Google Cloud and Microsoft Azure shortly.
Is Snowplow a free and open platform?
Yes, Snowplow Analytics is the world's leading open-source data creation technology. It is regarded as the third most extensively used web tracker, trailing only Google Analytics and Facebook.
Does Snowplow use cookies?
Snowplow's JavaScript and Browser Tracker use cookies and local storage by default. These components are responsible for data collection and storage. Snowplow Analytics' documentation describes each cookie's behavior, purpose, and local storage key.