It might be weird that this article is coming from us, Simple Analytics, as we are a simple and privacy-friendly Google Analytics alternative. However, we are here to help. If you want to learn how to start using Google Analytics, then go ahead and read this article. If you are looking for a simple web analytics tool that gives you insights into your website performance, then look at what we built.
Now, without further ado, let's dive in!
Wanting to learn Google Analytics is never the starting point. As a business owner or marketeer, you want to gather insights into your website performance and uncover untapped opportunities to improve this. Hence, you need to understand how web analytics work.
Google Analytics is the most well-known and widely used analytics tool. However, Google Analytics is also a very complex analytics tool. It requires some experience or training to know your way around it.
In this article, we outline the most basic questions that have to do with Google Analytics to get you up to speed.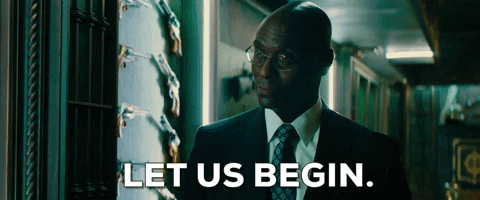 Let's get in!
What is Google Analytics used for?
Google Analytics is a powerful tool that helps you gain insight into your website's performance. It tracks information such as the number of visitors to your site, their location, how long they spend on certain pages, where they came from, and more. With this data, you can identify areas for improvement or trends in user engagement. Google Analytics also lets you measure conversions, see which marketing campaigns work best, and uncover new growth opportunities.
You can also use the interface to set up goals, such as tracking the number of users who sign up for a newsletter or make a purchase. This way, you'll be able to monitor how effective your website is in meeting these goals.
Can I use Google Analytics for free?
Yes, you can use Google Analytics for free, but paid options are also available. Small businesses will do fine with the free version. However, it has a few limitations that you should consider. For example, you can only track up to 10 websites and only access up to a certain amount of traffic data for free. If your data exceeds the limit, excess information will not be tracked.
On a different note, you could also argue that you are "paying with your data." This means that Google uses your website data to sell ads and monetize its free product using your data.
How do I get Google Analytics?
It's pretty easy to get started with Google Analytics. All you really need is a website you can use and sign up for the service. I listed the steps down below.
First of all, go to the Google Analytics website and click the "Sign Up" button
Then Enter your website URL and name
Select an industry category for your website
Set up a tracking method; either you can create a new tracking ID or insert the tracking code on each web page of your website
When finished, click the "Get Tracking ID" button
Once you have a tracking ID, you can start collecting data such as page views and user activity.
How do I use Google Analytics for my website?
Once you set it up, you can start tracking and analyzing your website visitors. There are lots of possibilities with Google Analytics, such as:
Set up goals and objectives in Google Analytics to track progress
Analyze data to understand your visitors better
Create customized reports tailored to your specific needs
Use segmentation to view trends across different visitor groups
Track conversions and learn how visitors interact with your website
Monitor performance for insight into which content is most effective
Take advantage of the insights provided by Google Analytics to optimize your website for maximum success!
Is Google Analytics easy to learn?
If you are new to web analytics, it may seem daunting to get started with Google Analytics due to its complexity and the range of features and functions it offers. However, with the right resources, web admins and business owners can learn to use Google Analytics and make informed decisions about their website performance.
The key is to practice regularly and learn as much as possible about search engine optimization, PPC advertising, and other marketing techniques to get the most out of Google Analytics. With a bit of patience and persistence, anyone can become a master of web analytics!
What are the skills required for Google Analytics?
You don't really need any skills to start using Google Analytics. You can definitely learn along the way. However, having knowledge of web analytics and metrics will help you understand the basic metrics and how they relate to your website traffic and performance. Additionally, familiarity with HTML and JavaScript is helpful for adding the tracking code to your website. However, I'm sure you'll figure this out if you don't understand the above. Furthermore, data analysis and interpretation skills are nice to have when it comes to identifying trends and areas for improvement.
Can I teach myself data analytics?
It's definitely possible to teach yourself data analytics. To do so, you must understand the fundamentals of data analysis and learn how to use the various tools available for gathering and analyzing data. You can start by researching the different types of data sets, such as structured or unstructured, and understanding which techniques are used in each case.
Also, familiarize yourself with the different programming languages commonly used in data analytics, such as SQL and Python. These coding languages can help you create more complex queries for extracting insights from your data sets.
Finally, plenty of resources are available for self-teaching, such as online courses through websites like Coursera and Udemy that provide structured learning experiences.
How do I practice Google Analytics?
As with everything in life, practicing Google Analytics is essential for anyone looking to become proficient in the platform. Once you've set up your Google Analytics account and added the tracking code to your website, why not take it for a spin by experimenting with different features?
In addition, there are many guides and tutorials. At the same time, the Google Analytics user forum is also a great place to connect with other users and gain valuable insights from their experiences. So just dive in!
Is coding required for Google Analytics?
No, coding is not required for Google Analytics. All you need to do is add a tracking code to your website and configure the account settings to start collecting data.
Once you have set up your Google Analytics account and added the tracking code, you can begin using it without needing any knowledge of coding or programming languages. You can use the platform's interface to explore different reports, create custom dashboards and track key metrics related to your website performance.
Final Thoughts
Gathering insights into your website performance is vital for everyday business. Hence, starting to learn about web analytics tools will prove worth it. However, beginning to learn Google Analytics can be quite a challenge. It's a complex analytics tool that requires some experience to get around.
If you are looking for insights into your website performance without needing to learn how Google Analytics works is possible. This is one of the reasons we built Simple Analytics (what's in the name, right?). It gives you the insights you need in a straightforward dashboard. What to see what that look like? Check our live analytics dashboard.