The call for privacy-friendly Google Analytics alternatives has never been this high. More and more businesses are turning their back on Google Analytics after multiple EU countries declared the use of Google Analytics illegal. The most recent example of this is Norway ruling the use of Google Analytics unlawful based on Schrems II.
In addition, Google declared to shut down its current version in favor of GA4. Both events together let businesses rethink whether they want to continue using Google Analytics. Combined with a changing business landscape in which data privacy plays a more prominent role, this is the right time to look for an alternative.
Let's find out!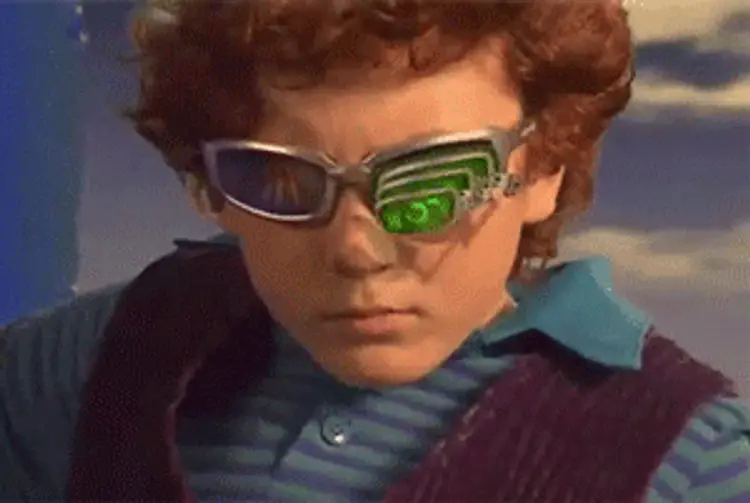 Since privacy and specifically GDPR-compliance will play a more prominent role in the future, we have included it in our breakdown. In addition, we benchmark the alternatives based on the following criteria:
Data Insights: What insights do they provide?
Ease of use: How easy is it to get started?
Data Interoperability: How easily does it work with other tools?
Costs: How expensive is it to use?
Google Analytics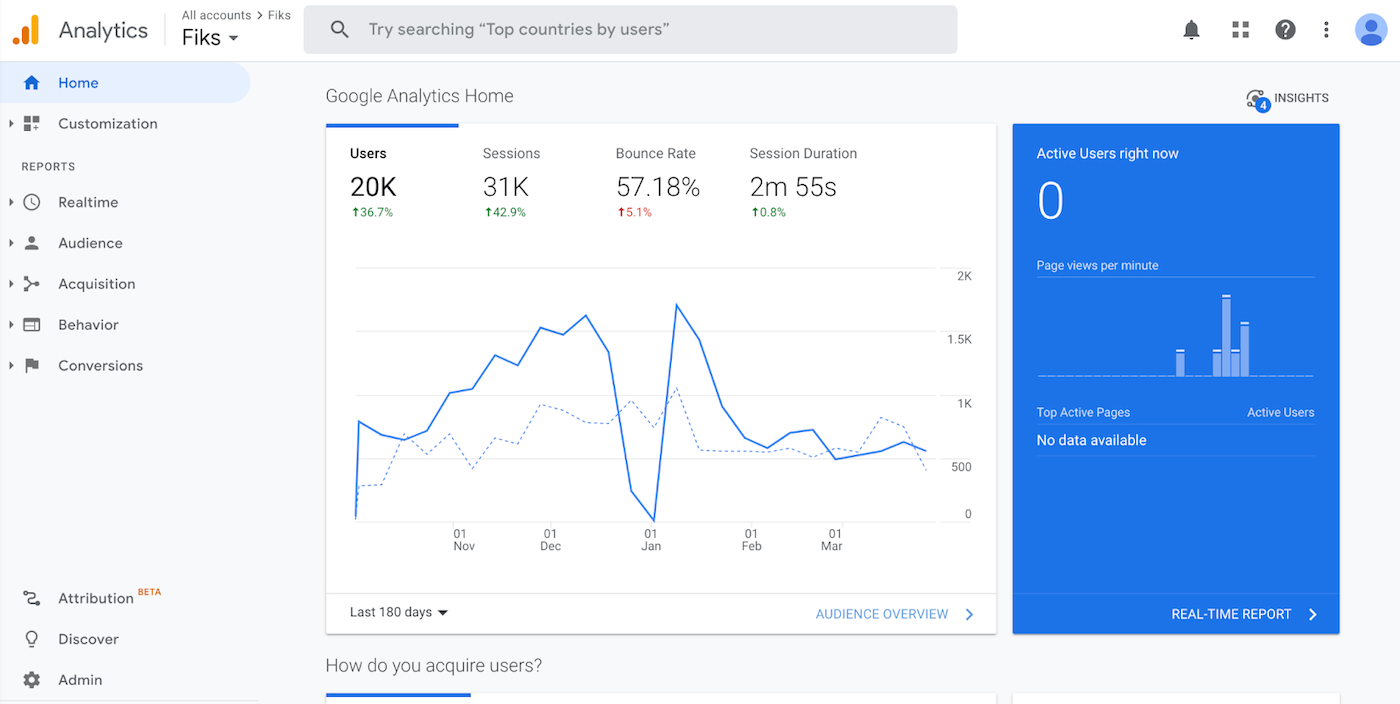 The dashboard we all know
Google Analytics is the default web analytics tool for the majority of the internet. 80% of the websites using an analytics tool are using Google Analytics. It's a free and very powerful tool that tracks every move of every website visitor.
The current version of Google Analytics (universal analytics) uses cookies and also collects IP Addresses to track website visitors. Google Analytics is free, but you pay with your data. The data they collect is not yours to keep. It's theirs to profit from by "reselling" it to advertisers.
Google Analytics will change to a new version next year. The change is driven by a changing business landscape that demands less privacy-invasive ways of internet tracking. GA4 is therefore supposed to be more privacy-friendly (but it really isn't). You can check our analysis on GA4 here.
Simple Analytics
Privacy
Simple Analytics focuses on privacy. It is not just to comply with regulations, it goes further than that. They believe the future of web analytics to be cookieless; hence Simple Analytics is cookieless by design. In addition, they don't collect any personally identifiable information, not even in an anonymized way. The data is stored in The Netherlands and will not be shared with third parties in any way.
User Experience
Whereas Google Analytics welcomes you with 75 reports and multiple dashboards, Simple Analytics, has a one-page dashboard that shows you the most important metrics in a straightforward overview.
In addition, Simple Analytics is a lightweight analytics tool (3kb). Switching from Google Analytics (45kb) will increase your page load speed, increasing your website visitors' user experience
Insights
The biggest feature difference is the Goals section & Events section. The Events Explorer is a great way to get a quick overview of all events in Simple Analytics. It allows you to export data very quickly and only get the data you need. You can add columns; if a column has different values, it will be grouped by those values.

The goals feature is really helpful for organizing and understanding your data. With it, you can set up filters for your data or create funnels based on events.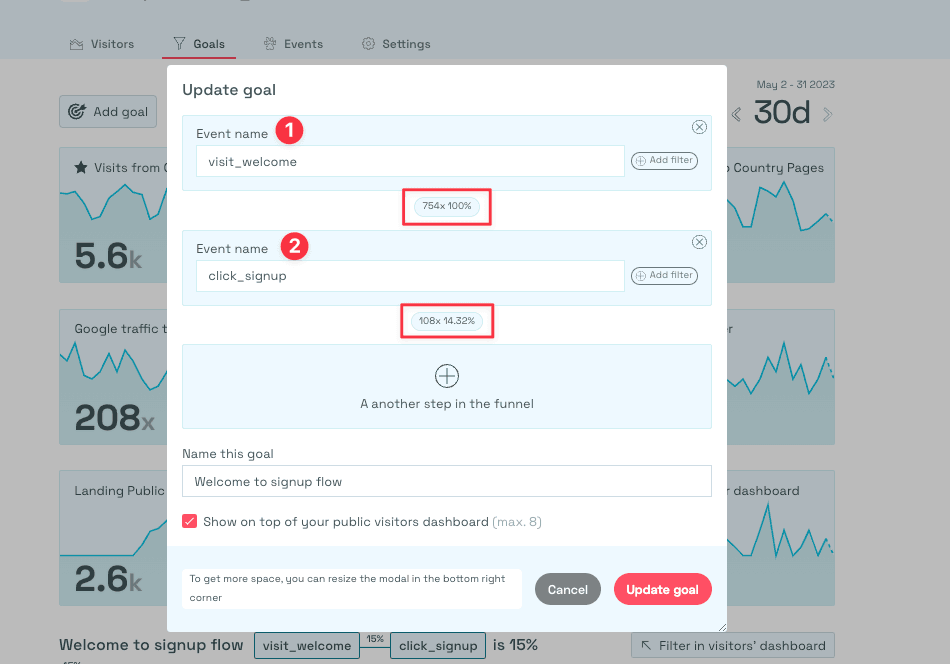 Once done, you can mark it as "important," meaning this "Goal" will be added to the visitor dashboard.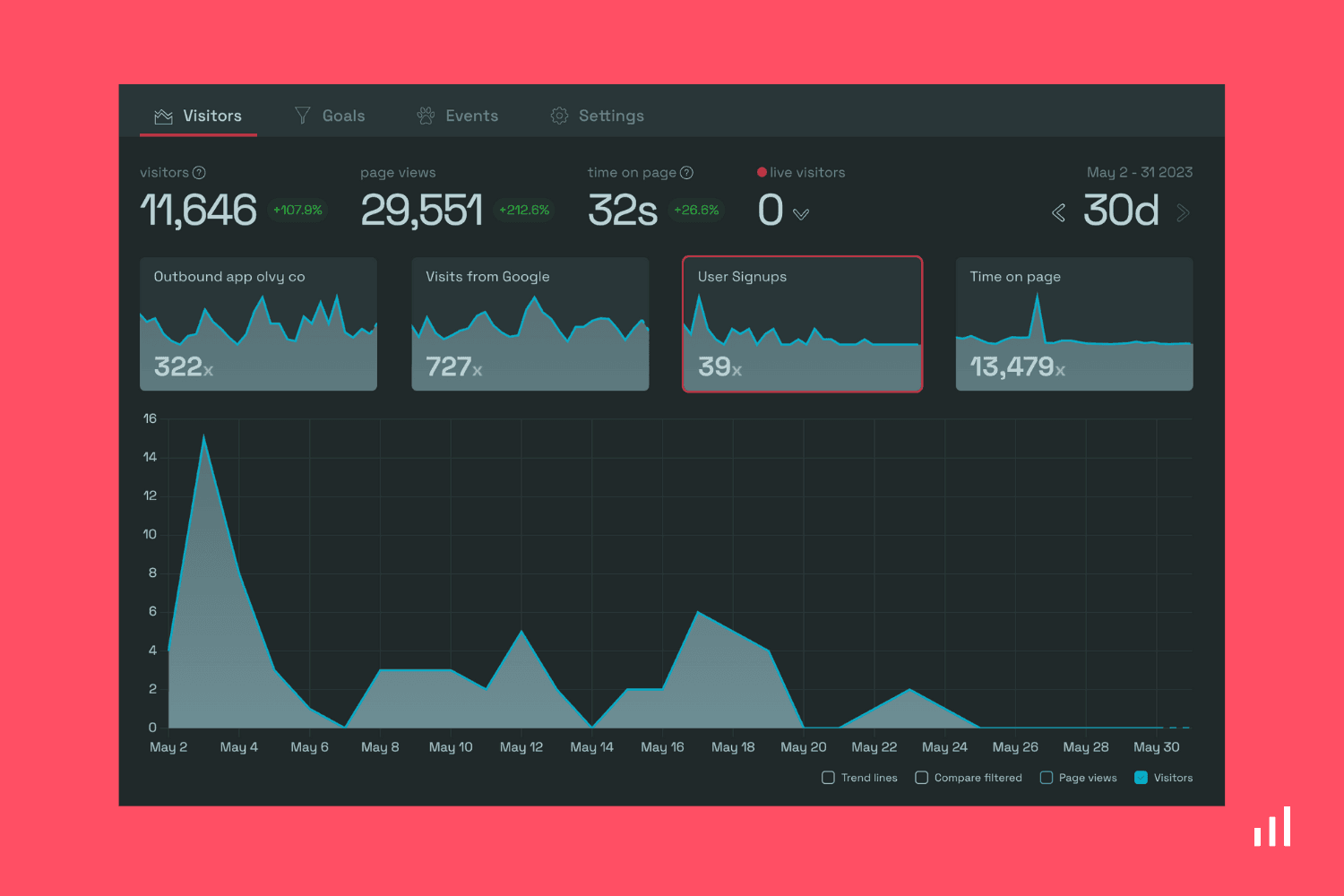 You can keep track of it easily and see key metrics like "referrers," "browser type," "country" and whether your sign-ups contain more mobile or desktop users. For example, if you are getting a good amount of mobile traffic, ensuring that your application is mobile-compatible is a good idea.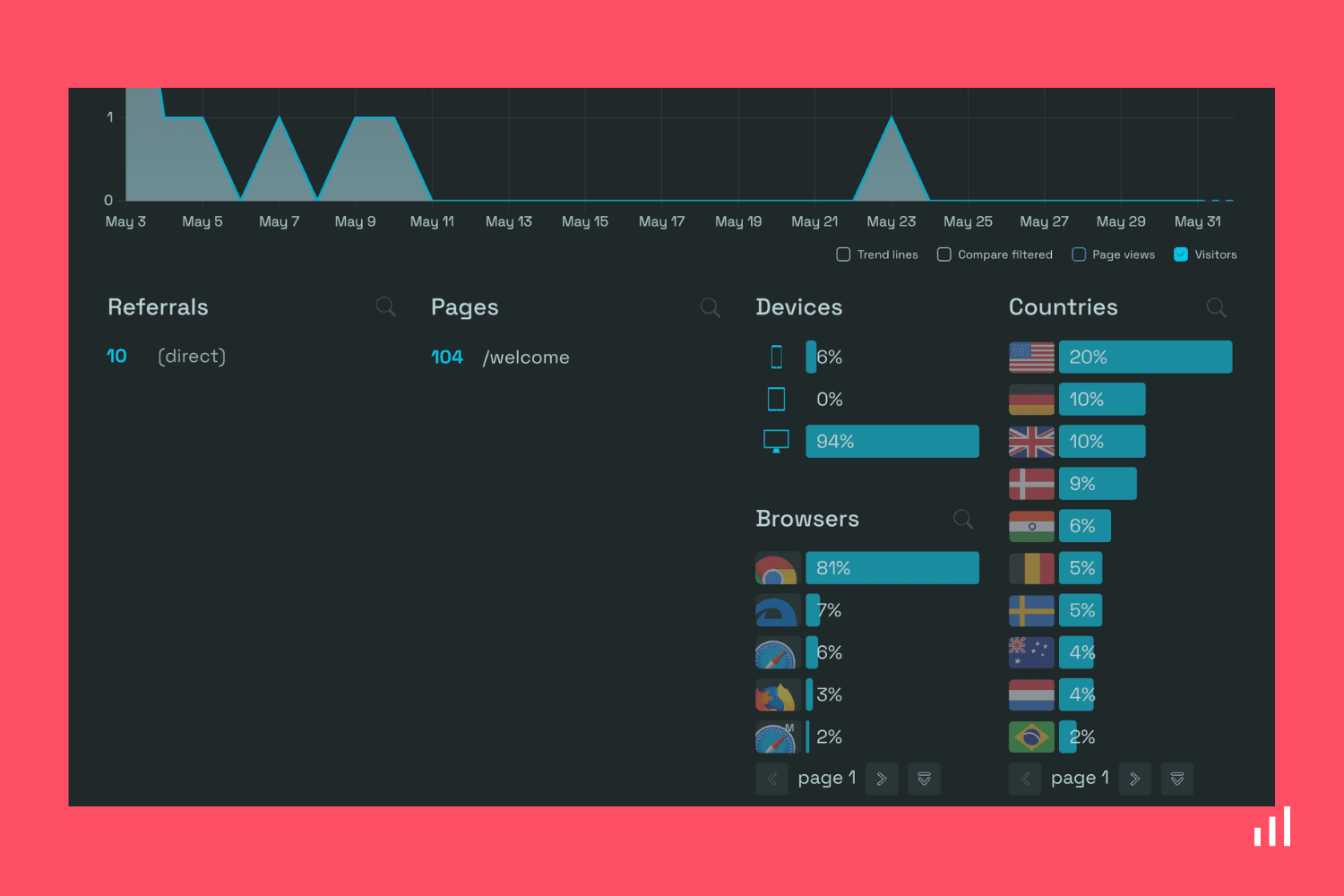 Data interoperability
It's possible to import your Google Analytics data directly into Simple Analytics, so you won't lose any historical data by switching to Simple Analytics.
Exporting your data from Simple Analytics using the APIs is also easy. In addition, there are multiple integrations with dashboarding tools like Powerbi and Google Data Studio.
Costs
Simple Analytics has two plans. The Starter plan and the Business plan.
Starter Plan: 9$ for up to 100,000 page views per month.
Business plan: 49$ for up to 1 million page views per month.
Plausible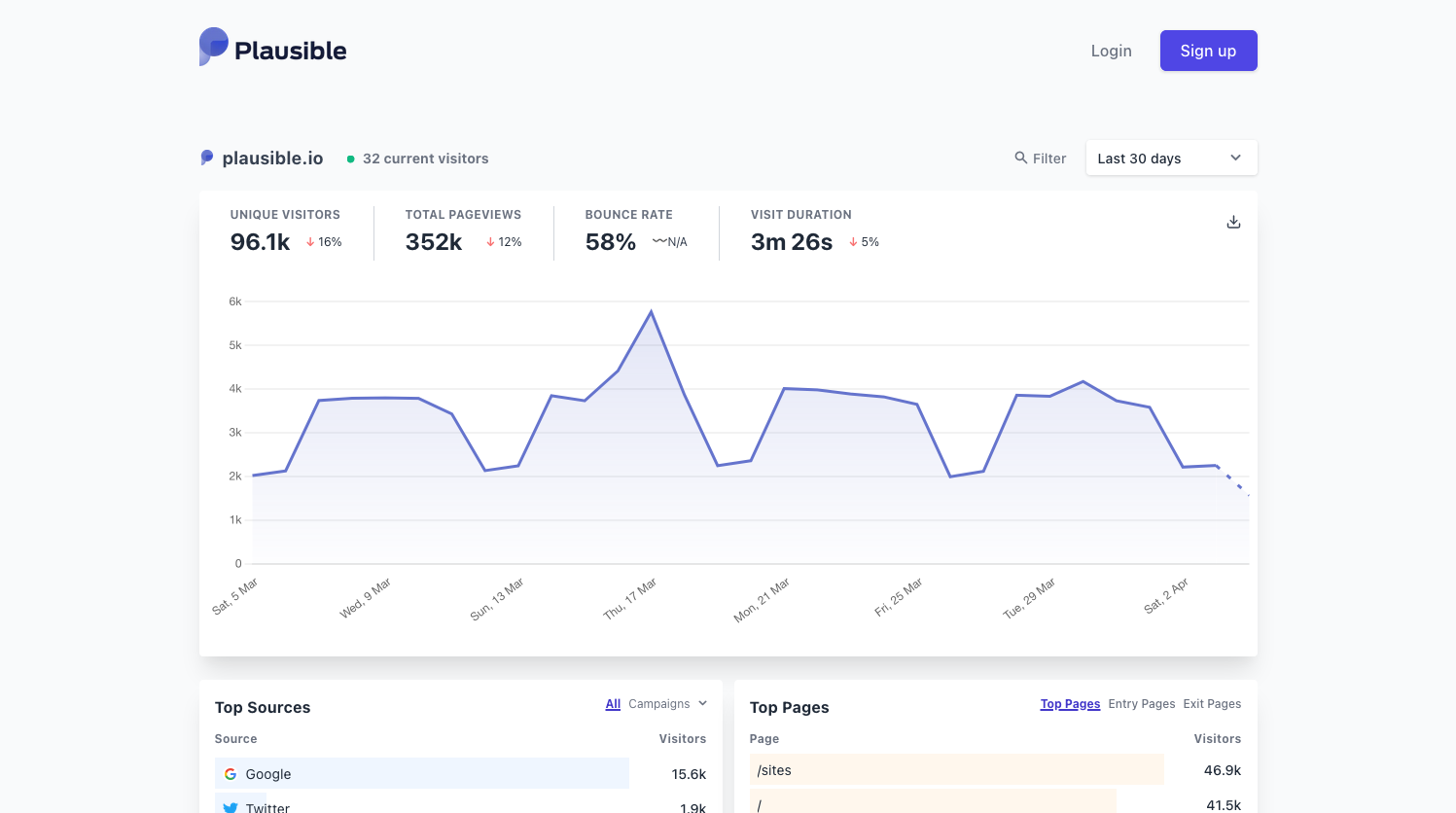 The dashboard of Plausible
Privacy
Like Simple Analytics, Plausible is also cookieless by design. They store the data in Germany, and the data is yours. They don't transfer data overseas or share it with third parties.
The most significant difference between Simple Analytics is that Plausible collects IP addresses, albeit anonymized. This is better than just plainly collecting IP addresses; we say it's still personal data. Hashes of IP addresses can be used as fingerprints to identify a person online, which is also personal data.
User Experience
Plausible looks similar to Simple Analytics in that they use a one-page dashboard to show key metrics. It also works the same: Everything is clickable, and segmenting is easy. The UI looks very good, and it's built in a very intuitive way.
Plausible is also a lightweight web analytics tool (1kb). The impact on your page load speed is, therefore, very low. Switching from Google Analytics to Plausible will positively affect your page load speed.
Insights
Plausible does not use cookies and only collects personal data anonymized for 24 hours. This approach aligns with their privacy vision and provides more data insights. By collecting IP addresses for 24 hours, Plausible can track sessions on the same day, making their unique visitor count more accurate. Conversions on the same day can be attributed as well. In addition, they can show visitors' locations on the city level, whereas Simple Analytics does this on the country level.
Data Interoperability
For a few weeks, importing data from Google Analytics directly into Plausible is now possible. You won't have to deal with losing historical data moving to Plausible. It also has an API to export your data. We don't see any integrations with dashboarding tools like Powerbi or Google Data Studio from the docs on their website.
Costs
Plausible is open source. If you are technical, you can host your analytics. This means you only need to pay for your hosting. Plausible also offers paid solutions (you get two months off if you pay yearly):
9$ Per month for up to 10,000 page views.
19$ Per month for up to 100,000 page views
Matomo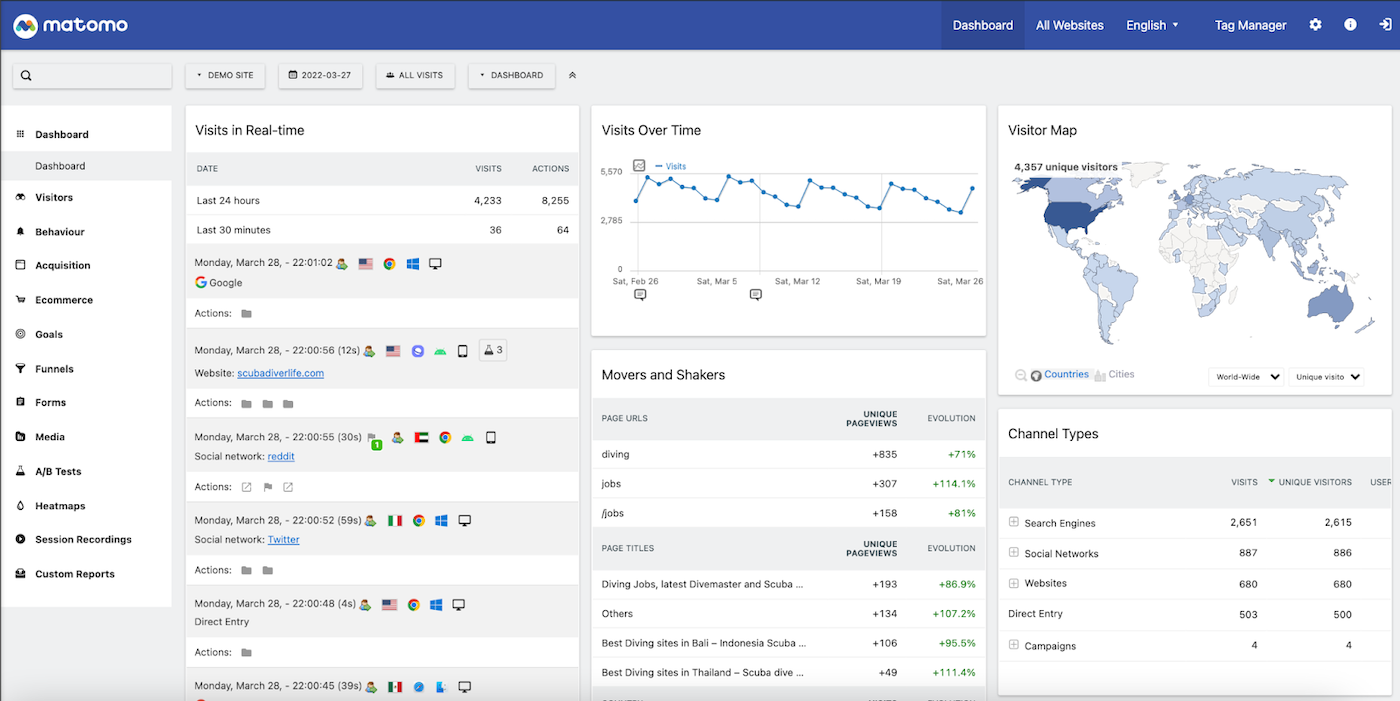 The dashboard of Matomo
Matomo was the first Google Analytics challenger on the market. It is quite different from Simple Analytics and Plausible, and it looks more similar to Google Analytics.
Privacy
In terms of data collection, it also takes another stance. It is not cookieless by design. In their default mode, Matomo still uses cookies to track website visitors, so you need a cookie banner to ask for your visitors' consent. Like Plausible, Matomo also collects IP addresses using IP hashes.
You do own the data yourself. The data is stored in the EU and not transferred overseas.
It is possible to use Matomo in a cookieless way as well. We explain how to do this in our comparison between Matomo and Simple Analytics.
User Experience
From the screenshot of their dashboard above, you can see that it has a lot in common with Google Analytics. Matomo welcomes you with multiple dashboards and reports. It is more complex than the easily segmentable one-page Simple Analytics and Plausible dashboard. In addition, the page load speed is also impacted when installing Matomo on your website. Their script is seven times larger than Simple Analytics' script (22kb).
Matomo is a comprehensive tool with many directions and tutorials to understand how it works. For example, it's possible to use Matomo in a cookieless version, but it takes you through many tutorials and custom steps to get started.
Insights
Key insights provided by Matomo include visitor analytics, conversion analysis, and event tracking. They have similar tracking abilities as Google Analytics does. These insights enable businesses to understand their audience and track their marketing efforts.
Data Interoperability
You can import your historical data from Google Analytics in Matomo. However, this is a long and complex tutorial, so if you are brave, you are fine. However, it offers an integration with Google Data Studio.
Costs
Matomo is open source and can be used for free on-premise. If you are technical, you can host your analytics. They also offer a paid version. To compare them with Plausible & Simple Analytics, we calculated the cost for 100,000 & 1 million page views (you get a 17% discount on a yearly plan):
35$ Per month for up to 100,000 page views
159$ Per month for up to 1 million page views
Fathom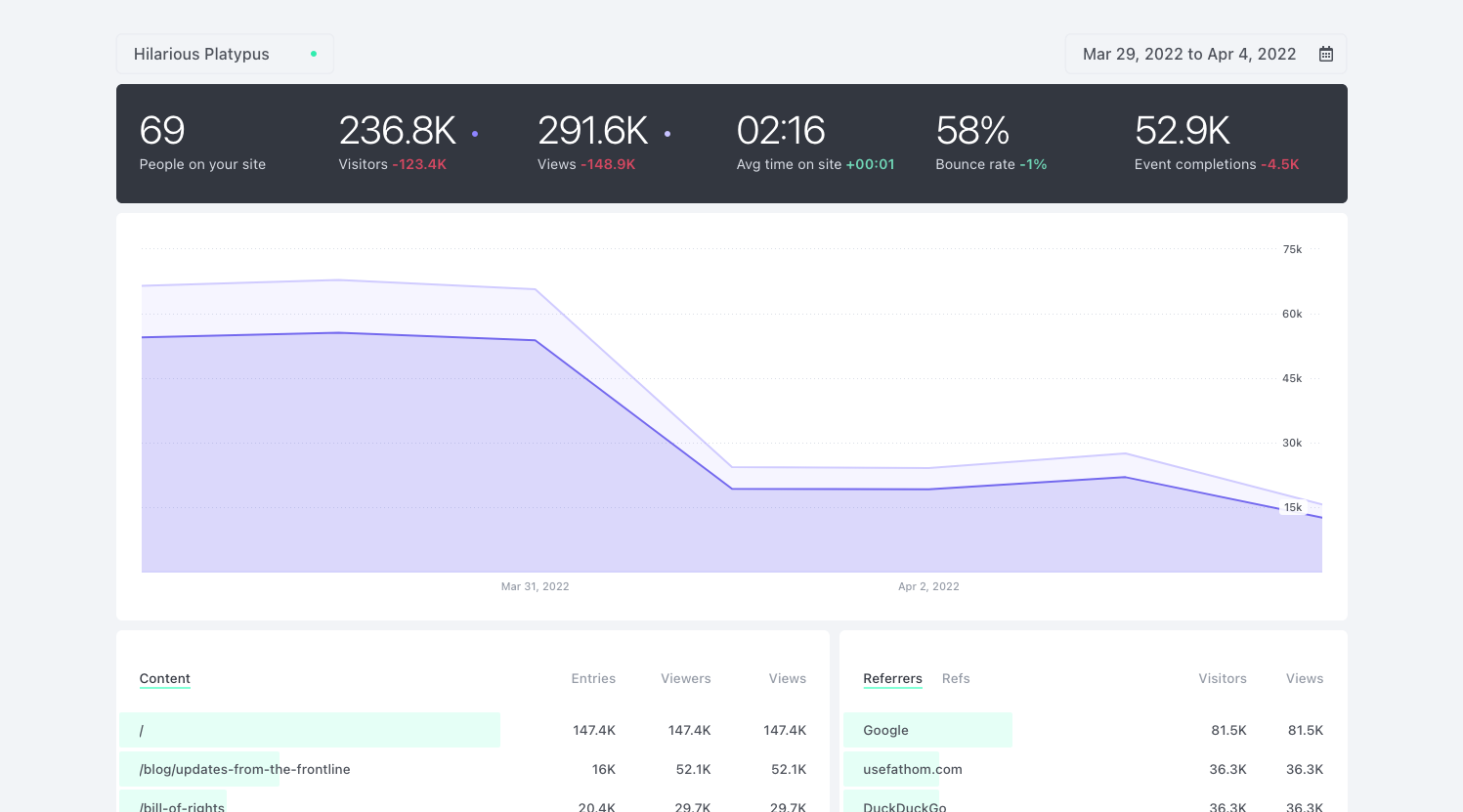 The dashboard of Fathom
Privacy
Fathom looks very similar to Plausible in their data collecting approach. Fathom also stores a hashed version of the IP address for 24 hours. For privacy-friendly web analytics tools in general, it's always a balancing act between providing as many data insights as possible and protecting the privacy of internet users.
Whereas Simple Analytics leans towards privacy-first, Plausible and Fathom, try to balance privacy-friendliness and data insights. Fathom is based in Canada but stores its data in Germany. The data is yours and never leaves their EU servers (for European visitors).
User Experience
In terms of user experience, it's similar to Plausible and Simple Analytics. However, the dashboard seems a bit less intuitive than the other two. It feels less easy to navigate, and the colors make it less clear than Simple Analytics or Plausible.
The impact on page load speed, however, is also minimal. Switching from Google Analytics to Fathom would positively affect your page load speed.
Insights
Fathom doesn't install cookies and only collects hashes of IP addresses for 24 hours. They take the same approach as Plausible. By collecting IP addresses for 24 hours, Fathom can track sessions on the same day, making their unique visitor count more accurate. In addition, they can show visitors' locations on the city level, whereas Simple Analytics does this on the country level.
Data Interoperability
From their documentation, we could not find if importing Google Analytics data into Fathom was possible. However, their latest blog post suggests building something that would make this possible.
Through their API, it is already possible to export your data directly into your favorite dashboarding tools. However, similar to plausible, this is limited to aggregated data. Fathom does not offer the possibility to export raw-level data.
Costs
Fathom is not open source. They only offer paid solutions:
14$ for up to 100,000 page views
54$ for up to 1 million page views
Why do we care
The market for web analytics tools is a crowded place. Capterra shows us 363 software products in the web analytics category. However, if you are looking for a privacy-friendly alternative, these are the ones worth looking at.
We started Simple Analytics because we believe you can get the insights you need in a privacy-friendly way. Data privacy will become more pressing in the coming years, so we aim to create a future-proof solution. We are 100% GDPR compliant and don't use any trackers or cookies (so there is no need for an annoying cookie banner).
We believe the internet should be an independent place that is friendly to website visitors. By opting for Simple Analytics, you'll be supporting us in our mission and protecting the privacy of your website visitors. If this resonates with you, feel free to give us a try.